PC Mouse
Patriot Viper V570 RBG Laser Gaming Mouse Review: Red, Green and Blue
A Closer Look »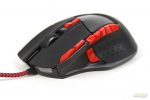 It seems that everything is coming as an RGB device now a days even mice. Mice has been a primary direct input devices since day one of computers. Even now in the world that is filled with virtual reality and virtual controllers we still need mice. Gaming mice take a great abuse and one of the biggest concern of gaming mice is the longevity of the buttons and comfort. If you spend multiple hours of playing a game you want to stay as comfortable as possible. For me, staying comfortable takes residence of features and functionality.
Computer component manufacturer PATRIOT has been slowly growing their gaming category to provide its customers not only the best in the RAM/SSD but also great functioning gaming devices such as keyboards, headphones and mice. One of their newest gaming mice is Patriot Viper V570 RGB Laser Gaming Mouse. This mouse is designed for right hand players and offers customizable LED strip on the left, top and back of it. In addition to the braided cable and LEDs the Patriot Viper V570 offers 13 highly customizable buttons to help you in any FPS/MMORPG games.
Review Sample Provided by: PATRIOT
Product Name: Viper V570 Laser Gaming Mouse
Price at time of review: $ 59.99 USD MSRP
Product was given in exchange for work done to produce this review.
Features
Xtreme Precision Laser Sensor
Up to 12000 DPI
Multi-zone customizable RGB LED management
Advance MMO+FPS all-in-one ergonomics
RGB Customizable profiles
13 Programmable macro keys
Ceramic foot pads for maximum performance
DPI LED indicator
Adjustable weights of up to 34.2g
Zero Delay
Specifications
| | |
| --- | --- |
| Weight | 159.2 g |
| Dimensions | 13.3 x 8 x 4.4 cm |
| Warranty | 2 Years |
| Certifications | RoHS, FCC, CE |
| Packaging Type | Retail Box |
| Unit Dimension Width | 8 cm |
| Unit Dimension Height | 4.4 cm |
| Unit Dimension Length | 13.3 cm |
| Unit Weight | 159.2 g |
| UPC | 814914022924 |
The Patriot Viper V570 has a great, vivid packaging that brings out most of its features right away. We see this kind of packaging from other manufactures as well. In the front of the packaging there are some brief descriptions of the Patriot Viper V570 features. The back offers a little more information on the device inside such as maximum DPI and adjustable weight.
To get a peek at the V570 all you would have to do is open the front pocket and the device is displayed under the embossed plastic. On the pocket sleeve there is more information about V570. As you can see PATRIOT provides maximum information about V570 to its potential customers.
The mouse comes with an envelope and a set of weights. Inside of the envelope there are couple of stickers and a Quick Start Guide. Inside of the weight container there are seven separate metal capsules that weigh five grams each. Depending on the need it is possible to use six of seven included weights in V570.