Page 2 »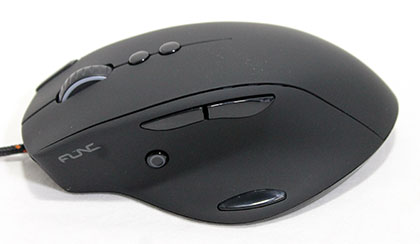 When I got a press release announcing that a new mouse, the FUNC MS-3 Gaming Mouse, was coming out I will have to admit that I have never heard of FUNC let alone that they had made gaming mice in the past. So I thought I would check out this one of a kind mouse and give it a once over. I am pleased that I did and I will be showing you why.
[sc:sponsor sponsor="FUNC" product_link="http://www.func.net/en/products/ms-3/" product_name="FUNC MS-3 Gaming Mouse" ]
First Look
Packaged in a striking white box with a minimum of information about the mouse you kind of get the feeling that you might be looking at an Apple product. The detail that you are given on the back of the box highlights the five basic parts to the mouse; the comfort, buttons, customizable LED's, construction material, and the instant aim button.
A flip of lid allows you to take your first look of the FUNC MS-3. Right away you notice that this mouse is not like others with it shape. Inside the box you get the mouse, software and owner manual.
What FUNC says about their mouse…
[quote]
Made with the solely purpose of creating an advantage over your opponents, Func MS-3 sticks out from the rest with its unique, performance driven line-up of interesting features. The unprecedented possibilities of customization and extensive macro settings allow it to fit any game style. The ergonomic design is the result of many development hours and studies of the human hand in order to give you the solid grip that never takes your eyes of the screen. All buttons are carefully been placed to minimize the reaction time. Ladies and gentlemen, this is advantage. Perfected.
[/quote]
Tech. Specs.

MCU/Processor: WT6573

Switches: Omron

Sensor: Avago ADNS 9500

Memory: Onboard, 512 kB

Resolution: 90-5670 DPI

Frames per second: 12 000

Tracking speed: 5.1 m/sec (150 ips)

Max Acceleration: 30 g

Image processing: 10.6 megapixels/sec

Report rate: Adjustable, up to 1000Hz

Lift-off distance: Adjustable

Upgradable firmware: Yes

Connection: USB. Goldplated (2 m braided cable)

Dimensions & Weight

126.92×100.69×42.38mm / 4.99×3.97×1.69in

Netto weight: 127g / 0.28lbs.

System Requirements

Windows® 2000 / XP / Vista / 7 / 8

Available USB port

10 MB free space on hard drive

Warranty Information

Func MS-3 has a 2-year warranty from the date of purchase.

If your product is registered using your Func Insider account, an additional year of warranty is provided (3 years total from purchase date).

Proof of purchase, with date of purchase and the buyer's name, are required for warranty claims.

The extra warranty is not valid for refurbished or second-hand purchases.