« Page 2
Conclusion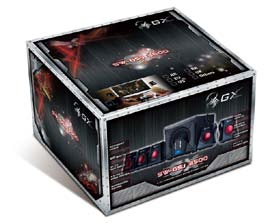 The Genius GX SW-G5.1 3500 is super easy to set up and get adjusted. If there was one wish that I had for the W-G5.1 3500 is to have an HDMI port however, that's not a deal breaker. Over the last month I've tested the W-G5.1 3500 on various devices. For 5.1 surround sound on the PC sound quality was great. To set the 5.1 test up, I set the satellite speakers 8 feet from a center point and roughly 5 feet apart. The rear speakers were set at 10 feet from the center point and 10 feet apart and used the Blu-Ray of Independance Day. Sound quality was very good. Channel separation was clear and the sound did not become muddled during the action parts of the movie. From a gaming sandpoint, SkyRim was loaded up. Once more sound quality was good.  The highs and mid-range sounds were clear and crisp. The bass was clear and sounded good. Even with the bass cranked all the way up, it did not overpower the highs and mids.
I connected the W-G5.1 3500 to my cable box and use it on a daily basis in the lab for sound. I connected the speakers using the RCA to 3.5mm cable and while I hear sounds in all speakers, it is not true 5.1 surround sound but how could it be? The input is stereo only. Watching TV or movies through the W-G5.1 3500 is really a no brainer. It just flat works and sounds good doing it. The cable box is capable of 5.1 but only through HDMI or digital optical. At 80 watts total power the amplifier has enough power to generate room filling sound.
Overall the W-G5.1 3500 is a great set up and sound quality is very good. At no time during the time that I have used it did I notice any distortion or "off" sounds. Genius thought enough ahead to include all the cables needed to get the speakers connected to your devices as well as give enough cable to allow a comfortable installation.
[sc:must_have_award ]