PC Mouse
Genius Scorpion M8-610 Mouse Review: Clicker's Delight
« Closer Look and Disassembly
|
How did it Perform? »
Genius SmartGenius Software
The Genius SmartGenius app (yes, that is the actual name) is available for download on the official product page. It is a 67MB zip file containing the self-extracting installer and requires an operating system restart to use. Users can switch between a light and dark themed skin, as well as change the language preset and region.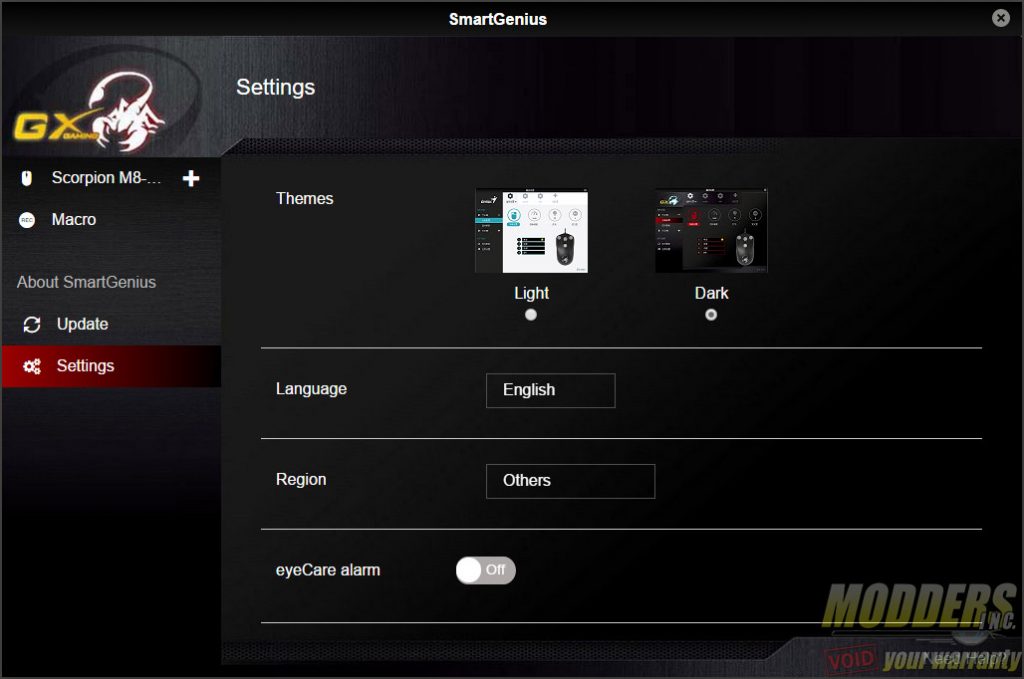 Built in is an updater program that lets users check for firmware as well as software updates and install them directly.
The main window itself is separated under three categories: buttons, performance and lighting.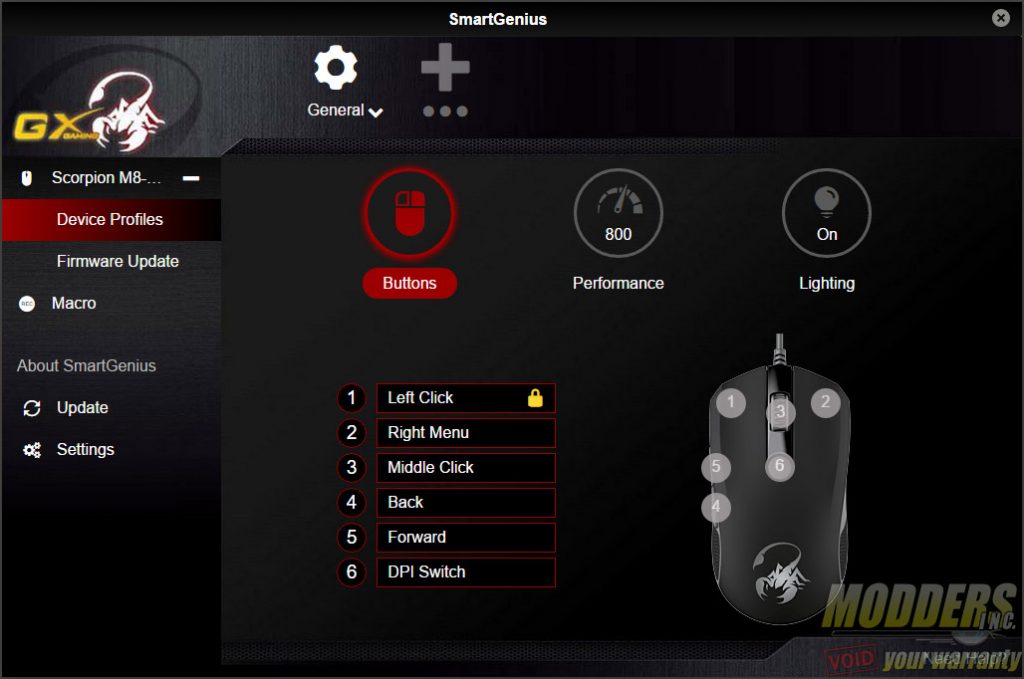 The buttons section allow users to re-assign all buttons except the left click (so that users can never be locked out of the software). This also includes assigning keyboard combo values and recorded macros. The built-in macro recorder on the M8-610 only allows keyboard input and does not recognize mouse recording. It is able to record both input and release and allows users to re-adjust the individual delay values from 1ms to 65535ms.
The performance section is for all other non-aesthetic feature. It contains options for adjusting double-click speed, scroll speed, pointer speed, USB report rate as well as DPI adjustment.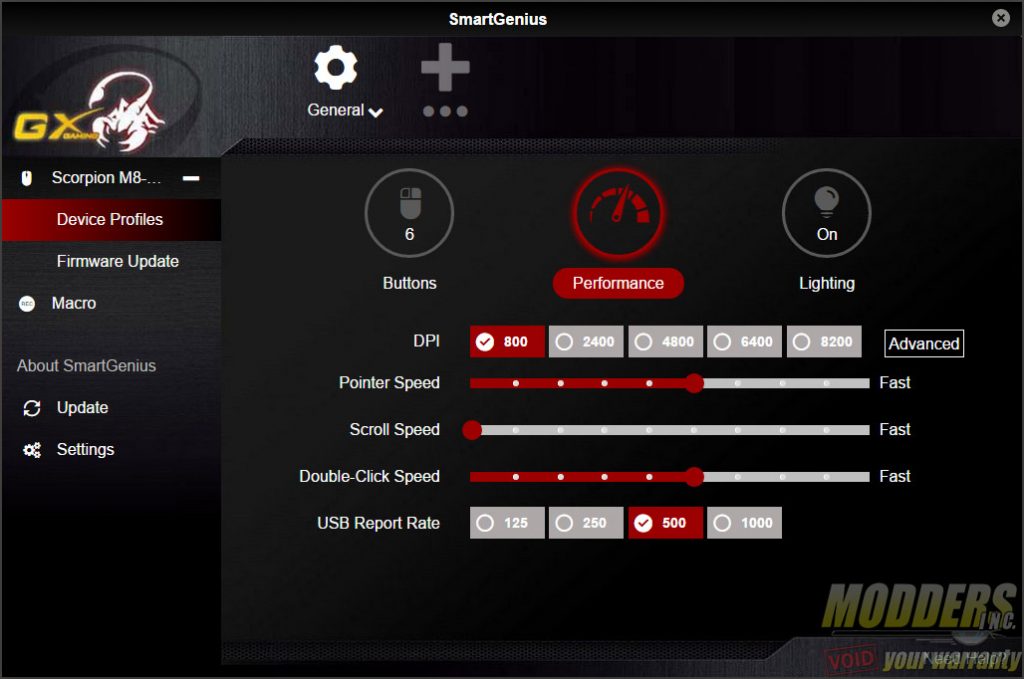 The DPI settings can be expanded to include separate X and Y axis adjustment. By default, these are coupled and limited to five level presets. Users can increase this up to eight levels and set corresponding LED colors as well. Users can also choose to decrease the number of DPI levels or limit the range to the levels of their choosing.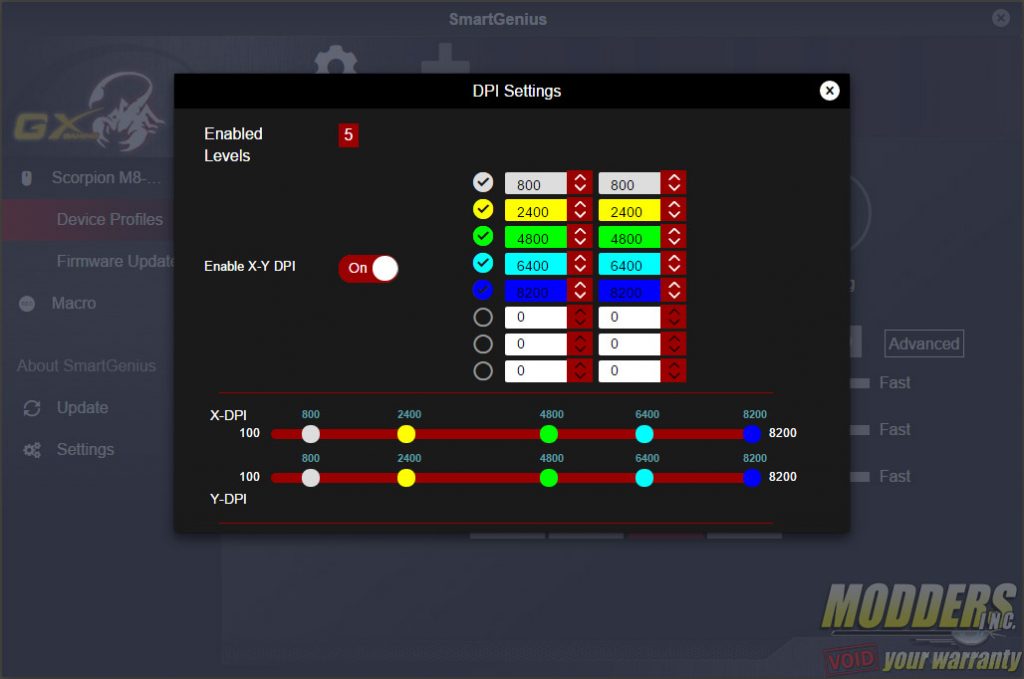 The last page is the lighting setting and allows users to disable both the wheel and the rear LEDs. Unfortunately, there are no other presets for the LED behaviour other than breathing but users can choose between three levels of breathing speed. A static option plus the option to select the color would have been a welcome addition. Hopefully in a future firmware/software update.