In celebration of GIGABYTE's 30-year Anniversary, they are launching a modding contest with Modders-Inc. The prize is an all expense paid flight and lodging for a modder plus a friend to CES 2017 in LAS VEGAS, Nevada on January 5 to 8, PLUS $1000 in cash plus hardware prizes so you have some spending/gambling money while in town! Second and third place prizes are also available. Submit your build by November 15, 2016 to be entered to WIN the main prize. To help you get started however, you can submit a concept design on how you would design your dream build by June 27, 2016 11:59pm PST to be entered to WIN 1 of 3 FREE Build Kits that includes a GIGABYTE motherboard, graphics card, and an EK waterblock! Submit hand drawn and/or CAD files. Terms and conditions apply.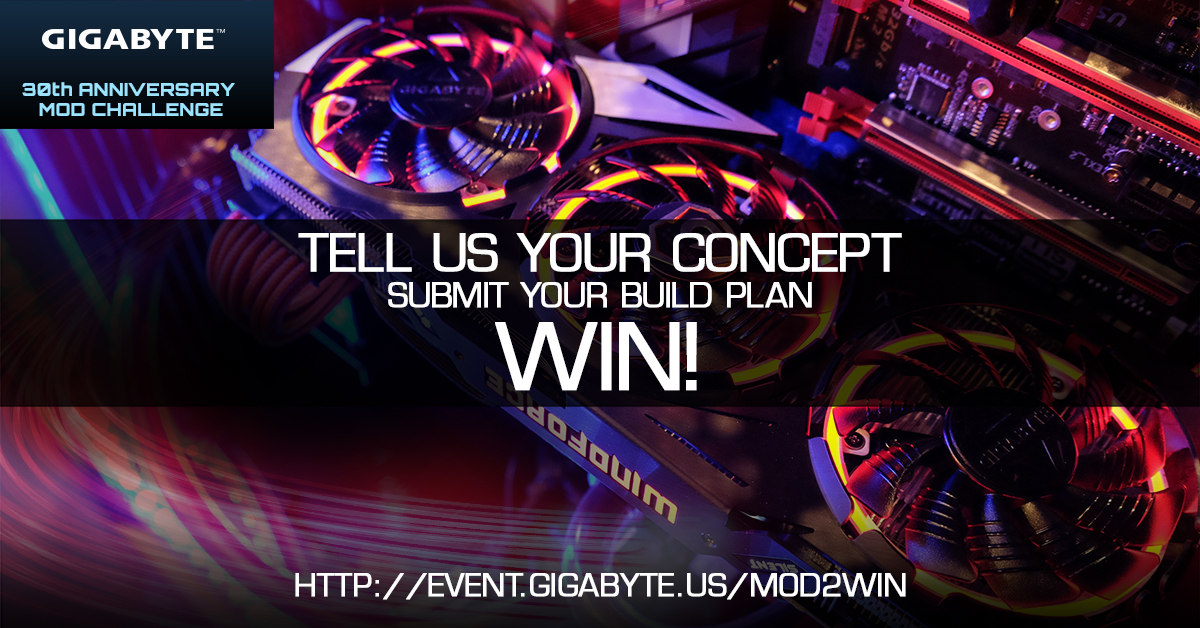 Rules
Build to your heart's content! We are opening all creative channels to see what you come up with.
Feel free to let your imagination run wild but your Mod must use both GIGABYTE Motherboards, GIGABYTE Graphic Cards, and must also include a Liquid Cooling element.
Mods can incorporate one of the following build themes for additional points (optional but preferred):
GIGABYTE 30th Anniversary
BLUE color
Signing up
Registration is opened from May 25 – November 15, 2016 11:59pm PST.
Concept submission for Build Kit deadline is June 27, 2016 11:59pm PST.
Final Mod2Win submission deadline is November 15, 2016 11:59pm PST.
To sign up:
Create a Modders Inc. account to start your work log.*
Complete the GIGABYTE Mod2Win registration form.
Post an introductory Worklog Thread on your Modders Inc. profile.
Log in and link your Modders Inc. Worklog Thread to your Mod2Win profile
If your mod is completed or in progress, please refer to Qualification for eligibility.
*To qualify to win, modders must upload and submit their Modders Inc. worklog thread link to their GIGABYTE Mod2Win Profile.
*Winners agree to pack and ship their winning mod to CES 2017 in LAS VEGAS, NV. Freight charges will be charged and paid for by GIGABYTE Inc.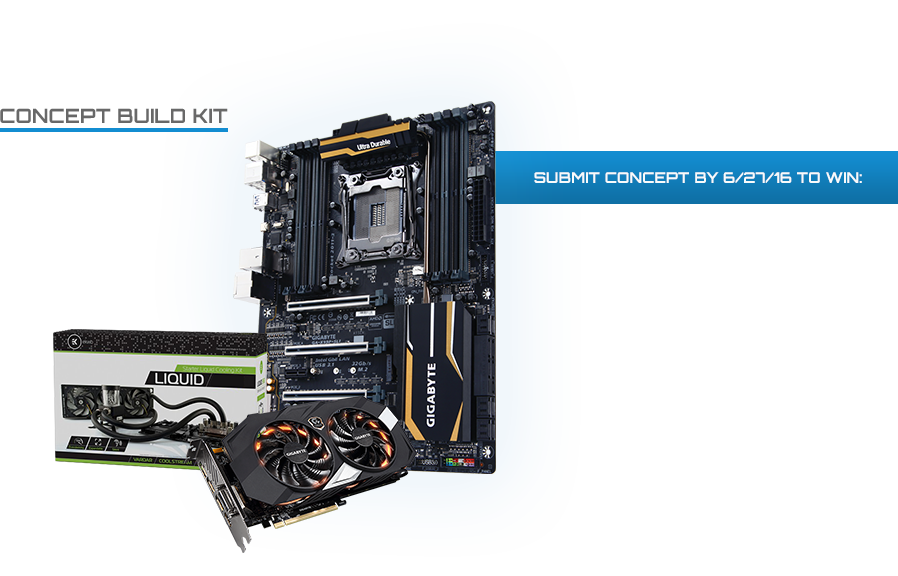 We will be giving away prizes and swag exclusively to those of you who sign up throughout the duration of the mod challenge. So sign up, Get building, and you could be the one who WINs the trip of a lifetime!
At the end of the contest, we want to know who you think built the best of the best mod. We're giving you the chance to decide who WINs our Fan Favorite Build presented by Newegg. Cast your vote and you could also WIN exclusive swag and prizes.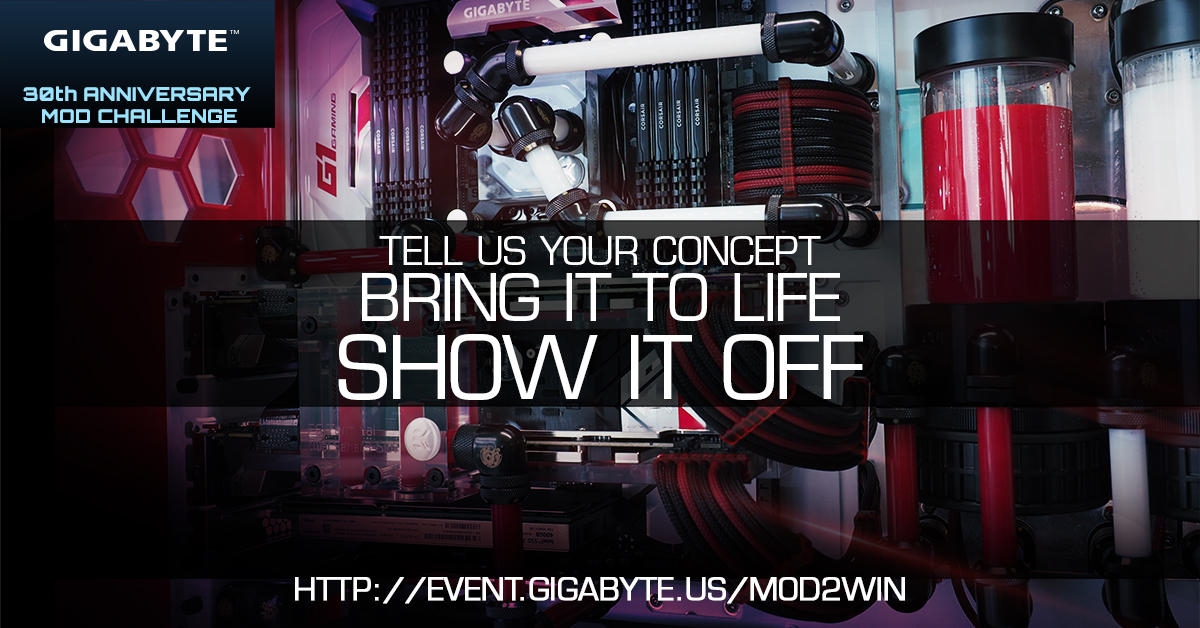 Qualification:
Modder Profile and worklogs must be completed to be considered for final selection. USA/CANADA Only, must be 18-years or older.
Completing Your Worklog:
Post images and a description of your mod progress to the thread you created in the Modders Inc. forum under GIGABYTE 30th Anniversary Mod Challenge.
If you are entering with a completed or 'in progress' mod:

You must be able to provide a full worklog from start to finish with images and a description.
Your mod must not have started earlier than June 1, 2015.
Your mod cannot be an entry from a previous GIGABYTE Mod Contest.
Completing your Modder Profile:
Requirements for mod submission:

The title of your mod entry.
A description and concept of your mod entry.
At least five pictures of your final mod entry with external and internal aesthetics (preferably high resolution, jpg file format, maximum size 1MB).
At least one picture of your final entry with clearly recognizable GIGABYTE components (must be specified).
One picture of your final entry with a hand written time-stamp for verification.

Submitting your completed mod:

Press the Complete My Profile button under your profile – Complete Profile page.
Once you complete your project, this will be considered your final submission and you will not be able to make further changes to your profile page.
Entries that do not satisfy all stated rules on this page will be automatically disqualified.
Sign up and Complete your mod before November 15, 2016, 11:59pm PST
Create a Modders Inc. account to start your work log.
Register here with your Modders Inc. work log and personal information.
Building your Mod and updating it on your Modders Inc. work log.
Complete your GIGABYTE Profile to make sure you join the contest!
Summary of Timeline:
Phase 1: Concept Submission to qualify for FREE build kit – 5/27/2016 – 6/27/2016
Phase 2: Build your Mod – 7/1/2016 – 11/14/2016
Phase 3: Grand Finale – 11/18/2016 – 12/19/2016
Prizes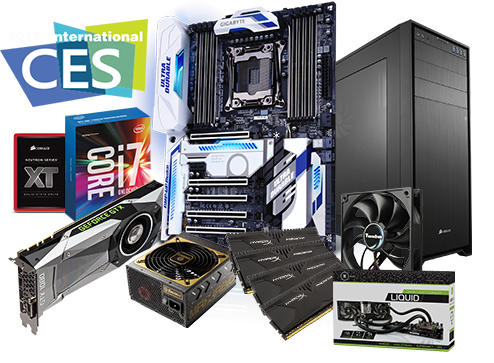 1st Place:
Trip for two to CES 2017 Las Vegas, NV
US $1,000 in cash
X99-Designare EX Motherboard (specs)
GeForce GTX 1080 Graphics Card (specs)
Intel Core i7-6900K CPU (specs)
EKWB CPU / Liquid Cooler
HyperX Predator Black XMP DDR4 8 x 8GB (specs)
Corsair Neutron XT 480GB SSD (specs)
Enermax Maxrevo 1500W PSU (specs)
Enermax 120mm Twister Storm Case Fan (specs)
Corsair Obsidian 750D Black ATX Full Tower (specs)
Mod build showcased at GIGABYTE CES ballroom
2nd Place: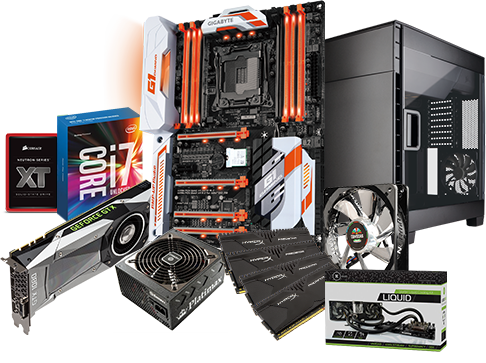 US $500 in cash
X99-Phoenix SLI Motherboard (specs)
GeForce GTX 1070 Graphics Card (specs)
Intel Core i7-6850K CPU (specs)
EKWB CPU / Liquid Cooler
HyperX Predator Black XMP DDR4 4 x 8GB (specs)
Corsair Neutron XT 240GB SSD (specs)
Enermax Platimax 1000W PSU (specs)
Enermax T.B. Vegas Case Fan (specs)
Corsair 600C Black ATX Full Tower (specs)
Mod build showcased at GIGABYTE CES ballroom
3rd Place: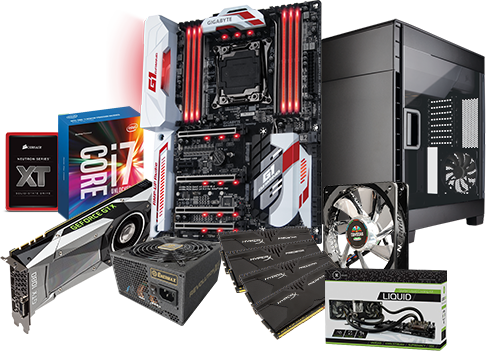 US $250 in cash
X99-Ultra Gaming Motherboard (specs)
GeForce GTX 960 Graphics Card (specs)
Intel Core i7-6800K CPU (specs)
EKWB CPU / Liquid Cooler
HyperX Predator Black XMP DDR4 4 x 8GB (specs)
Corsair Neutron XT 240GB SSD (specs)
Enermax RevolutionXt 750W PSU (specs)
Enermax T.B. Vegas Case Fan (specs)
Corsair 600C Black ATX Full Tower (specs)
Mod build showcased at GIGABYTE CES ballroom