« Performance and Testing Results
Final Thoughts
The Force H3X is a rather interesting headset and sure is good looking one. Entering the gaming market takes time and a lot of improvements to the products. I feel like GIGABYTE is on the right track with their headsets; however, I can't say the Force H3X is the flagship of the GIGABYTE headset brand.
My time with the Force H3X was roughly three weeks and while I enjoyed the product as far as gaming goes, there is room for improvement. The quality of the recording via the microphone is very flat and at times muddy. Communicating with other players in the game is doable; however, the speech quality on their end is mediocre at best. Overall, the sound reproduction of the Force H3X is good and works really well in first person shooter games and role playing games. Listening to music and watching video clips is a pleasant experience as well, as the Force H3X offers enhanced bass and a full range sound. I strongly feel that if the microphone gets redesigned, the Force H3X will be a really good fit as a gaming headset.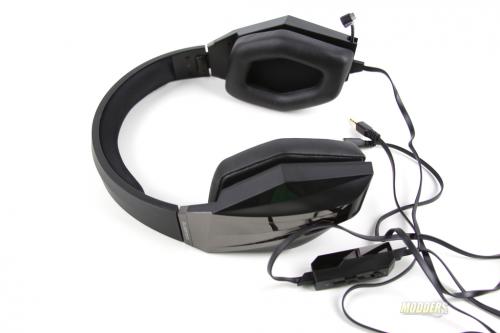 Wearing this headset for a long period of time does not cause the fatigue of the ear. The over-the-ear design creates a comfortable and tight seal between the driver and the ear. The Force H3X is very light as the 50mm drivers with Neodymium magnets contribute to the light weight design. The foldable design is another feature that comes in handy when carrying the headset. This particular headset is offered for $76.99 USD price tag. In my opinion, the price is fair for an analog gaming headset. If you are looking for a headset solidly for single player games or you just simply do not use microphone during your gaming session, Force H3X could be a very good candidate.