Motherboard Reviews
EVGA X99 Classified Motherboard Review Featuring Kingston Hyper-X Fury DDR4 2400MHz
Motherboard Overview »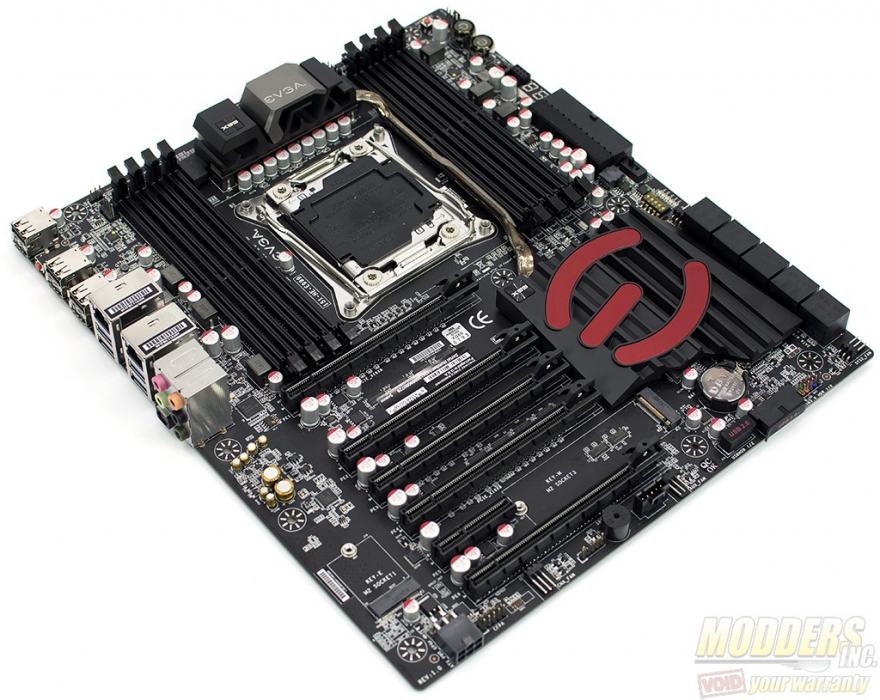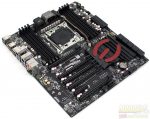 In the latter part of 2014 and with great fanfare, Intel launched their new i7 Extreme line of CPUs. Along with the new CPUs came a new socket and a long awaited chipset: the X99. EVGA has long been associated with manufacturing some of the best and fastest GPUs around and their reputation for creating a quality product follows along to their motherboard side. EVGA currently has three models available that sport the X99 chipset, the X99 Classified, X99 FTW (For the Win), and the X99 Micro. We have the pleasure of putting the X99 classified up on the test bench.
So what is it that sets the Classified board apart from other offerings? Well, not only is the X99 Classified board EVGA's flagship motherboard; it is also geared towards achieving monumental overclocks. It is made for those overclockers to take the CPU to temperatures well below what traditional water or air-cooling can do, for example liquid nitrogen has the capacity to cool the CPU to well below ambient temperatures . For starters, the X99 Classified features dual 8-pin headers that are capable of delivering 600 watts of power to the 2011-3 socket. The voltage regulation is an efficient 10-phase design.  What good is all that power if it never gets to the CPU and in order to make sure power delivery is adequate and clean, EVGA claims to have 1.5 times the amount of gold in their 2011-3 socket. Throw in an 8-layer PCB and a beefy 4-way SLI configuration and you've got the beginnings of one hell of an enthusiast platform.
[sc:sponsor sponsor="EVGA" product_link="http://www.evga.com/Products/Product.aspx?pn=151-HE-E999-KR" product_name="EVGA X99 Classified" product_price_link="http://www.newegg.com/Product/Product.aspx?Item=N82E16813188163″ product_price="399.99″ ]
As of this writing,  the EVGA X99 Classified is offering a $20.00 mail in rebate and drops the price down to $379.99
EVGA takes the "less is more approach" with their motherboard packaging. The front of the box is black with simple graphics that scream X99. The back of the box dives into a little bit more detail on the motherboard's specifications & features and a few shots of the board inside.
My favorite color is black. A box within a box, blacked out is what is inside.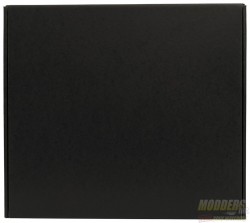 Now, tucked neatly away inside said black box is a slew of accessories for the X99 Classified as well as the motherboard itself. Included in the motherboard is an I/O shield, I/O cover, 6 latching SATA cables, a USB 3.0 bracket, 2, 3, & 4-way SLI bridges, two sets of GPU Link cables, Probe it cable, M.2 screws and installation guides part 1 & 2.
Specifications:
CPU
Supports Intel Core i7 Processor Family for LGA-2011-3 socket
Chipset
Intel X99 Chipset
Memory
Support eight DDR4 DIMMs up to 3200MHz*, 128GB Max
– Supports Quad-Channel mode
– Supports non-ECC, un-buffered memory
– Supports Intel® Extreme Memory Profile (XMP)
Expansion Slots

5 x PCIe 3.0 x16 slots (support 1×16, 2×16, 3×8, 4×8)**
4 x PCIe 2.0 x1 slots
On-Board SATA

Intel® X99 Chipset
– 10 x SATA 6Gb/s ports (SATA1~10)***
– 2 x M.2 port
– M.2 Slot M port supports M.2 SATA 6Gb/s module
– M.2 port Slot E supports M.2 PCIe module up to 10Gb/s speed****
– M.2 port supports 4.2cm/ 6cm/ 8cm length module
– Supports RAID 0, RAID1, RAID 5 and RAID 10
– Supports Intel Smart Response Technology, Intel® Rapid Start Technology and Intel Smart Connect Technology
USB
Intel X99 Chipset
– 2 x USB 3.0 ports available through the internal USB connectors
– 8 x USB 2.0 ports (6 ports on the back panel, 2 ports available through the internal USB connectors)
– 4 x USB 3.0 ports on the back panel
Audio
Creative CA0132 Quad-Core Core3D
– 5.1-Channel High Definition Audio
– Supports Optical Output
LAN
1x Intel I210 Gigabit LAN Controller/1x Intel I217 Gigabit LAN Controller
Multi-GPU
Supports 4-Way AMD CrossFire™ Technology
Supports 4-Way NVIDIA® SLI™ Technology
Internal IO Connectors

– 1x 24-pin ATX main power connector
– 2 x 8-pin ATX 12V power connector
– 1 x 4-pin ATX 12V power connector
– 1 x 6-pin ATX 12V power connector
– 10 x SATA 6Gb/s connectors
– 1 x USB 2.0 connectors (supports additional 2 USB 2.0 ports)
– 1 x USB 3.0 connectors (supports additional 2 USB 3.0 ports)
– 3 x 4-pin CPU fan connectors
– 5 x 3-pin system fan connectors
– 1 x Front panel audio connector
– 2 x System panel connectors
– 9 x Probe IT connector
– 1 x BIOS Reset button
– 1 x 3-way BIOS selector switch
– 1 x Power button
– 1 x Reset button
– 1 x Slow mode switch
– 1 x 2-Digit Debug Code LED

Back I/O Ports

– 6 x USB 2.0 ports
– 1 x Clear CMOS button
– 4 x USB 3.0 ports
– 2 x LAN (RJ45) port
– 5 x OFC audio jacks
BIOS
– The motherboard BIOS provides "Plug & Play" BIOS which detects the peripheral devices and expansion cards of the board automatically.
– The motherboard provides a Desktop Management Interface(DMI) function which records your motherboard specifications.
Dimension
– 12 x 10.3 inches 305mm x 262mm EATX Form Factor
Mounting Holes

9 mounting holes
NOTE
*2800MHz and 3000MHz modules are officially supported in the latest BIOS update.
**PCI-E lane distribution listed requires a 40 lane CPU
**** 6x SATA support RAID / 4x SATA support AHCI only
****M.2 Socket 1 shares signal distribution from USB 3.0 Port 3, please select operation mode in BIOS setup menu.