« Introduction | Gigabyte GTX 980 G1 Gaming - Under The Hood »
 Gigabyte GTX 980 GV-N980G1 Gaming-4GD Video Card Overview
The length of the Gigabyte GTX 980 G1 gaming is just over 31 cm or 12 inches. The fan shroud is light weight aluminum and has an industrial look.
The GTX 980 G1 Gaming requires dual slots for installation, but it measures only 43mm tall.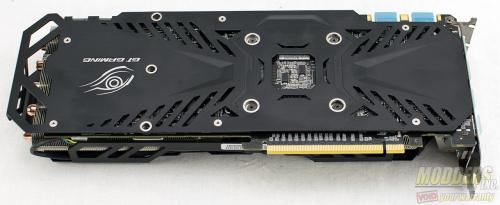 On the back of the card is a full length metal plate. This helps support and stabilize the card as well as give it a nice finished look when viewed through a case window. The cooler on the card is somewhat heavy so having the back plate prevents PCB flexing, which could damage the traces on the PCB.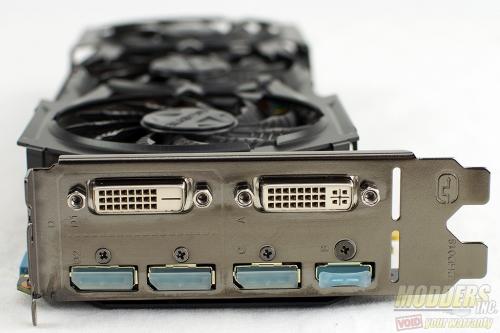 Connection wise, the GTX 980 G1 Gaming has two DVI (DVI-D & DVI-I), three DisplayPort and one HDMI ports. Gigabyte's Flex Display technology allows up to four displays in various combinations. Type A which involves using the two DVI ports, the HDMI port and one DisplayPort or Type B which can use the HDMI, DVI-I and two of the DisplayPorts.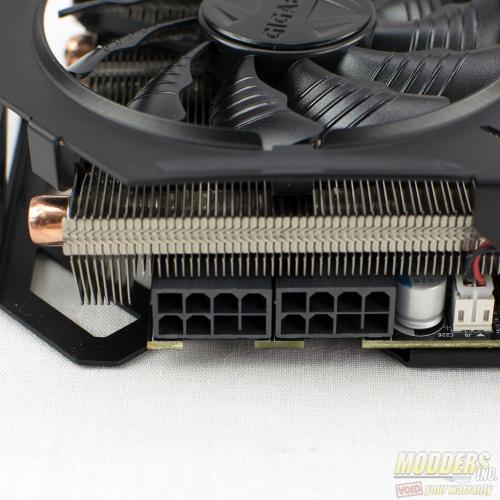 Dual 8-pin PCI-E connectors feed additional auxiliary power whereas the reference card from Nvidia uses two 6-pin connectors. When you take into account Gigabyte's claims of great overclocking, higher power delivery is needed. Each 6-pin connector can deliver 75W of additional power but each 8-pin PCI-E connectors can provide up to 150W. With the PCI-E slot providing 75W, and two 150W 8-pin PCI-E AUX connectors, the Gigabyte GTX 980 G1 Gaming can pull 375W.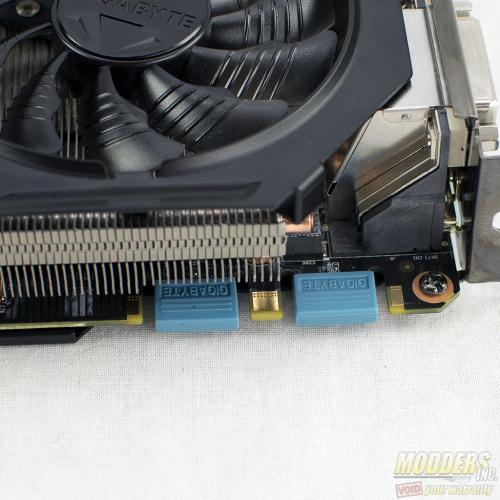 SLI connectors are available to allow two, three, or four card multi-gpu setups.