« Gigabyte GTX 980 G1 Gaming - Under The Hood | Test System and Testing Procedures »
Cooling System Design, Overclocking and Thermal Performance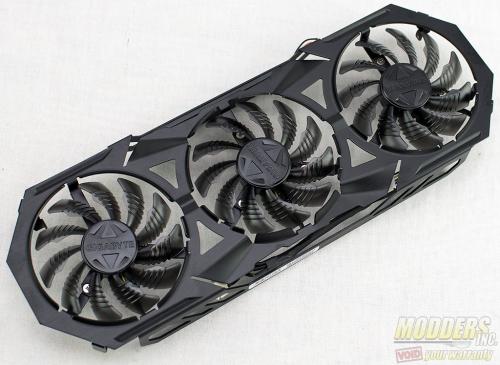 Three 90mm fans help give the Windforce 3x it cooling prowess. The fans run silent during idle and do not stop spinning like other GPU on the market.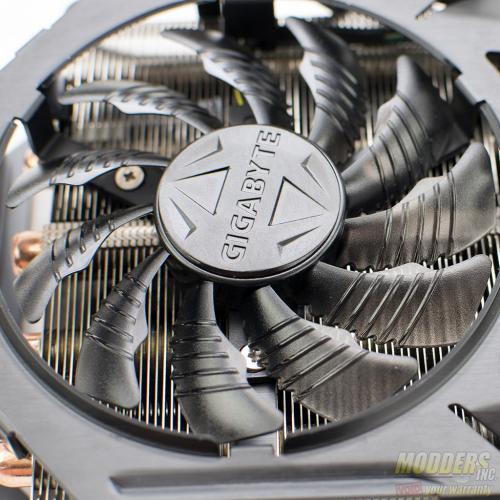 The 11-blade fan design is used to push a large amount of airflow while maintaining a quiet sound profile. The blade design features raised streaks, v-shaped cuts on the leading edge,  and dual angles on the trailing edge are used to keep the fans dust proof and increase airflow.
The heatsink for the GTX 980 G1 Gaming features a large copper base that is soldered on to six 6mm composite heatpipes. The fin array is made up of fins that are unequal in height and are designed to increase cooling capacity. The large copper base features heat pads that make contact with the voltage regulation modules (VRM) and memory modules. The cooling of these components are crucial to obtaining good overclocking results.
Overclocking
Gigabyte includes an overclocking utility in the driver disc called OC Guru II and it allows for monitoring as well. Various OC profiles can be saved and loaded automatically on startup if wanted. There is also an overvoltage function in offset MIN and offset MAX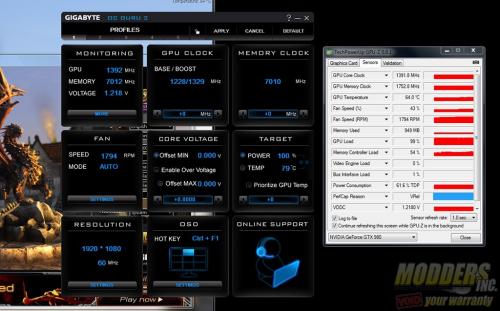 Without touching the voltage, I was able to get an overclock of 1399/1500 (in testing reports at 1563) on the GPU clock and 8010 on the memory.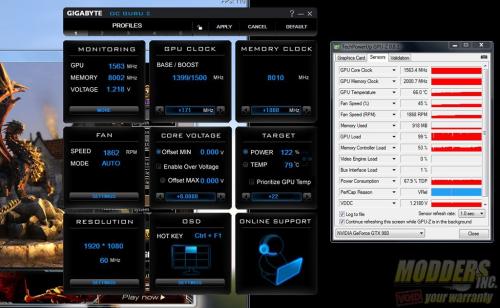 Thermal Performance and Power Draw
With Windows Power Saving options set to High Performance with EIST turned OFF in the UEFI, idle power consumption was recorded after 20 minutes. Temperature and power draw load was measured with Metro Last Light benchmark on loop. Temperature was monitored on an open-air benchmark with the room controlled at 22C ambient. Video Card fan speed set to auto. Power draw is the full system load taken from the wall using a Kill-a-Watt EZ  power meter. This is total system power draw, the GPU is not isolated from the rest of the system in our results.
Stock:
IDLE = 52.6W
Peak Load = 288W
Minimum GPU temperature: 35C
Maximum GPU temperature: 49C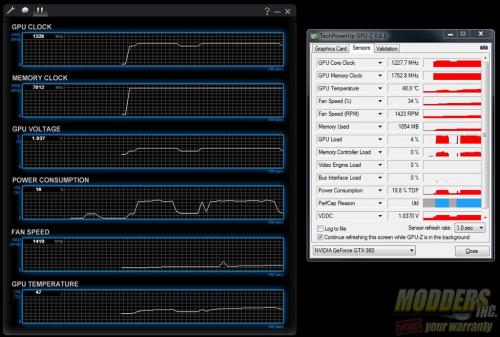 Overclocked (1399 MHz Core/1500 MHz Boost/1563MHz actual/2000MHz Memory):
IDLE = 54.5W
Peak Load = 304W
Minimum GPU temperature: 37C
Maximum GPU temperature: 62C (38% Fan Speed)