Article Pages:
Page 2 »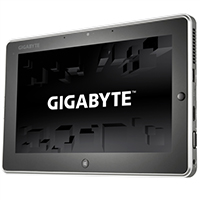 In my lifetime, I have watched many things change in the technology market. When I was a kid computers were the size of a small suitcase, and now there is more processing power in the smartphone offerings than the PCs that I had access to as a kid. There has always been a battle between size and function. Too small of a device and it cannot do the tasks that are needed of it, and too large of a device and it becomes too cumbersome to carry around all the time. The happy medium in there somewhere is a tablet. Typically they are somewhere around 7 to 10 inches in size. Most tablet devices run one of three operating systems: Android, IOS, or Windows 8 RT and the all function well, OK. There are shortfalls with each one, for me however, I would like to have a device that is a fully functional laptop in the form of a tablet. Before Windows Surface Pro manufactures have been putting out devices similar to the Surface Pro typically, they are called Slates. These devices are fully featured operating system devices that can run, in this example, Windows 8 home& Pro.  At the 2013 Consumer Electronics Show, I was able to demo the S1082 from Gigabyte and I knew then we would have to get it up on the site for review.
Review Sample Provided by: GIGABYTE
Product Name/Link to Website: GIGABYTE S1082 Slate Tablet
Product was given in exchange for work done to produce this review.
[hr]
Specifications
| | |
| --- | --- |
| OS | Windows 8 Windows 8 Pro |
| CPU | Intel® Celeron Dual-Core 847 Processor (1.1GHz) |
| Display | 10.1″ Capacitive Multi-touch Panel 1366×768 with LED backlight |
| System Memory | 2/4/8GB DDRIII 1 slot (Max 8GB) |
| Chipset | Mobile Intel® NM70 Express Chipsets |
| Video Graphics | Intel® HD Graphics |
| Storage | 320/500GB 2.5″ 7mm HDD 5400rpm 64/128/256GB 2.5″ 7mm SSD |
| ODD | Docking Station includes DVD- Super Multi Dual-Layer Drive |
| I/O Port | USB(2.0)*2, D-sub, HDMI, RJ45, Mic-in, Earphone-out, SD card reader, DC-in jack, Docking Station/Extended Battery Port, SIM card slot |
| Audio | 1.5 Watt Speaker*2, Microphone |
| Communications | LAN: 10/100/1000Mbps Ethernet Wireless LAN: 802.11b/g/n Bluetooth: Bluetooth V4.0 + LE WWAN (3.5G): 3.5G Antenna built-in, 3.5G Module supported(Optional) |
| Webcam | 1.3 Megapixel |
| Battery | Main Battery: Li-polymer, 7.4V, 29.6Wh Extended Battery: Li-ion 2-cell, 2700mAh, 20.25Wh (optional) |
| Dimensions | 270(W) x 173(D) x 14.94(H) mm |
| Weight | ~790g (w/ battery and SSD) ~850g (w/ battery and HDD) |
| Docking Station I/O Port(Optional) | Super-Multi DVD Drive, USB(2.0)*3, HDMI, D-sub, RJ45, Earphone-out, Mic-in, DC-in Jack, Extended Battery Connection Port, Speaker*4 (2 sets of dual channel speakers and 2 sets of 40mm woofer speakers) |
| Accessory(Optional) | Keyboard Kit (Leather Case& External Keyboard), Extended Battery |