« Sub-System Benchmarks (Storage, Audio, Network, Gaming)
Final Thoughts about the Gigabyte Z170X-Designare Motherboard
The Gigabyte Z170X-Designare is a refreshing new addition to a motherboard market hellbent on squeezing that gaming dollar. The prevailing philosophy for a while has been one of narrowed focus making for broader appeal, specifically targeting the less technologically inclined distracted by flashy features. Gigabyte however, opted to seek a balance of both while acknowledging a substantial group of the market that has been somewhat uncelebrated and overlooked: professionals whose PC's are essential to their craft.
Gigabyte bet early and often on Thunderbolt when everyone else was doubtful and now that the technology is in its 3rd generation, its use and potential as a productivity essential has earned the motherboard manufacturer the respect of many system builders, leaving other solutions far behind.  Just ask users working in video or audio production and professional photography; Thunderbolt's speed and versatility when it comes to display and storage is unmatched. Having triple NVMe PCIe SSD support via M.2, PCIe and onboard U.2 opens up further storage speed and flexibility as well.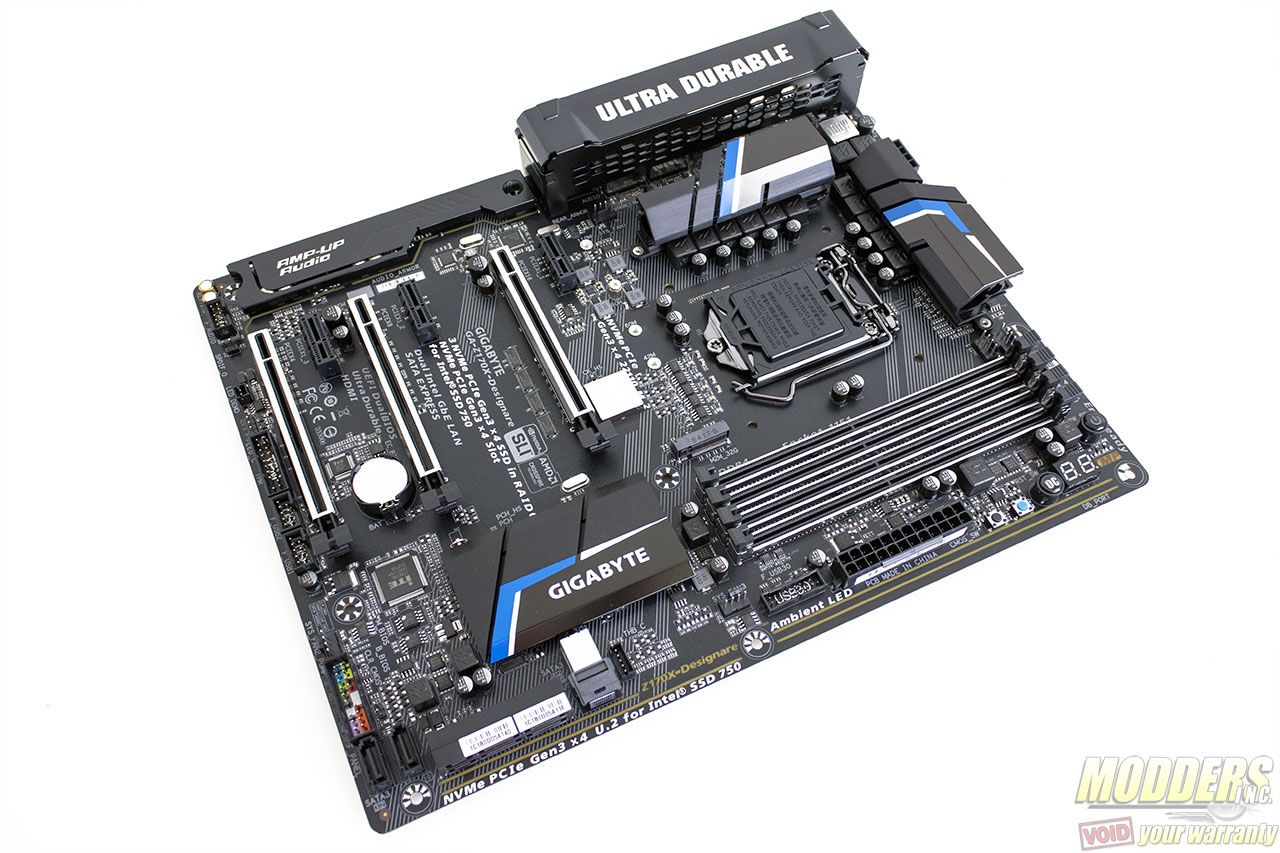 The RGB LED feature is more of a bonus but far from an after-thought. Unlike other RGB LED equipped motherboards, the Z170X-Designare has a rather unusual arrangement having much of the LEDs positioned along the edges at the back of the motherboard so when it is powered on, it is lighting a halo rather than on parts of the board. There is no DIMM or PCI-E LEDs like there was on the Z170X-Ultra Gaming, but the RGB LED extension header allows users to plug-in LED strips on their case and control it via the Gigabyte Ambient LED UEFI panel or desktop app to keep it synchronized with the onboard LEDs. Its implementation is a bit subtle unlike other, more aggressive solutions. The default LED colors are blue and it is reflected on the accent pieces on the heatsink, but these are easily modded as its just a simple metal sheet pieces glued on top of the heatsink and can be repainted. If the heatsinks themselves were anodized a different color other than black then this would be a bigger deal, although an out-of-the-box neutral color would have been preferable. The LED onboard was not responding correctly to the color matched on the screen initially as well (everything had a blue hue), but after a clean reinstall, it was working better. Hopefully, this is addressed in a future software and firmware update because even in the UEFI I was getting the same result.
The Z170X-Designare is also equipped with some overclocker-friendly features such as onboard buttons and secondary clock gen for BCLK refinement but the UEFI shows the same minimal level of control complexity as other non-OC oriented Gigabyte mainboards. From a practical stand-point, I don't think any additional overclocking features are in anyway essential on a motherboard designed to be a system for productivity anyway, and I would have preferred if it was skipped in favour of a lower price-point.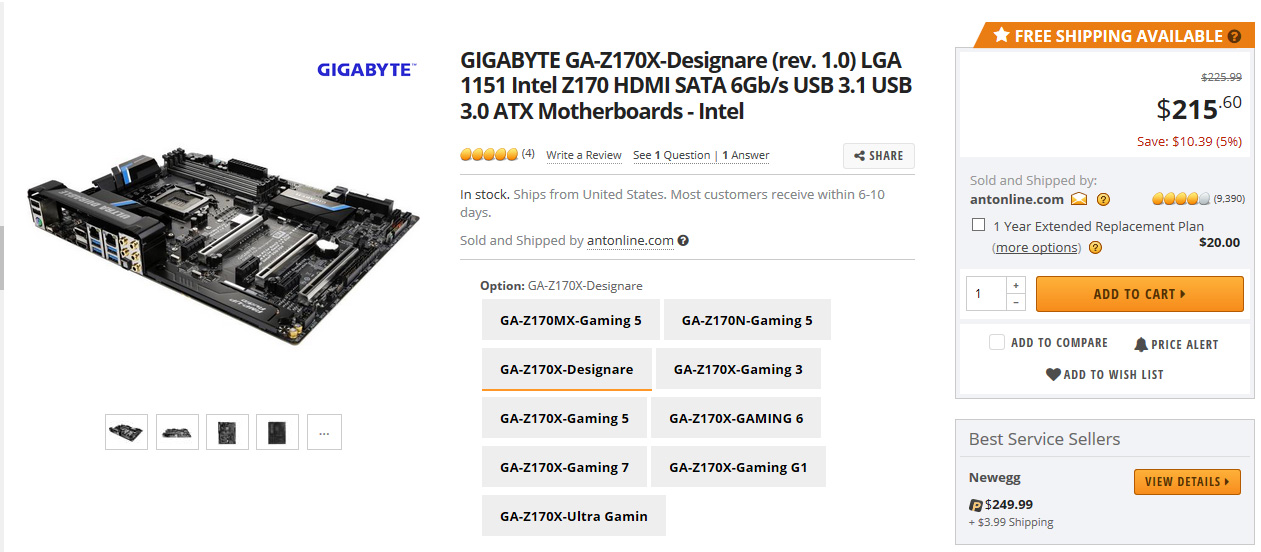 With an MSRP is $249, the Z170X-Designare is certainly towards the upper mainstream end of the Z170 motherboard segment but several retailers are actually selling it for even less at $215~220 on Amazon and NewEgg.com. Keep in mind that many of the features such as Thunderbolt 3, dual-Gigabit LAN, and RGB LED are not available on many motherboards or available only on high-end models, so this is a very good price for a motherboard of this caliber.