Grey is usually the color of conformity and convention, yet Jim Weist's "Grey Matter" build is anything but typical. To break from the monotonous limitations of the color palette, Jim took a Cooler Master HAF 912, strip it almost bare then custom crafted acrylic panels, enclosures, radiator mounts, grills and even a waterfall bay-style reservoir. The interior is also impressively organized, highlighted by individually sleeved cables, cool-white LEDs, a vertically mounted GPU and rigid tubing connecting three radiators.
Modder Alias: Orange Clockwerk
Real name: Jim Weist
Age: 27
Live: Broadview Heights, Ohio, USA
Occupation: Electro-mechanical assembler and test technician at MP Biomedicals
Years in Computers: I've had a computer in my house since I was born in '86, My dad was custom building 286's back in the mid 80's, I played on our 386 as a toddler. I starting building my own rigs about 15 years ago.
Length of time Modding: Only 8 months of hardcore modding
Previous Mods: I modded a HAF932 as my first project but was very unorganized to say the least, it was a hack and slash with a few scattered crappy work logs, but I took notes and learned a lot, did my research and turned around and built Grey Matter as my second build.
Personal Website(s): www.OrangeClockwerk.com (work in progress), https://www.facebook.com/ClockwerkCustoms, @OrangeClockwerk on Twitter
–
The Build: Grey Matter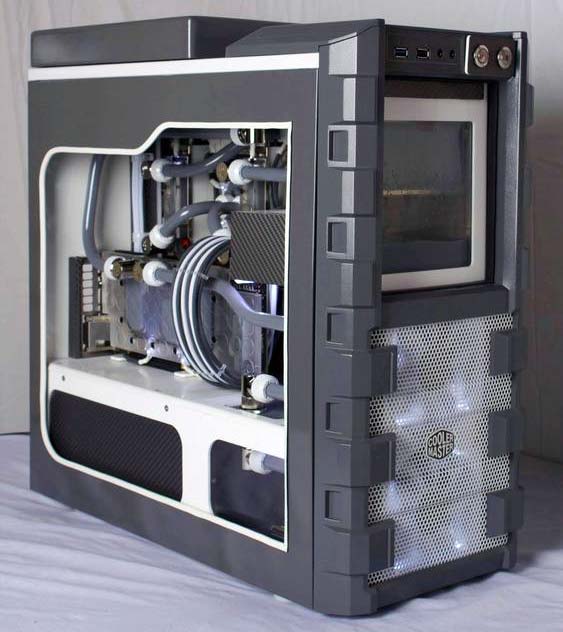 Words from the modder:
It is my second case mod, but technically the first one I planned from the beginning, designed, and executed. The first mod I did was a hack and slash attack on a case with absolutely no planning, followed by a hand full of botched worklogs. It was a extensive learning experience because after it was done I created this build and the workmanship increased by 1000%. I learned a lot during this build as well and I am starting to develop a style of my own. I didn't have a theme really planned other than a white and grey color scheme , I thought it would be a nice break from the never ending ROG themes. I did a good bit of cover up considering I do have a ROG Rampage 4 Gene motherboard ;). Other than that I wanted something rarely seen in most builds, that's where the vertical GPU idea came into play. That is definitely the topic of conversation on this build. Another key mod is the handmade acrylic reservoir. Once I saw that it was possible to make them, I decided I don't need to buy them any longer and I will always put my own custom reservoirs in my builds. Aside from it being handmade it also features a waterfall feature. The rest of the mods are seen in most builds, sleeved PSU wires, anti-vandal switches for power and reset, custom water loop with rigid acrylic tubing, painted motherboard heat sinks, handmade radiator grills, that about wraps it up I think.
Specifications:
PC Components:
Case: Cooler Master HAF 912 Mid Tower
PSU: EVGA SuperNOVA 750W GoldPlus
CPU: Intel I-7 3930k 6-core 3.2Ghz (3.8Ghz Turbo) 2011 Socket
Motherboard: Asus Rampage IV Gene
RAM: 16Gb Gskill RipJaw Z series 1600 Mhz Cas #9
GPU: EVGA 780GTX SC ACX
SSD: Samsung 840 Pro Series 256Gb
Optical: LG Slim Blu-ray Burner
Water Cooling System:
EKWB 240mm XT Radiator
2x EKWB 120mm XT Radiators
11x EKWB 90 Fittings
2x Bitspower G1/4″ Female / Female Pass-Through Fitting / Fillport
2x EKWB Monarch x2 RAM water block
2x EKWB Monarch RAM Modules
Swiftech MCP-655 PWM Pump
EKWB D5 X-Top White Acetal Pump Top
20x Primochill White Revolver Rigid Fittings
Rigid Tubing
Hand Made Custom Acrylic Waterfall Reservoir
4x Enermax White Cluster PWM Fans with White LED
EKWB Acrylic/Nickel Supremacy CPU Block
EKWB Acylic/Nickel Titan/780 CSQ Block
Everyone has a story of what got them into Modding. What or whom got you into Modding?
I pretty much got myself into modding. I guess you could say PC gaming led me in that direction. I had seen crazy water cooled builds online before and always wanted one. I ended up upgrading my processor and motherboard to the Intel 3930k and ASUS Rampage 4 Extreme. It looked so plain and did no justice just hooked up normally in my case. I was looking at water cooling and Case Labs cases came up in my search. I realized after all my accessories I was looking at around 700$ on a new case. I happened to YouTube search the name of my case and I found a video work log for the Toxicity HAF932 build. I totally changed my mind on the Case Labs case and came home from work and immediately started drilling apart my case. The rest is history!
Where do you get your inspiration for your mods?
I get inspiration from other work logs and the mods that came before me. I like to find a handful of different mods I like, put my own tweak on them and blend them together. I also like to try and do something in my mod that I haven't seen in any work logs, or at least something really rare, an example would be the vertical GPU and waterfall reservoir.
What were the thoughts behind the featured mod?
Basically I wanted to use a color scheme I haven't come across, and grey and white popped in my head. I also saw a mod where PCI-e extensions were used and I wanted to implement that and do something unique with that. I decided to mount the GPU vertically because you rarely get to see how cool the water blocks look in their glory. Next was the waterfall reservoir. I like to hand make anything I have the tools to do, that's a big part of modding to me, once I saw you can glue acrylic and make a reservoir, I knew I had to try it.
Why did you do it the way you did?
I basically tore the case down to the metal frame and started with a blank canvas. After that I just started brainstorming different ideas, and planning the component orientation. My brain is a crazy place, I just throw different modding ideas in there, let them marinate for a little while, and start piecing the puzzle together. I am teaching myself 3d design now to help get my thoughts across, it seems to be helping me get a good idea of what things will look like before I actually attempt them, it should cut down on my disappointments, and should help me in the search for sponsors in the future.
What do you think was the hardest part about doing the mod?
Placing and lining up the I/O for the motherboard and GPU were tricky because I made the entire rear panel and I/O brackets by hand and the GPU was vertical lol. Also, I had some leak issues with the reservoir because it was my first design and I glued it in a way I regretted immediately. The sides were originally supposed to be clear with white trim, but I had to slap solid white acrylic panels on them to stop all the leaks. Other than that this mod was really smooth sailing, all my ideas played out exactly as planned.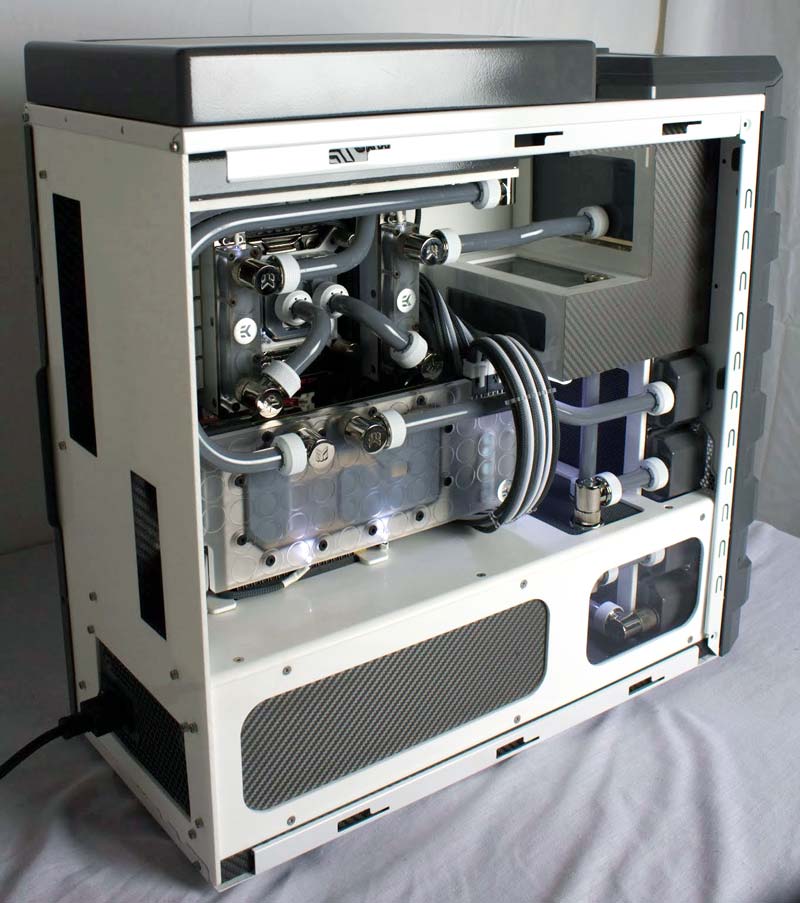 Did it turn out how you thought it would?
Literally right on the money. I really impressed myself when I sat back and looked at the finished product while thinking back on the rough sketches.
Is there anything you might have wanted to do different?
 Yeah I would have attached the sides of the reservoir differently to avoid the leak issues.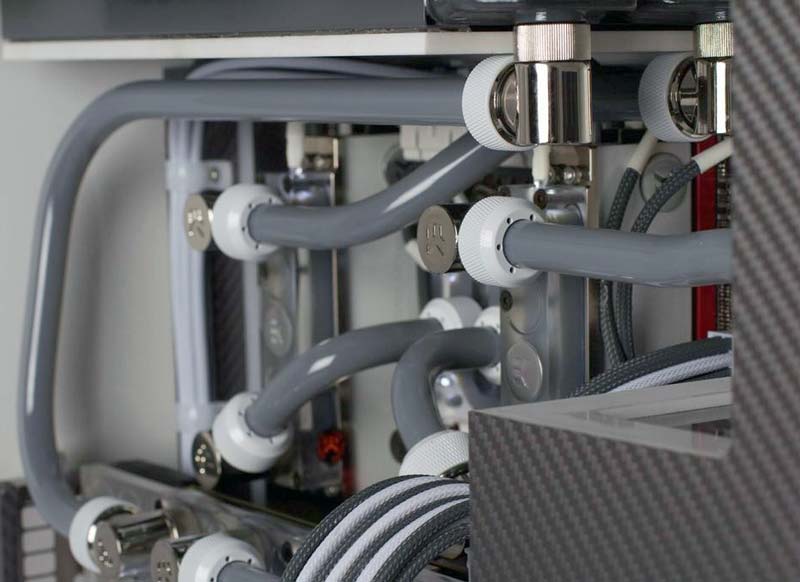 How much time did you spend on the mod?
Roughly 400 hours. Give or take a few.

Do you have another project in the shop or in the planning?
Yes I do! I'll always have one in the shop, and one in planning =D. I'm currently working on a Fractal Design Define R4 mod, called Black Frost, after winning the case in a giveaway at the Mod Zoo. I'm happy to say I already picked up a sponsor for the build, a set of beastly case feet from casefeet.com. I am really grateful and honored.

I also have an entire mod planned for the upcoming Cooler Master HAF-Xc case announced at CES2014. I am also starting a 4′ x 2′ CNC build this Friday using the CNC Router Parts PRO 4×2 plans, Ill be doing a work log for that as well! I am super excited to start the CNC I have been wanting one since I started modding.
Thank you for agreeing to an interview Jim and we are looking forward to seeing your next creative project.