Page 2 »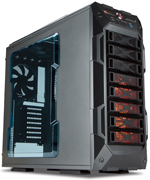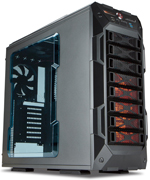 We will be reviewing the IN WIN GRone Full Tower Computer Case, the GRone (or GR1 for short) is IN WIN's newest full tower chassis. The GRone comes in three colors, Black, Gray, and White. We will be taking a closer look at the Gray version, so let's just jump right on into the review, shall we. 
  First a tad of info: IN WIN was founded in 1985 with a focus of computer chassis selling and marketing. In the years that have followed IN WIN has proven itself to have staying power in the computer chassis manufacturing field. In fact they have grown into one of the leading providers of enclosure solutions to system integrators worldwide. IN WIN now offers not only top notch computer cases, but server enclosures, power supplies and hot swappable storage units as well, and I am sure they will not be stopping there.
[dhr]
First Look: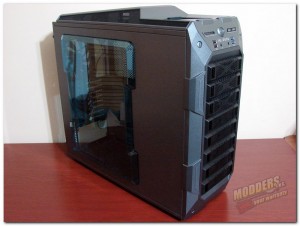 After removing the IN WIN GRone from it's somewhat subtle yet tastefully designed box, as well as the foam encasement and plastic wrap to protect the case during shipping, we get our first real look at the sporty looking GRone. The IN WIN GRone comes in three color flavors,  Metallic Gray, White and Black, with the Black color being somewhat hard to find stateside thus far. However, the Metallic Gray version I received is readily available and looks sporty and solid at first glance, but of course every computer enthusiast knows it's what's on the inside that matters the most, and we will be getting to that shortly.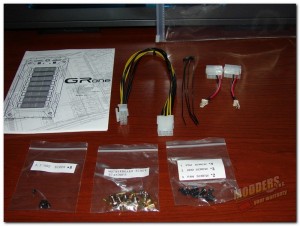 You will also find the included accessory kit and user manual located just inside the box of the IN WIN GRone. Included in the accessory kit we find;
1 x 8-Pin to dual 4-pin EPS extension cable,
2 x 4-Pin Molex to 3-Pin fan adapters,
3 x labeled bags of assorted screws / standoffs etc  
4 x cable ties for tidying up your installation.
[dhr]
IN WIN GRone Specifications and Features
 Specifications:
(Provided by IN WIN)
Name

GRone

Case Size

Full Tower Chassis

Material

0.8mm SECC Steel

Drive Bays

External 5.25" x 3
Internal 3.5" x 8 or 2.5" x 8

M/B Form Factor

E-ATX (12" x 13") / ATX / Micro-ATX

Power Supply

ATX 12V, PSII Size and EPS

I/O Expansion Slots

PCI-E / PCI / AGP Slot x 8 (Supports up to 365mm)

Front Ports

1. USB 3.0 x 2 (Internal Connector)
2. USB 2.0 x 2
3. HD/AC'97 Audio
4. Fan Speed Controller

Top Ports

3.5"/2.5" SATA HDD EZ-Swap x 1

Thermal Solution

*Cooling Fan
Supports up to Total of 10 either 120mm or 140mm Fans;
(Different Regions May Carry Different Specifications)
1. Front: Supports up to 120 or 140mm Red LED Fan x 2
2. Rear: Supports up to 120 or 140mm Fan x 1
3. Motherboard Side: Supports up to 120 or 140mm Fan x 1
4. Top: Supports up to 120 or 140mm Fan x 3
5. Bottom: Supports up to 120 or 140mm Fan x 2
6. HDD Cage: Supports 120 or 140mm Red LED HDD Fan x 1
*Water-Cooling
1. Top: Supports Water-Cooling Radiator up to 360mm
2. Bottom: Supports Water-Cooling Radiator up to 240mm
(Bottom HDD Cage Must be Removed)
3. Rear: Water-Cooling Hole Ready

Fan Technical Data

GRone Metallic Grey
14cm Red LED Fan (140*140*25mm)/ 1200RPM ± 10%/ 23 ~27.8dBA
14cm Black Fan (140*140*25mm)/ 1200RPM ± 10%/ 23 ~27.8dBA

GRone White
14cm White LED Fan (140*140*25mm)/ 1200RPM ± 10%/ 23 ~27.8dBA
14cm White Fan (140*140*25mm)/ 1200RPM ± 10%/ 23 ~27.8dBA
(Subject to Regional Specification)

Dimensions

(H x W x D) 

562 x 245 x 593mm (22.1" x 9.6" x 23.4")
 Features: (Provided by IN WIN)
Highly Expandable
Eight PCI-E Slots to Support High-End Full Size Graphic Card (Up to 365mm / 14.4")
Supports CPU Tower Heatsink up to 206mm / 8.1"
Supports up to 11 Drive Bays (5.25" x 3, 3.5"/2.5" x 8)
3.5" /2.5" SATA HDD EZ-Swap Dock on Top for Easy Data Access
 Excellent Thermal Solution
Supports up to Ten 120mm or 140mm Fans to Provide Excellent Thermal Solution
Additionally Supports a Top 360mm and a Bottom 240mm Radiator for Professional Gamer
Water-Cooling Holes Ready to Supports Water-Cooling System
 User Friendly
Silence-Turbo Fan Speed Control per User's Requirement
One-Touch Front Bezel Filter
Super Speed USB 3.0 x 2 (Internal Connector)
Enlarged Cable Management Space with Rubber
 Easy Installation
Grommet Protection
20mm Rear Cable Routing Space
Bottom Mounted Power Supply with Removable Air Filter
11 Drive Bays
Excellent Air Flow
[dhr]