A Closer Look at the Phanteks Enthoo Evolv »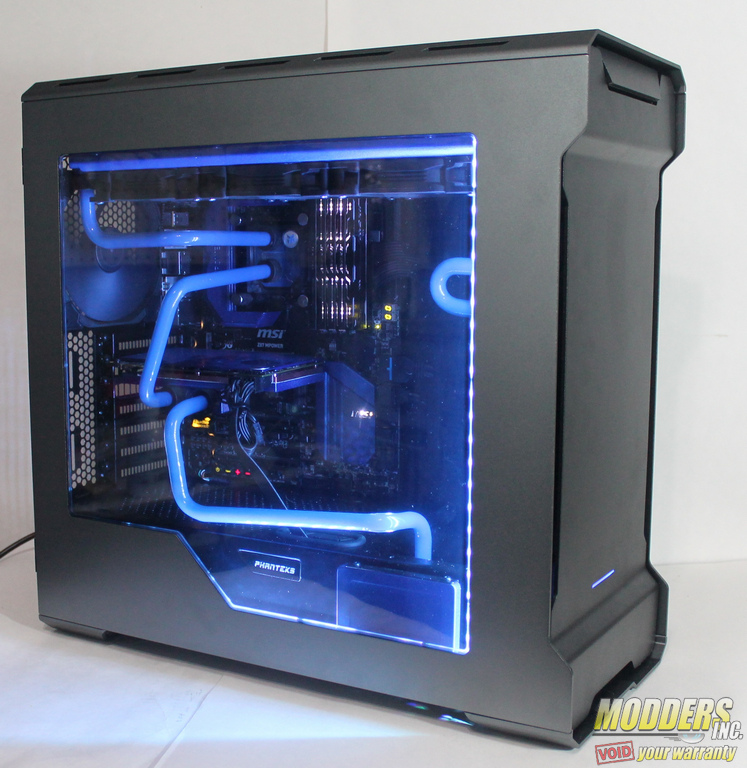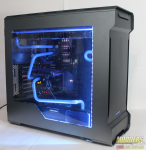 For over 10 years PC case design really and truly didn't change much. Sure, the outside would change but the overall interior layout stayed pretty much the same. HDD cages were located in the front bottom and above that the 5.25″ drive cage. There was also one or two intake fans as well as one exhaust fan at the rear. Now things are starting to get interesting with optical media being phased out so there really is no use for a 5.25″ drive cage unless you are going to have a fan controller or front bay reservoir.  However, more and more you are seeing a push toward a cleaner looking front end. As one of the new up and coming case manufacturers, Phanteks has been one of the main drivers in this new cleaner, minimalist look. This time we are going to be taking a look at Phanteks latest ATX version of their Enthoo Evolv case.
[sc:sponsor sponsor="Phanteks" product_name="Enthoo Evolv ATX" product_price="$179.99″ ]
PACKAGING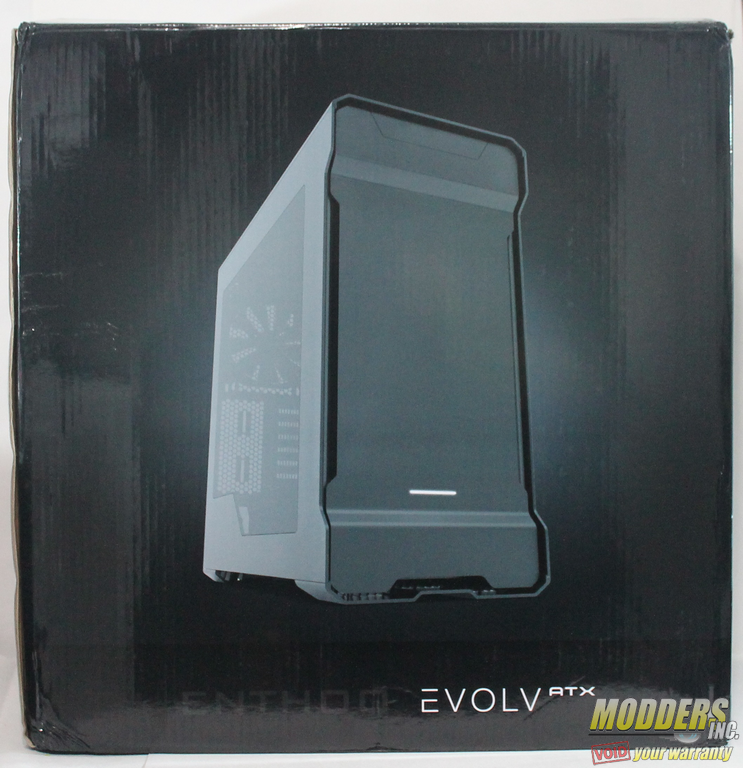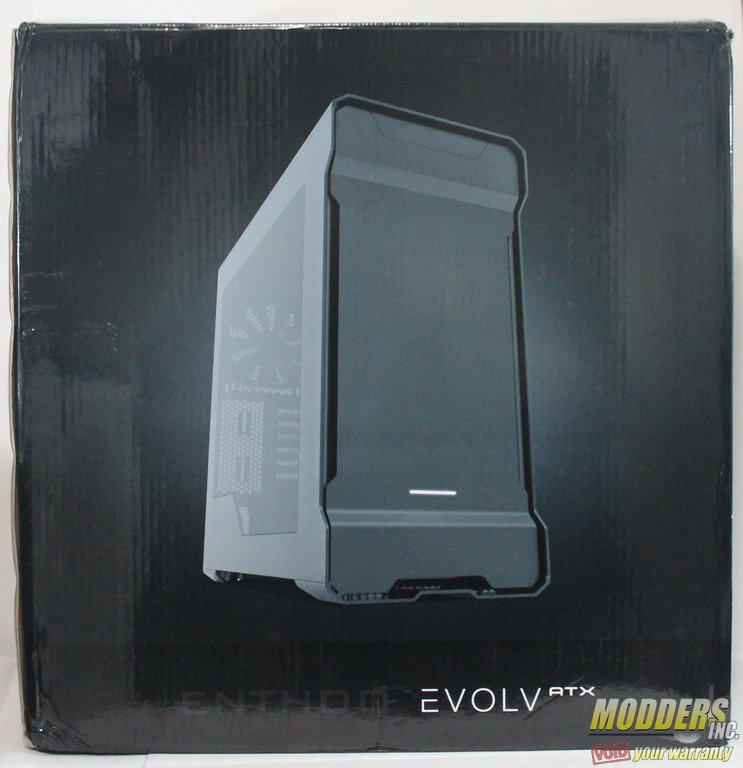 The front of the package has a large full illustration of the product in the center with the model name directly below that.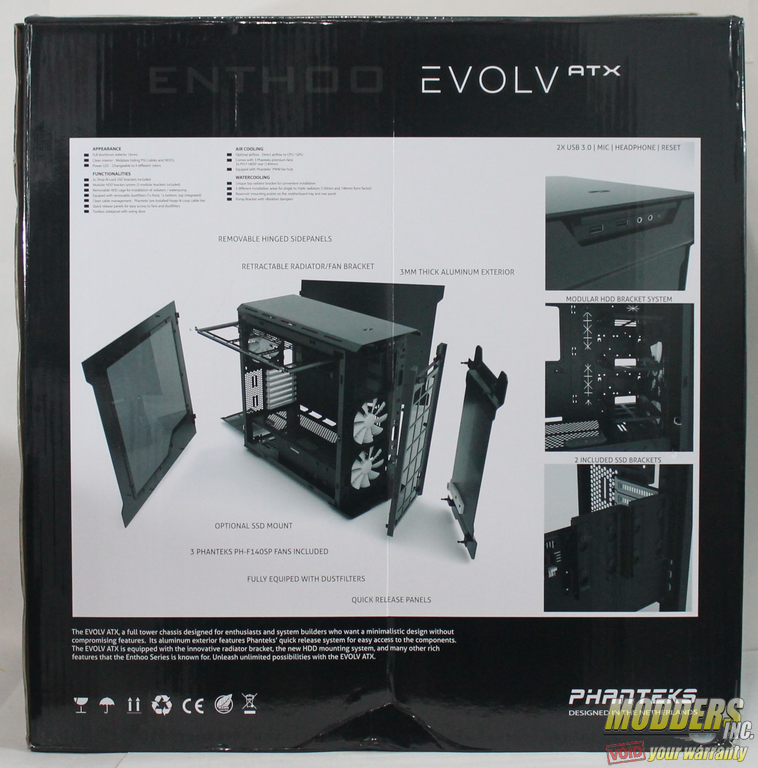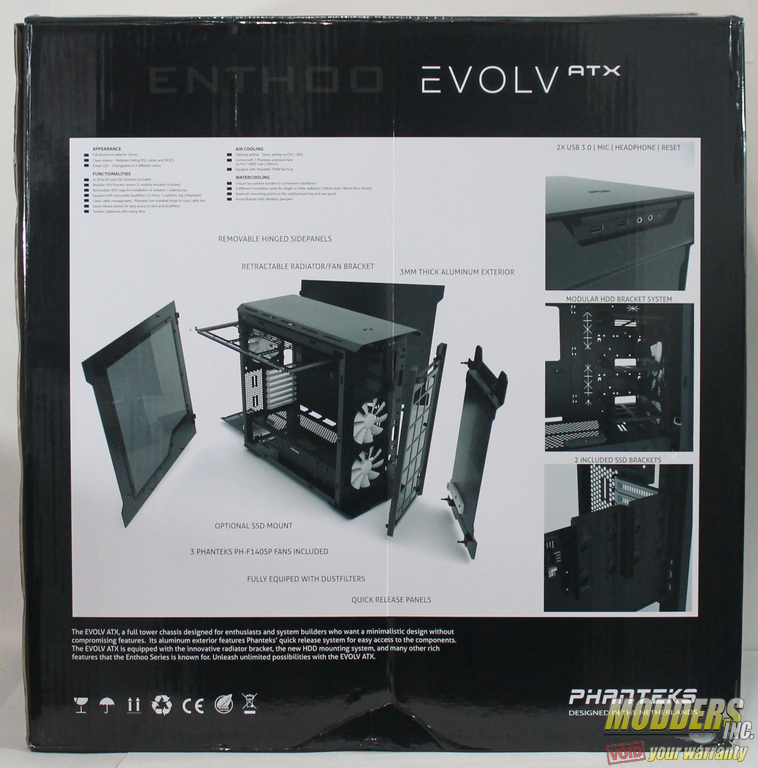 Around to the rear of the package we have a large illustration of the product with 10 key features pointed out . Below that is a brief description of the product.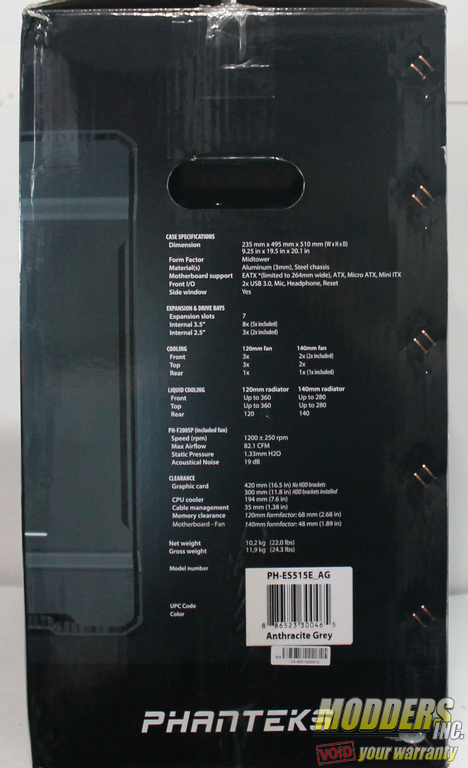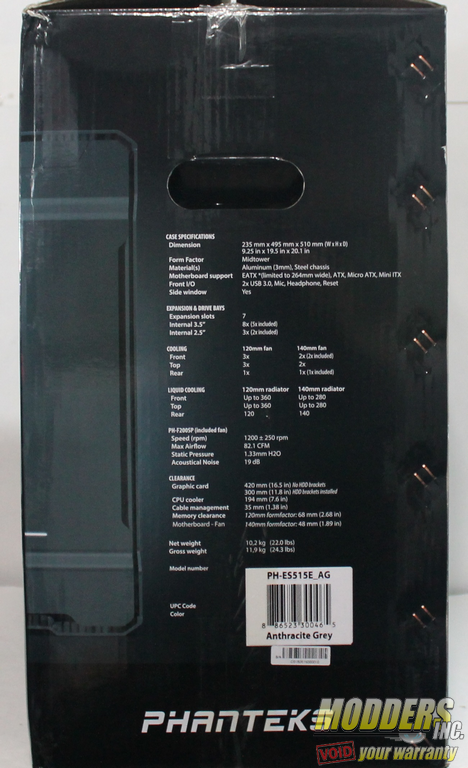 Moving around to the sides we have an illustration of 1/2 of the product on the left side. In the middle are the specs, and at the bottom we have the company logo.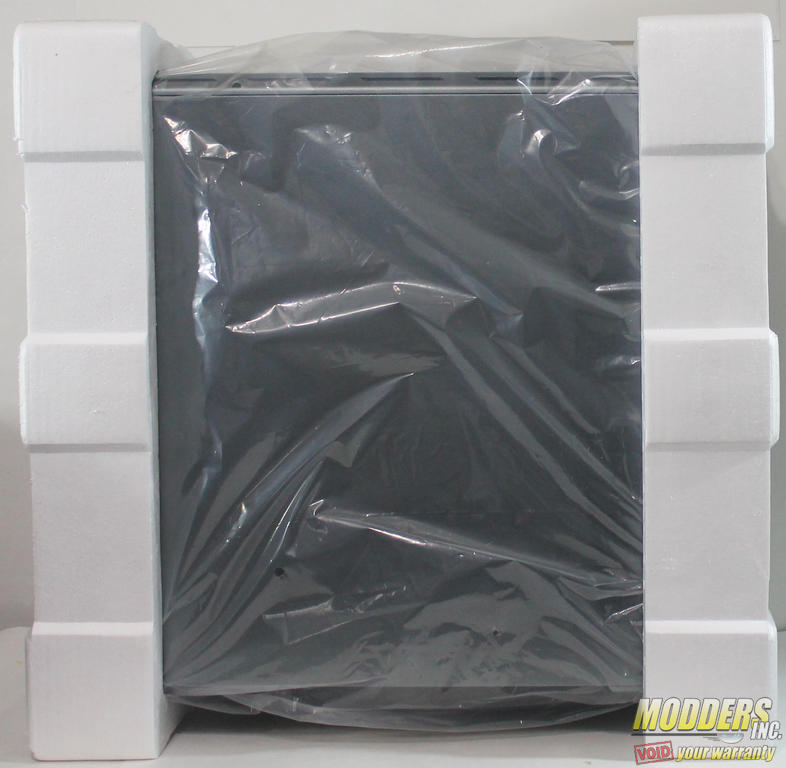 Once the product has been removed from its cardboard tomb we can see it is packed with the standard 1.5″ foam.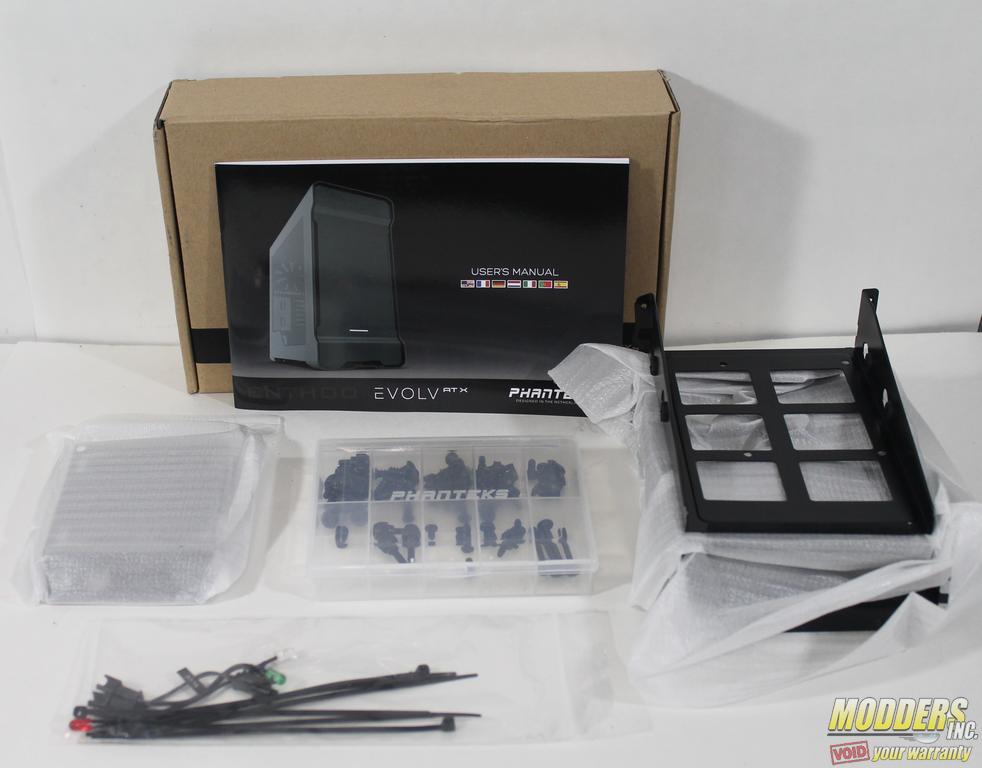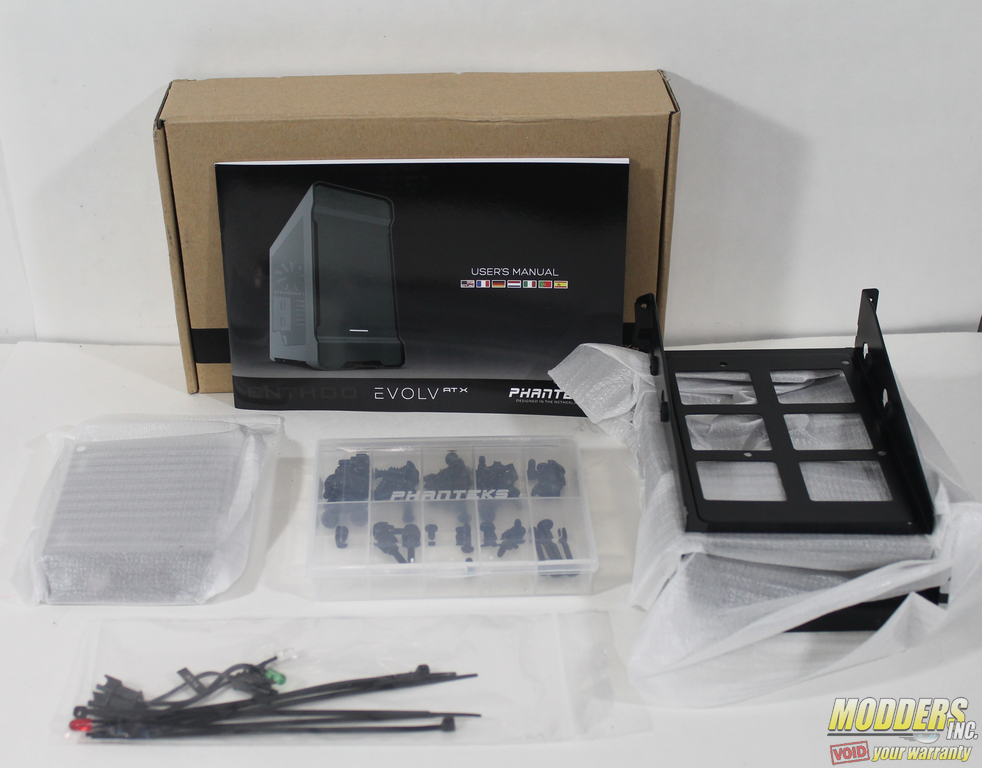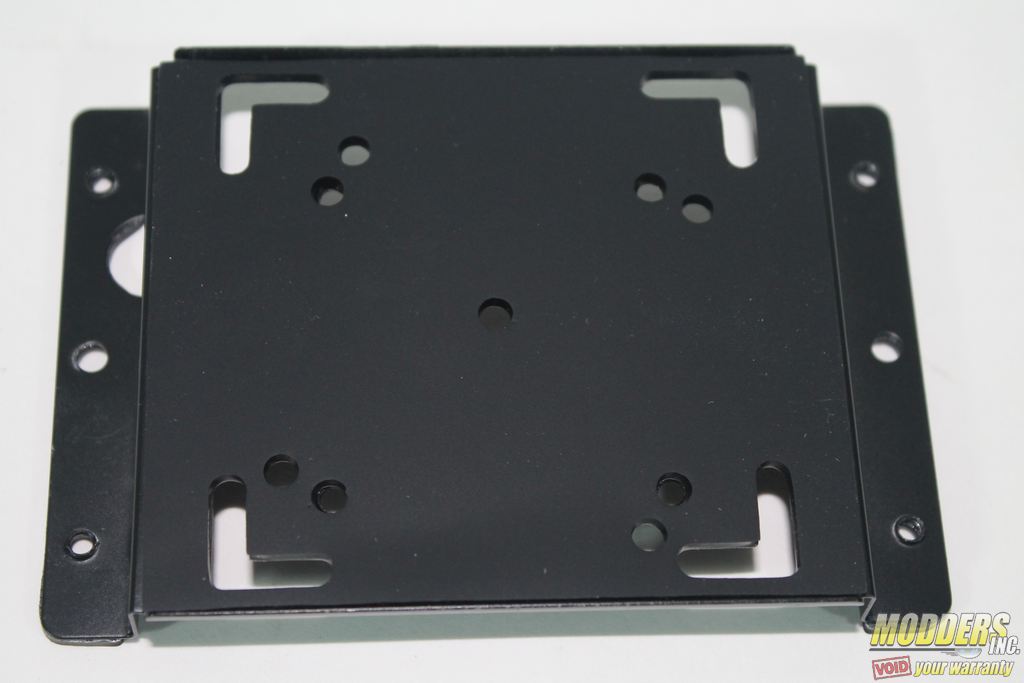 Inside the accessory box you will find the user's manual, beneath that you will find a small compartment box with all the mounting screws, a few zip-ties, extra LED's for the front panel power LED in blue, green, red and white.  Wrapped in thin foam you will find the 3.25″ modular drive platforms, and a padded pump mount.
SPECIFICATIONS
| | |
| --- | --- |
| Dimension | 235mm x 495mm x 510mm (W x H x D) |
| Form Factor | Midtower |
| Materials | 3mm Aluminum, Steel Chassis |
| Motherboard Support | EATX, ATX, MATX, ITX |
| Front I/O | 2x USB 3.0, Mic, Headphone, Reset |
| Side Window | Yes |
| Expansion slots | 7 |
| Internal 3.5″ | 8 (5 x included) |
| Internal 2.5″ | 3 (2 x included) |
| Front Fan Mounts | 120mm x 3, 140mm x 2 (included) |
| Top Fan Mounts | 120mm x 3, 140mm x 2 |
| Rear Fan Mount | 120mm x 1, 140mm x 1(Included) |
| Front Rad Mount | 120mm up to 360mm, 140mm Up to 280mm |
| Top Rad Mount | 120mm Up to 360mm, 140mm Up to 280mm |
| Rear Rad Mount | 120mm x 1, 140mm x 1 |
| Fan Speed(rpm) | 1200 rpm |
| Max Airflow | 82.1 CFM |
| Static Pressure | 1.33mm H2O |
| Acoustical Noise | 19 dB |
| Graphic card Clearance | 420mm (Without HDD Brackets) 300mm (With HDD Brackets) |
| CPU Cooler Clearance | 192mm |
| Cable Management Clearance | 35mm |
| Memory Clearance | 120mm Form factor: 68mm |
| Motherboard – Fan Clearance | 140mm Form Factor: 48mm |
| Net weight | 10.2 kg (22.0 lbs) |
| Gross weight | 11.9 kg (24.3 lbs) |
| Model Number | PH-ES515E_AG |
| Color | Anthracite Grey |