« Introduction
|
A Closer Look at the 660p »
Packaging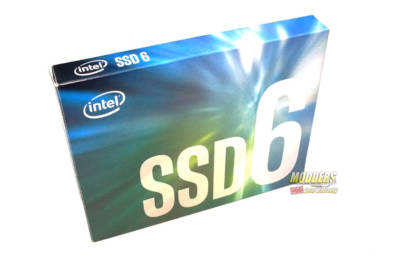 The front of the packaging for the 660p has the Intel logo printed on the top, left hand corner. On the bottom right is the SSD 6 branding that takes up most of the box itself has an almost tie-dye look to it. Much more noticeable compared to the old, boring blue packaging Intel used to use.
The rear of the box is all blue, with a diagram of the actual size of the SSD, 2280. Directly above that are the Intel logo and SSD d branding. To the left, you find the UPC code, model and serial numbers, as well as the capacity of the drive. The back of the package also refers to the 5-year warranty on 660p.
Inside the box, the SSD is encased in a small, plastic clam shell, which, is secured by a piece of bi-folded cardboard. There is a cut out for the SSD, so you can see it when you remove the cardboard. There is also a small pamphlet in the box. This is an installation guide, as well as the warrant information.