CPU Reviews
Intel Core i7-6700K Review: Inching Toward Extreme
Test System and Testing Procedures »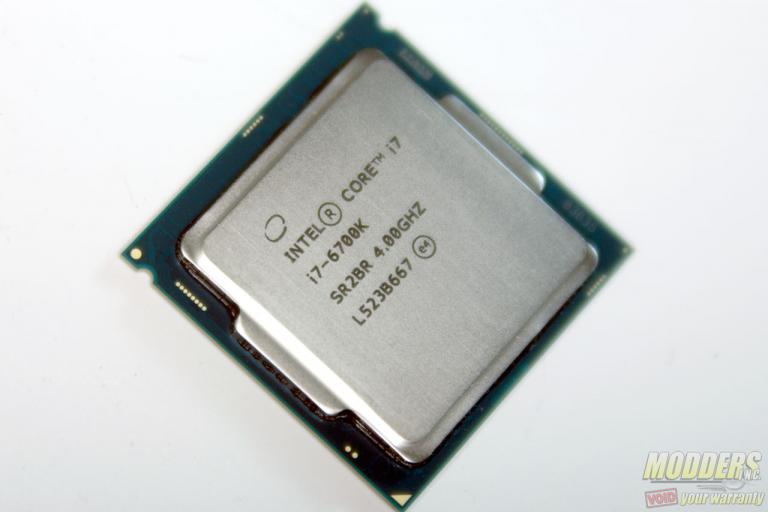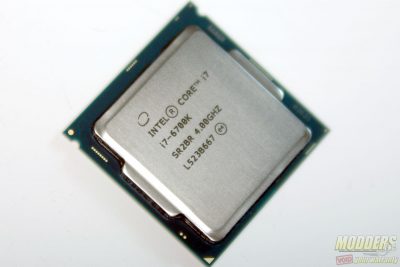 The Gigahertz war has long been over but it is hard to shake off the intoxicating effects of speed. Although now uncontested and unchallenged in two fronts, Intel still marches to the cadence of a 'tick'-'tock' cycle and builds upon the momentum of previous victories until the walls erected by Moore's Law itself falls. The march toward 14nm proved to be their most challenging effort yet, requiring billions and countless hours poured into creating new innovations to make manufacturing possible including creating a new fabrication plant and retro-fitting existing ones. This challenged pushed the release of both Broadwell and Skylake back but both are now finally in the market, albeit with the most contracted 'tick'-'tock' cycle release ever only a month apart from each other. The Skylake 'tock' i7-6700K and i5-6600K processor release also brings the new 100-series chipset based motherboards to the table, the first to use DDR4 memory on the mainstream desktop platform.
[sc:sponsor sponsor="Intel" product_link="http://www.intel.com" product_name="Core i7-6700K" product_price_link="http://www.amazon.com" product_price="$350″ ]
An Intel Core i7-6700K engineering sample CPU sent by Intel arrived in a simple, padded black box but the new retail packaging that will hit stores looks a lot snazzier and colorful. Another noticeable change is the slimmer design due to the lack of bundled heatsink fan. Mainstream Intel desktop CPUs have completely ditched them similar to the high-end desktop processors have a few generations ago. This is not really surprising considering the increasingly small number of people using the bundled CPU cooler and how affordable aftermarket solutions are.
The top-side IHS looks similar on all three processors (other than the markings of course) but looking at the processors from underneath reveals the differences. The PCB itself measures exactly the same and even has the exact same mounting hole distance as LGA1150 (so those upgrading from previous CPU coolers can re-use them) but the side notches have been moved closer to the top to prevent users from accidentally installing it in a wrong motherboard. It is not just one extra pin either underneath as there are additional round pin contacts visible on the edges.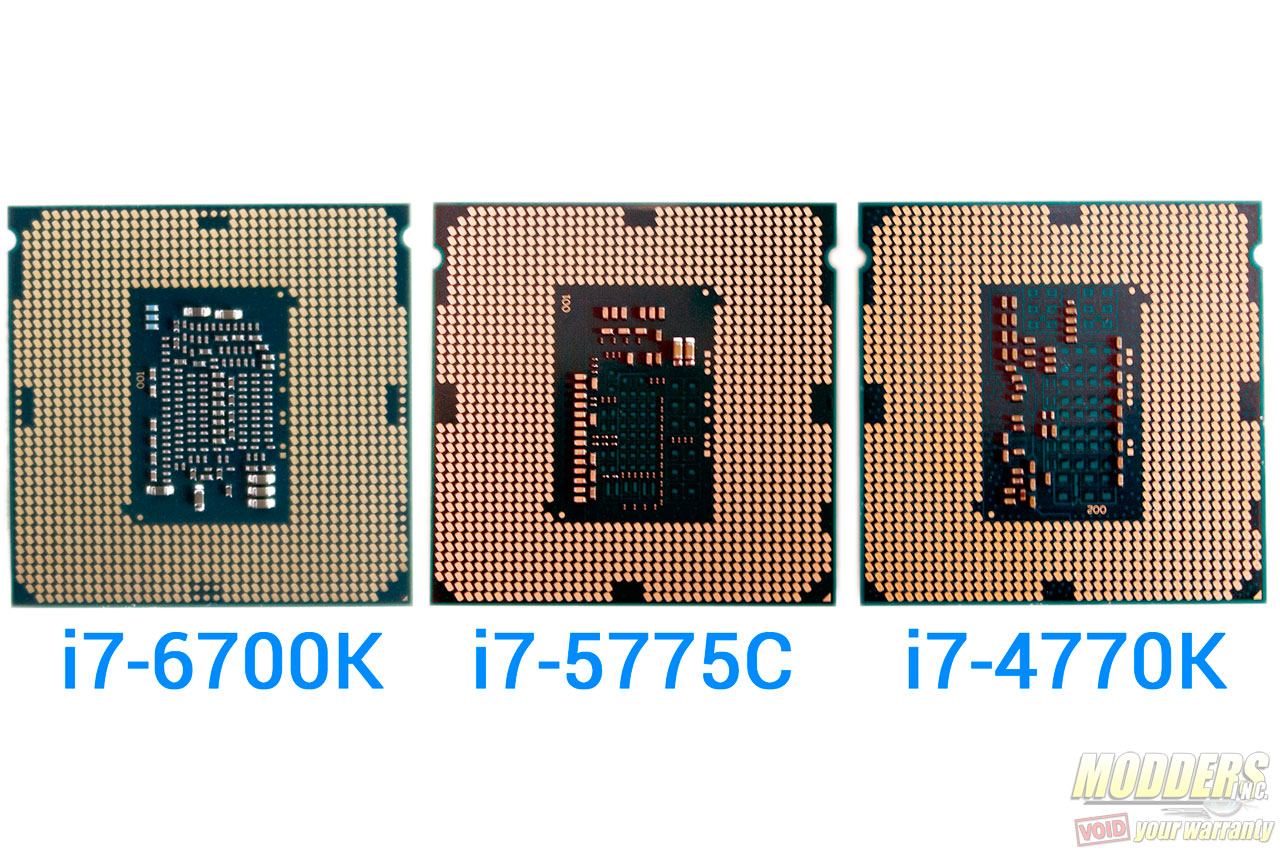 Intel is keeping the architectural information under wraps until IDF San Francisco, August 18-20, 2015 but there are many things known about Skylake so far.  The two initial CPUs available are two unlocked parts: i7-6700K and i5-6600K (More CPUs and variants are coming including S, Y, U and H variants). Both similarly configured core and thread-wise as their previous generation unlocked counterparts (4/8 for the i7 and 4/4/ for the i5) :
| | | |
| --- | --- | --- |
| | Intel Core i7-6700K | Intel Core i5-6600K |
| Core/Thread | 4/8 | 4/4 |
| Base Frequency (GHz) | 4.0 | 3.4 |
| Max Turbo (GHz) | 4.2 | 3.9 |
| Memory Support | DDR3L 1600/DDR4 2133 | DDR3L 1600/DDR4 2133 |
| Max Memory Size | 32GB | 32GB |
| TDP | 91W | 91W |
| Cache | 8MB | 6MB |
| Lithography | 14nm | 14nm |
| Processor Graphics | Intel HD Graphics 530 | Intel HD Graphics 530 |
| Price Box/Price Tray | $350/339 | $243/242 |
Looking at the price alone tips the fact that there is no L4 cache like in the i7-5775C present here as eDRAM costs quite a bit extra. The DDR3L and DDR4 support is interesting but for those uninitiated with DDR3L and DDR4, this does not necessarily mean the motherboard will be able to support both at the same time, although Biostar has shown a preview of a motherboard that has both DD3L and DDR4. DDR3L is a 1.35V low voltage standard available in standard DDR3 form-factors or more commonly in compact SO-DIMM modules while DDR4 will be in most regular Skylake desktop boards as the default standard.
*Editor's Note: 8/11/2015* Information regarding DDR3L corrected.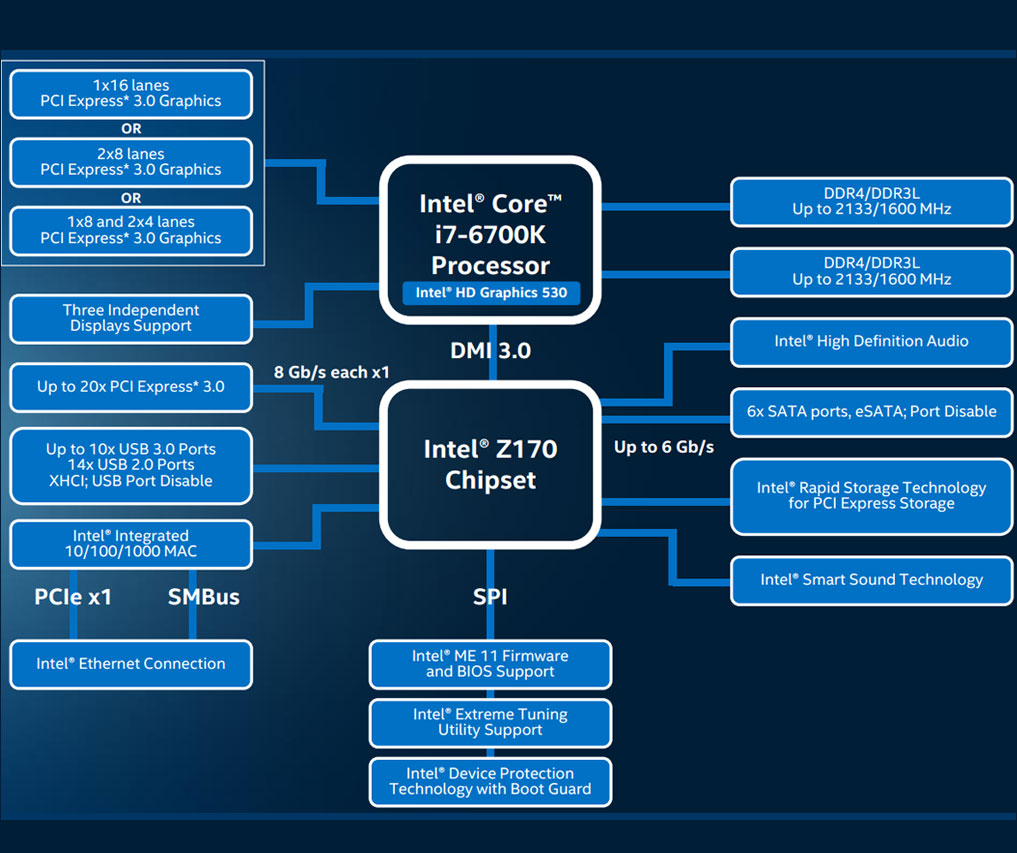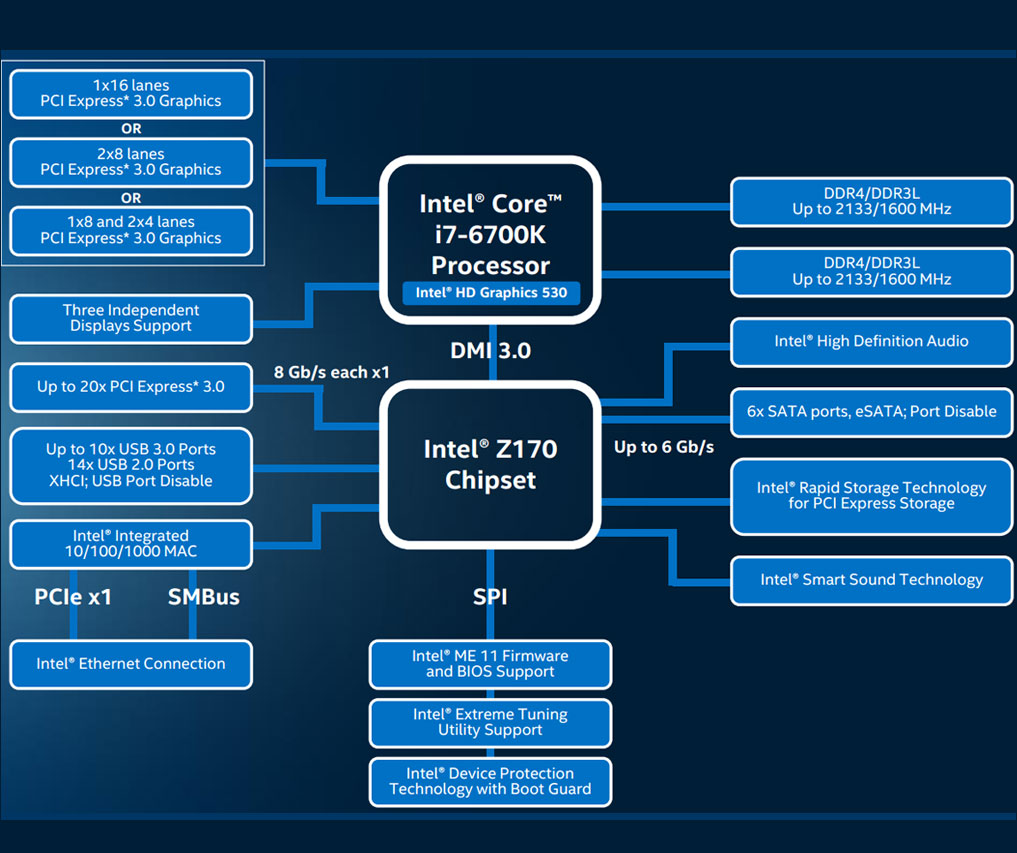 The biggest change in the platform itself is in the increased PCI-E lanes available via the chipset. Z87/Z97 offered up to 8 lanes but Z170 increases that up to 20 and also widens it to PCI-E 3.0 compared to PCI-E 2.0. This change also required wider Direct Media Interface link allowing for 8GT/s compared to 5GT/s. Obviously this is still not enough to fully use all that massive bandwidth but then again, this is the mainstream desktop platform so this would have to serve as a teaser for what is most likely to come from the next HEDT platform. It is nonetheless interesting, especially with PCI-E storage now having RST support.