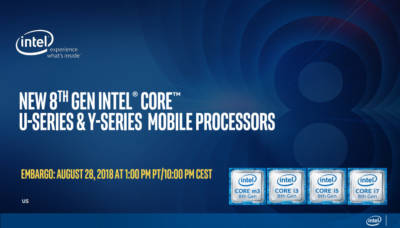 We live in a very fast paced society in which everyone is connected by some kind of device. With how powerful phones and tablets are now, its no surprise that everyone has some kid of device. However, sometimes a cell phone can't do everything you need it too and lugging your desktop around just isn't an option. In the past, a powerful laptop just wasn't an option for many. For starters, they were heavy and bulky. Also, you'd have to pay a hefty premium to get a laptop powerful enough to handle tasks like video editing.
Back in August of 2017, Intel first introduced their 8th generation family of mobile U-Series processors. This was followed by their 8th generation K SKU processors in October with their first consumer hex core processor. Today, Intel launched their all new line up of 8th Generation U and Y series mobile processors. Code named Amber Lake and Whiskey Lake, these mobile processors offer some significant upgrades over previous mobile processors.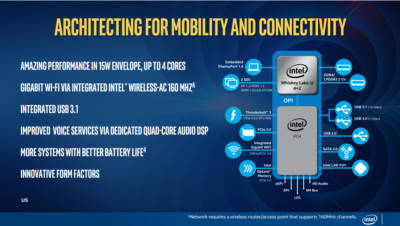 Worldwide, over 450,000,000 consumers are working off a computer, laptop or desktop, that are 5 years old or older. In addition, its estimated that over 100,000,000 people aren't getting the most out of their computers. Well, with this launch, Intel hopes to help lower those numbers. With this launch, Intel is introducing six processors in total. The U Series offers three processors each with a TDP of 15 watts. The U Series also offers three processors. However, these are each only 5-watt processors.  Even with such a low TDP, Intel is boasting these new processors are 10% faster that their previous generation and 80% faster than their 5-year-old equivalent.
For CPU heavy tasks such as rendering 4k video, Intel's new 8th generation mobile processors are 6.5 times faster than your average mobile processor that's 5 years old. For encoding, these processors can be up to 10.5 times faster on Handbrake than a processor up to 5 years old.  In Adobe Lightroom, the new processors are, on average, 2.9 times faster than a 5-year-old chip. On backup and upload, up to 12 times faster than their 5-year-old equivalent.  For example, I have an old Lenovo W530. A 4k video that takes me say 6 minutes to render would take less than a minute using a laptop with one of the new Y or U series processors. For someone who's job it is to render video, this could save you hours over long periods of rendering.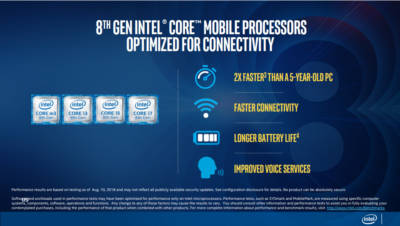 Even the 802.11 AC WIFI offers double the performance of an older computer. Both the Y and U Series have integrated Gigabit WIFI and USB 3.1. These processors are all compatible with Thunderbolt #. However, it isn't integrated on the PCB, so you'll need an add in Thunderbolt 3 card.In addition, they have made the pen and inking feature much smoother. They have also integrated several voice services on top of Cortana such as Alexa. With better support for voice services, you can now wake your laptop from sleep mode, simply by speaking to it.
One of the most exciting features for me is the long battery life. These processors offer a battery life of up to 16 hours. When your computer is fully optimized for battery life, its possible to get up to 19 hours of use out of your laptop that sporting an 8th gen Y or U series processor. Given there are some specific setting that must be used to get this much time. For example, the screen brightness must be set to 200 nits. This is just one setting that you must use to get the 19 hours out of your battery. With that being said, 16 hours should be plenty for most users. Even with 1080p video playback. One of the processors can get up 16 hours of local playback of 1080p video.
One last feature I wanted to touch on was gaming. If you're wondering how well your games will run on your new laptop, or at all, Intel has you covered. The Y Series, or Amber Lake processors have Intels UHD 615 integrated graphics. As for the U Series, or Whiskey Lake processors, run Intels HD 620 graphics. Neither will allow you to play the Witcher 3 in 4k. However, depending on the games you play, they can give you a playable experience. Simply go to https://gameplay.intel.com/ to find out.  You can either search your processor or have the site auto detect your system. Once the processor is selected, the site will give you a list of games your integrated graphics can handle as well as allow you to search game titles as well. This is a great feature for people who may want to play games on their laptop from time to time. So, if you're like me and have been putting off getting a new laptop, now may be the perfect time to look into a new laptop.