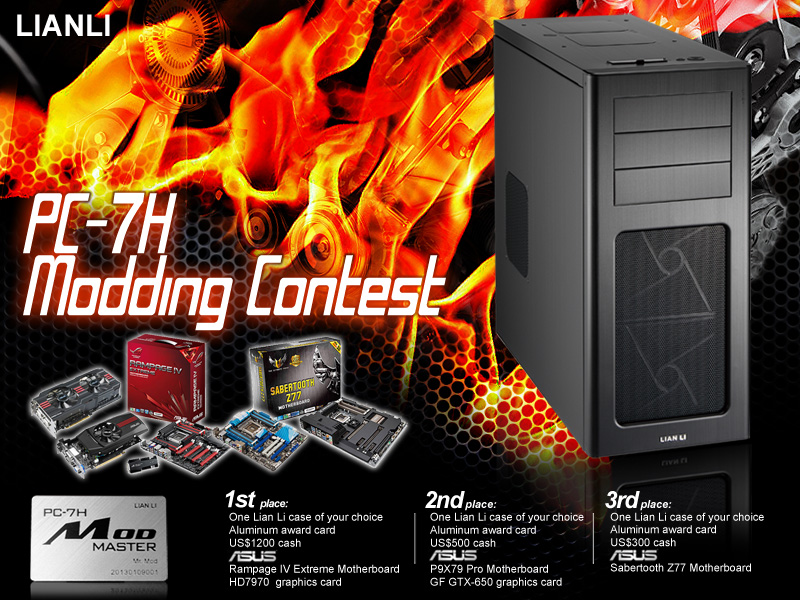 How to Join the PC-7H Modding Contest and Procedure
Register and signup for an account of the Lian Li forum on XtremeSystems here
Start a new thread in the Lian Li Forum with [Case Mod] and the name of your PC-7H Mod written in the
Take a picture of the PC-7H and all components before starting the modding contest and post it to the thread
Regularly update your mod progress on the same thread
Submit your completed mod with at least 5 pictures and a link to your modding thread to 7hmod@mail.lian-li.com by Jan. 18th, 2013
Facebook users will be able to pick winners by voting among those top 10 mods selected by the panel judges

Entries that are shared across other forums and mediums will be given higher consideration during the voting process

The final round contestants' mod pictures will be posted on the Lian Li HQ Facebook page on Jan. 25th
Voting will commence on Jan 25th and end at midnight on Jan. 31st with the top 3 most popular case mods winning prizes
Winners will be and announced on Feb. 1st and contacted by Lian Li
Additionally, one PC-7H will be given to a randomly picked voter .
 Prizes
Modding Contest

1st place: One Lian Li case of your choice, PC-7H Mod Master Aluminum Award Card, Asus Rampage IV Extreme Motherboard, Asus HD7970 graphics card, US$1200 cash
2nd place: One Lian Li case of your choice, PC-7H Mod Master Aluminum Award Card, Asus P9X79 Pro Motherboard, Asus GF GTX-650 graphics card, US$500 cash
3rd place: One Lian Li case of your choice, PC-7H Mod Master Aluminum Award Card, Asus Sabertooth Z77 Motherboard, US$300 cash

Voting

One random voter during the voting stage will receive a Lian Li PC-7H brushed aluminum chassis
 Requirements
Only mods using the PC-7H chassis are qualified to enter
This competition is open WORLDWIDE!
The final product must be a fully functional PC
Entries to the PC-7H modding contest are not exclusive to this contest. Contests can use
the mods entered into the PC-7H contest to enter into other modding contests.
All modding must be done by you
 Special Note
Lian Li reserves the right to make any changes to rules or regulations during the running of the contest
In the event of a dispute, Lian Li holds the final say and no discussions will be entered into
In the event that the prize is unavailable, Lian Li reserves the right to offer an alternative of equal or great value
By entering this competition, you adhere to the above rules and regulations
* Any questions about the contest can be asked on the Lian Li Official Forum on XtremeSystems here
 Lian Li PC-7H Modding Contest.