« Hardware Installation and Clearance Compatibility
Final Thoughts
Metallic Gear, a branched-out company from Phanteks, has a right approach to Design and Quality.  Their line up of Cases is short however by looking at Neo Mini I could see the quality and craftsmanship that went into this case. The Neo Series consists of Neo Mini, Micro, and ATX.  Depending on your requirements you should have no issues finding the right form factor.
I think Neo Mini is just the right size for mITX motherboards and relatively easy to work with. What I really like about this case is the finish of the Sandblasted Aluminum. Sandblasted Aluminum feels great to touch and because aluminum absorbs heat faster, I think the whole case should be covered in the aluminum not only the top and the front. This may aid in a little better heat dispersion. The right-side door is made from rolled steel and does not have the same finish. The power supply is mounted at the top of the case. We had this design for years before manufacturers started to isolate power supplies and putting them on the bottom of the case. Another thing I found that could be an improvement in the Neo Mini is the rear motherboard spacing. I think increasing space by just 10 mm more would tremendously help with managing the cable.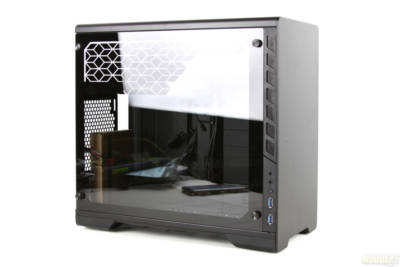 As far as modding options go, Neo Mini would be a tough candidate to work with. Judging by its size and clearance it would be challenging to install a custom water loop with a dedicated pump.
As of this review, Neo Mini retails for about $ 70 USD. I feel that this is a fair price for this kind of case with tempered glass and sandblasted aluminum panels.  Similar size cases sell from anywhere $79 to 120 USD. A good comparable Evolv ITX with tempered glass by Phanteks.
If you are looking for a case to build a media pc or a VR pc, Neo Mini might be it. If you planning to use this case for modding I would recommend to plan out your modding project first as you might run into challenges based on clearances.
Overall, I liked Neo Mini as an everyday case. Perhaps other cases by Metallic Gear Neo have more flexibility in terms of component placement and modding.