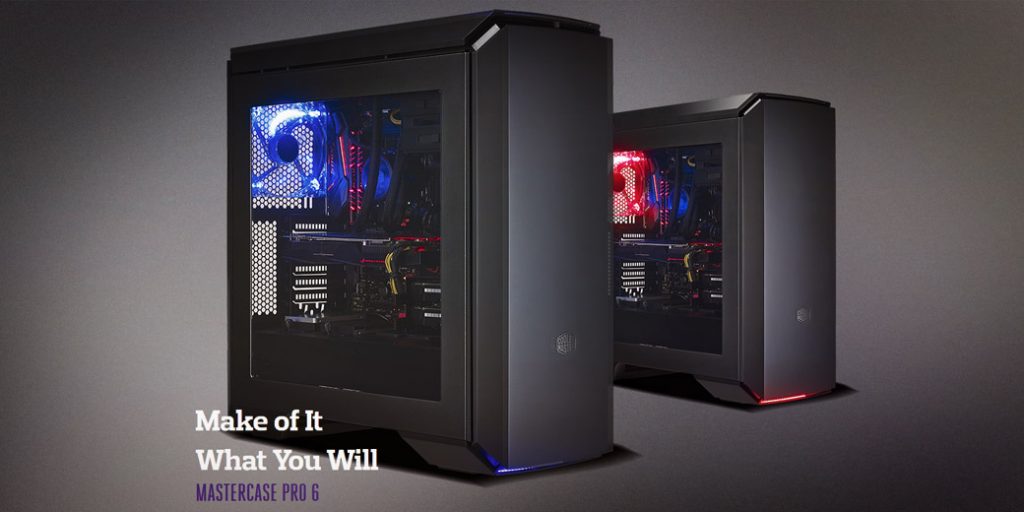 The MasterCase Pro 6 is the latest case to implement Cooler Master's FreeForm modular system, going with a restrained design externally with the aim of providing unparalleled flexibility. As you might have gathered from the name, it is on a higher tier than previously released MasterCase 5 enclosures (except for the MasterCase Maker 5t as the "Maker" designation is on a higher tier than PRO). The PRO designation in the name means that it is also packs more accessory extras out of the box than non-pro MasterCases.
The MasterCase series are built on fundamentally the same bones but what sets each one apart are the layers and accessories attached to it out of the box. Cooler Master's ingenious FreeForm modular system used on all their current line with each sub-group having the same interchangeable set applies here as well so parts can be interchanged or transposed with other MasterCase enclosures. Extra accessories are also available as well as upgrade options including side-panels, LED lighting and more.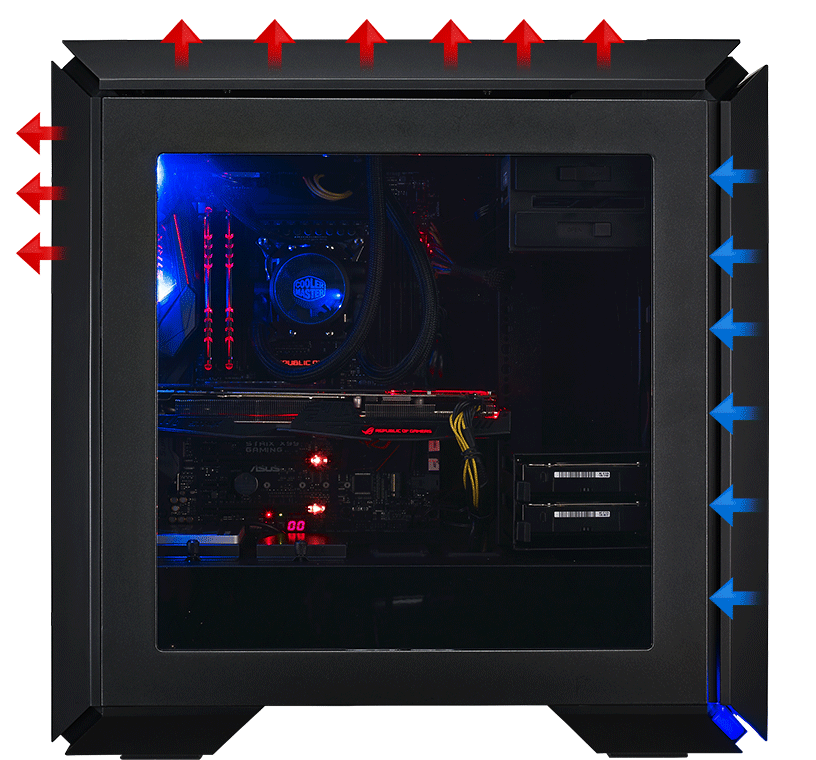 What the MasterCase Pro 6 offers unique unto itself however are the front and top cover panels which dampen internal noise and can be adjusted to allow more airflow. These panels are also secured via magnets so they easily attach on or off if the user wanted. The MasterCase Pro 6 is available in two primary version: red LED or Blue LED version. Each version has a corresponding 140mm LED fan color pre-installed in the exhaust spot at the rear and at the lower front panel. Two extra 140mm non-LED fans are also pre-installed at the front for intake. Each comes out of the box with room for 240 or 280mm radiators at the top, room for 190mm tall CPU coolers  as well as 296mm long video cards (up to 412mm with HDD cage removed). It supports 2x 5.25″ drives, 5x 3.5″ drives(can be used for additional 2.5″ drives as well) and 2x dedicated 2.5″ drive mounts.
It is now available in the Europe but users in North America would have to wait a bit until February 28th to get one in stores.
Specifications:
Product Name
MasterCase Pro 6
Model Number
Blue LED version: MCY-C6P2-KW5N
Red LED version: MCY-C6P2-KW5N-01
Available Color
Dark metallic grey exterior with black interior
Materials
Steel body, Plastic panels
Dimensions (LxWxH)
544 x 235 x 548mm
Net Weight
11.74 Kg
Motherboard Support
ATX, Micro-ATX, Mini-ITX
Expansion Slots
7
Drive Bays
5.25″
2
Combo 3.5″ / 2.5″
5
SSD
2
Electronics
I/O Panel
USB 3.0 x 2
Audio in / out
Pre-installed Fan(s)
Front
140mm x 2
Rear
140mm Blue / Red LED Fan x 1
Fan Support
Front
120mm x 3 / 140mm x 3
Rear
120mm x 1 / 140mm x 1
Top
120mm x 2 / 140mm x 2
Liquid Cooling Support
Front
240 / 280mm
Rear
120 / 140mm
Top
240mm / 280mm (max. 297mm radiator length)
Clearance
CPU Cooler
190mm / 7.48″
PSU
200mm / 7.87″
Graphics Card
412mm / 16.22″ (without 3.5″ HDD cage)
296mm / 11.7″ (with 3.5″ HDD cage)
Cable Routing
Behind Motherboard Tray
25mm – 35mm
Dust Filters
Front, bottom
Power Supply
Bottom mount, ATX
Extra features
Side Window Panel
Front bottom Blue or Red LED Strip x 1
EAN Code
Blue LED version: 4719512054086
Red LED version: 4719512057452
UPC Code
Blue LED version: 884102030185
Red LED version: 884102031083