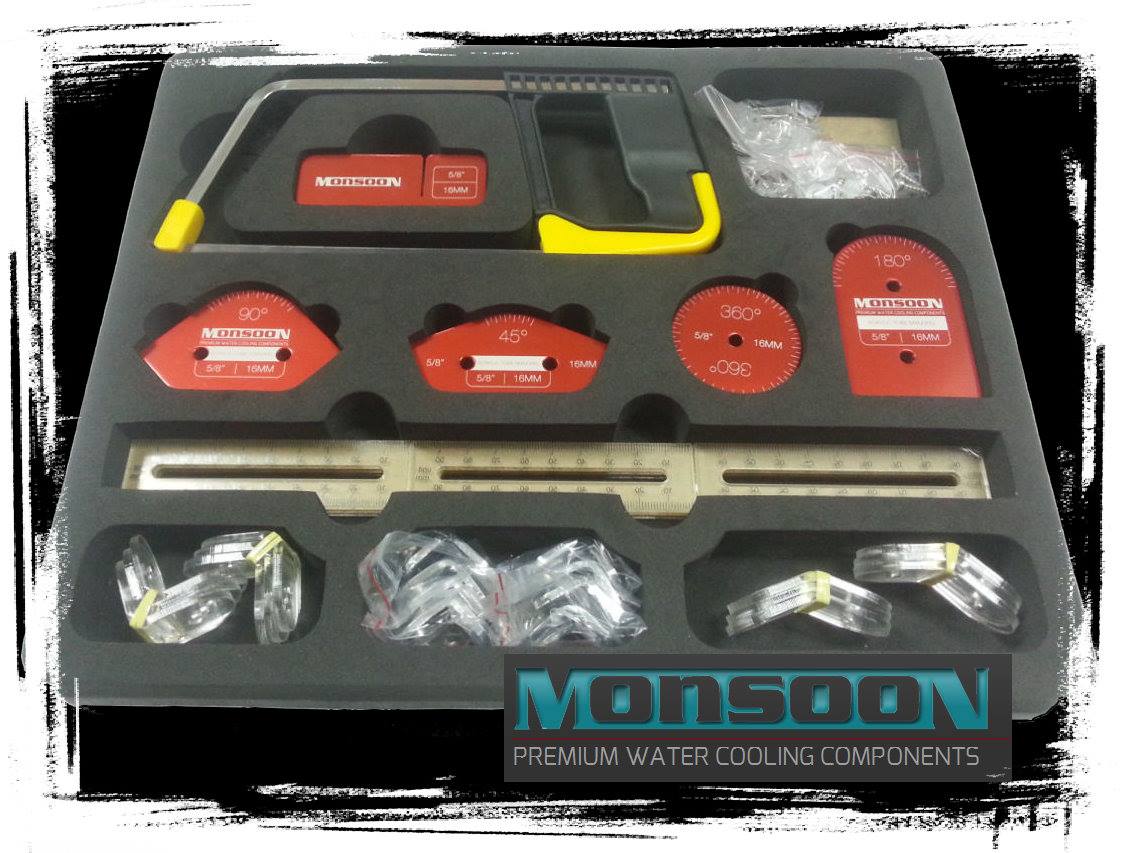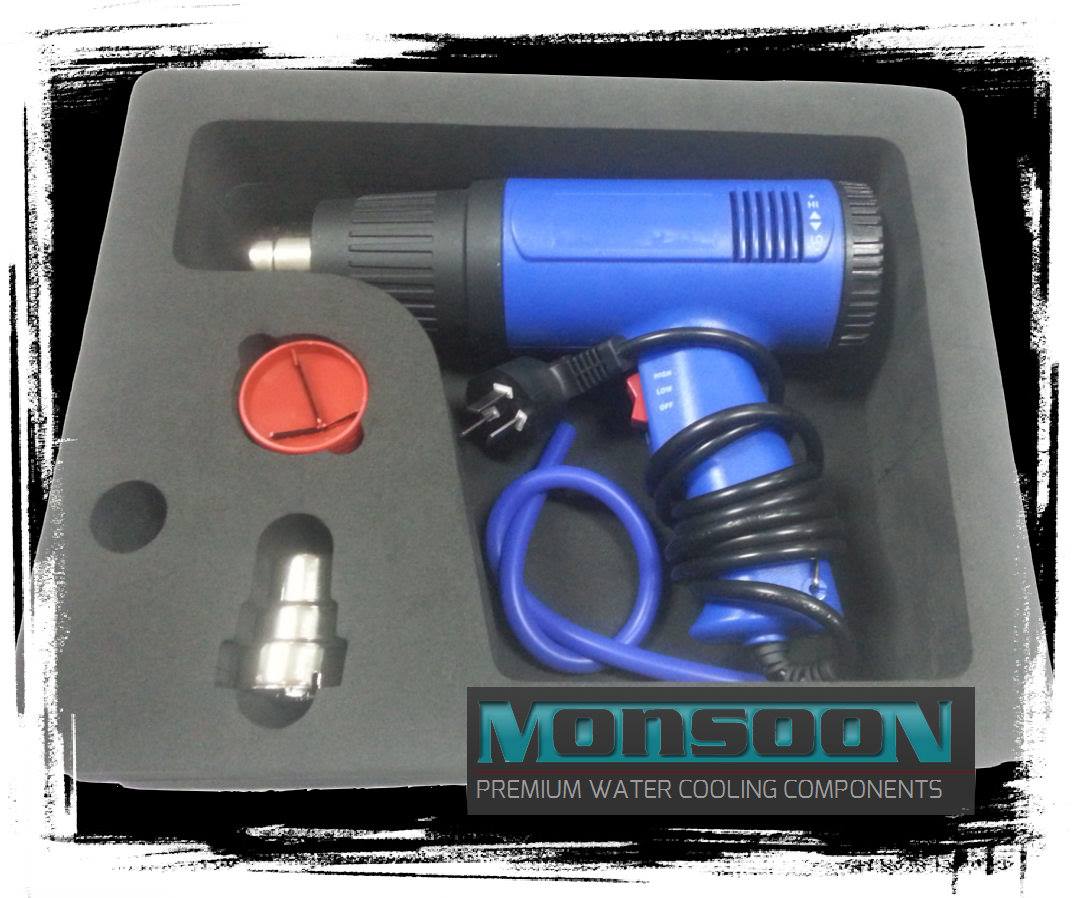 Monsoon's Hardline Pro Bender Kit is an integral part of our "end to end" Hardline solution that covers the four basic elements of using acrylic hard lines in your build:
Loop layout/planning and measurement.  This is a very simple to use yet accurate center line plotting and measurement system that  lets you reach right into your build and plan tube runs and provides precision center line measurements for every segment of your loop .  The Mandrels themselves also have center line capabilities built in so the layout and planning tools mesh seamlessly with the Mandrels.  All hardware and screws are included.
Bending Mandrels for jigged precision bending.   Machined from solid aluminum, polished, anodized, and laser etched for maximum durability and surface quality on tube contact surfaces.  They feature relevant degrees etched on in 1 degree increments.  As previously mentioned they also have center line capabilities built in, and the 45, 90, and 180 all feature extended support legs to makes sure the tube is not only easily held at the exact angle, but is also held exactly "on plane" with zero deformation or twist etc..  They feature dual pass through holes for M4 (over sized for fine adjustment) that allow for flat mounting on your bending board.  Also included are metal 90 degree clips that allow the mandrels to be mounted upright (perpendicular) to your building board so that builders can easily bend and fixture in two or more directions AND on two or more planes at the same time.
Miter Box, saw, and inner/outer reamer for cutting and dressing the ends of your tube.  The miter box (I am including an image below for you–you can post if you like), is also precision machined from aluminum, anodized, and laser etched.  The saw blade has a tooth density and design optimized for clean, fast, accurate cuts in acrylic.  Includes a replacement blade and a combination inner/outer reamer to clean up the edges after a cut.  The miter box is also designed to work within the center line system making locating cuts exactly where you need them very easy.
Heat Gun, gloves, and premium silicone insert.  A dual setting heat gun that can stand upright if needed, diffuser, and cotton gloves for handling hot tube.  Premium silicone bending insert sized correctly for the acrylic tubes ID.
Available for 1/2″ (13mm) and 5/8″ (16mm) OD acrylic tube with all size specific tools–mandrels, miter boxes, silicone inserts–color coded for easy identification.  All screws, clips, and other hardware are included–all the builder needs to add is a 24″ x 24″ x 1/2″ particle board work surface–typically available at big box home improvement stores for $7 – $10.
There will be a 4 or 5 part video tutorial series that covers all aspects of using these tools, including "best practices" for loop planning, bending, cutting, and installation of acrylic Hardline.
We will also be launching tube in two sizes–13mm and 16mm–and 8 colors.  A line of push in type Power Grip Economy compression fittings and a full line of Premium compression fittings for Acrylic Hardline in our Free Center, Carbon, and Chain Gun.  The Premium compression fittings share the same compression rings as our Flex tube fittings so users can mix and match soft and hard tube in the same build, or switch from one to the other from build to build by replacing only the barbs.  IOW if you already own our Free Center, Carbon, or Chain gun Premium fittings for soft tube and you want to switch over to acrylic Hardline all you have to buy are the barbs–which are roughly about half the cost of buying new fittings–and will be available at all of our resellers in six packs and singles.
We also have one last fairly big surprise product for the Hardline line that I think people are going to really REALLY love.  I will be posting about it in the next week to 10 days.
Hank Baron Of Performance-PCs advises me they will have the product online for purchase within the next 14-30 days.
http://www.performance-pcs.com/catalog/index.php?main_page=index&cPath=59_413_1286