« A Closer Look at the MSI Immerse GH70 Gaming Headset
|
Testing and Final Thoughts of the MSI Immerse GH70 Gaming Headset »
MSI has provided two powerful software programs for monitoring, adjusting, and enhancing their products.  The first we will take a look at is the MSI Gaming Center!  The MSI Gaming Center will give you overall control of the functions of the GH70 Gaming Headset.  If you are blessed with an MSI mouse and keyboard, those benefit well from the Gaming Center software as well.  Lets take a look at some screen shots and how they relate to the GH70 Gaming Headset.
The first screen when opening the Gaming Center shows your MSI Immerse GH70 Gaming Headset.  Yes, it recognized the headset right away.  No need to tell it what is connected.  Just under the top title you will see a Headset symbol, Mouse symbol and Keyboard symbol.  Clicking on each of these will bring up that item for enhancement.  Notice on mine only the headset is lit up.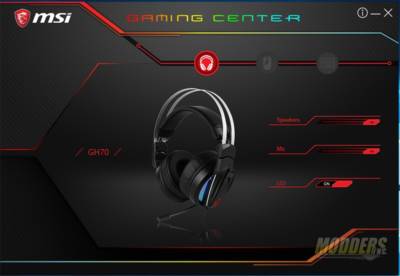 Left center gives us the model name of the headset, the headset in the center and main controls to the right which include speaker volume, mic volume, and LED on or off.  Click on the headset and open up the world of MSI Gaming Center!
There are three main screens available here.  First up is the speaker controls, then mic controls, then LED controls.
Sub screens on the Speaker screen will let you change the SampleRate for the GH70 Gaming Headset, which if you want the most from the headset is a must!  Also is the Equalizer, from which you can select a variety of preset buttons or manually move the sliders to give you your desired sound.  Lastly is the Xears Effects screen which gives you even more in-depth sound options.
The Mic screen has your main volume control.  If your system supports it there is also a Monitor with two sliders for left and right.  Two additional sub screens let you adjust the SampleRate and the Xears Effects.
Lastly for the MSI Gaming Center is the RGB Controls.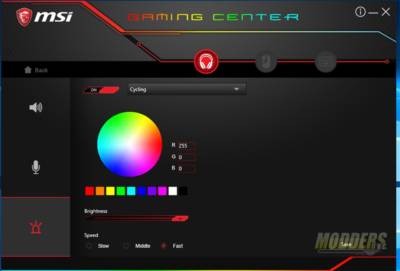 With this screen you can do many things for your MSI Immerse GH70 Gaming Headset.  Customize the RGBs to display single colors or multiple waves.  Slow, Medium or Fast.  Loud and Bright or soft and subtle.  You will be the master of what your GH70's display.
Then there is the other little bit of software that MSI has for your pleasure.  The Mystic Light!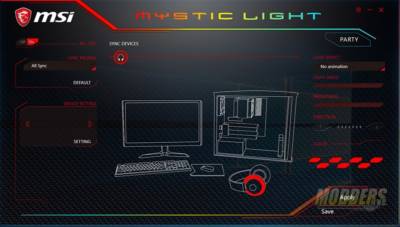 With the Mystic Light software you can sync all your MSI (or other compatible RGB) devices to give you a riot of color changing moods!  The MSI Immerse GH70 Gaming Headset is just one part of this vast arrangement that can be possible.