A Closer Look at the XPG Precog »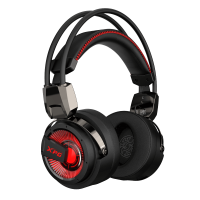 I'm quite particular about my headsets.  They have to fit right, they have to be comfortable, they have to sound great, and most of all they have to be durable.  I own headsets that fit those criteria.  But that's not why you're here.  You're here to find out how XPG's eye-catching new Precog gaming headset stacks up against those incumbents.  Is it comfortable?  Does it sound superb?  Is it indestructible?  Is it a winner, or is your money better spent somewhere else?  Let's find out.
Review Sample Provided by: XPG
Product Name: Precog
MSRP at Time of Review:  $130
Specifications
Even on paper, the Precog looks to be a formidable contender in the low $100 headset market.  Across the board, its specifications are comparable or superior to similarly priced offerings from well-respected companies like Sennheiser, HyperX, Logitech, and Astro.
Dimensions
69 mm x 237 mm x 198 mm

2.72″ x 9.33″ x 7.80″

Weight
326 g / 11.5 oz
Drivers
electrostatic/dynamic dual drivers
Driver Frequency Response
5 Hz – 50,000 Hz
Driver Impedance
32Ω ± 15%
Driver Sensitivity
102 ± 3 dB/mW @ 1 kHz
Microphone
unidirectional noise canceling
Microphone Frequency Response
20 Hz – 20,000 Hz
Microphone Sensitivity
-38 dB ± 1.5 dB
Interface
3.5 mm / USB type C
USB Sound Card Modes
music / virtual 7.1 / FPS
Lighting
red LED (USB only)
USB C Sound Card Cable Length
1.3 m / 4.27′
3.5 mm In-Line Controller Cable Length
1.25 m / 4.10′
USB A to USB C Cable Length
1.25 m / 4.10′
3.5 mm Splitter Cable Length
1.36 m / 4.46′
Warranty
2 years
Unboxing
The XPG Precog comes in a hard shell carrying case with a cardboard sleeve around it and a thin plastic film wrapping the whole bundle together.  The carrying case lets you protect your headset while traveling, while also cutting down on the amount of waste packaging that you have to dispose of.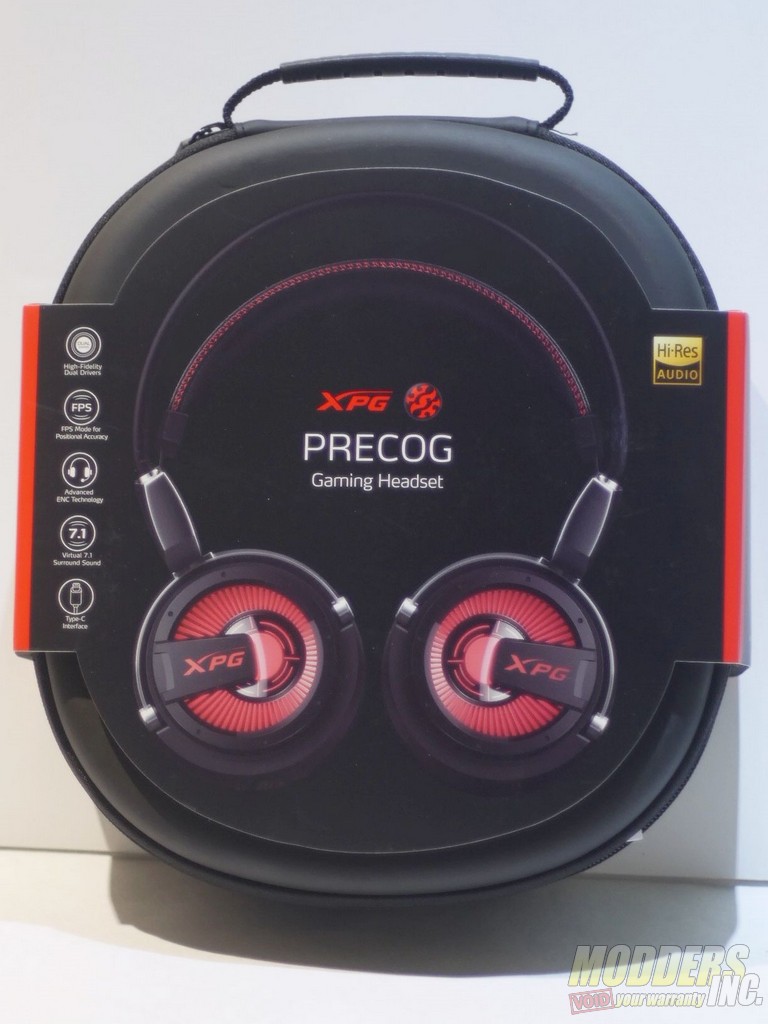 The case consists of a hard plastic shell with a stealth black XPG logo adorning the front of the lid.  The lid closes with a zipper that features a large rubber pull tab with a red XPG logo.  The case's fabric-lined interior that is molded to precisely accommodate the headset and the lid of the case includes five mesh pockets for the headset's cables and microphone.
Inside of the carrying case you will also find a sticker sheet, a quick start guide, and a warranty pamphlet.