« A Closer Look-2 | Testing »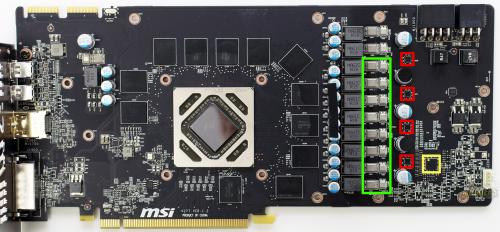 With the TwinFrozr cooling system removed we can see how power distribution is handled.
Yellow –  International Rectifier IR3563B is an 8 phase digital PWM controller.
Red – International Rectifier IR3598 MosFET Drivers. Since there are only 4 drivers, the IR3598 is being used in interleave mode as a doubler, doubling the PWM signal to the IR8327 & IR6725 MosFETS (green). Memory power is handled by a UPI uP1610 dual-phase controller with built-in dual drivers.
PLL powers uses a uPI uP1508 for a single phase pair of IR8327 & IR6725 MOSFETs with the same high-current Magic 0.19uH inductor used as the rest of the VRM area.
The BIOS for the MSI R9 280x is handled by the Winbond 25x20CL Serial Flash memory.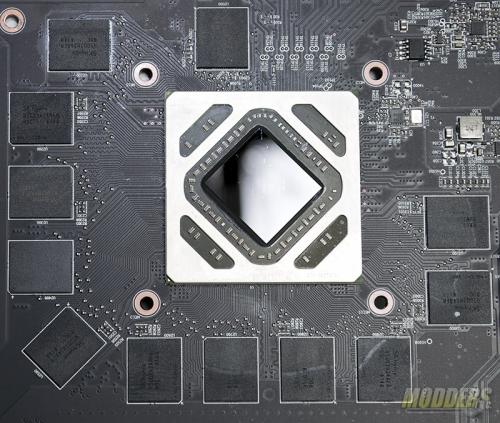 The AMD R9 280X chip is surrounded by 12 SK Hynix H5GQ2H24AFR DDR5 memory modules. The MSI R9 280X features 3G of RAM so each module is 256 MB in size and a clock speed of 6000 MHz.
Larger image versions of the card without the cooler are available. (Front, Back)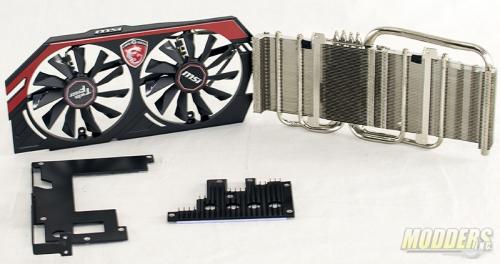 The TwinFrozr IV is simple to remove. Just remove a handful of screws on the back of the card and the entire cooling system pops off.