« CrossFire Performance
Conclusion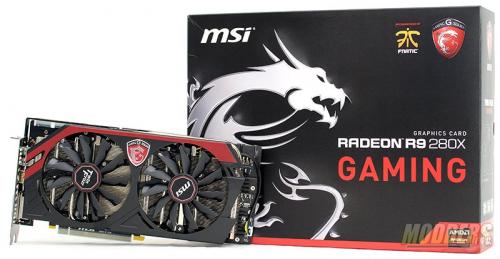 In my opinion, MSI has done a bang up job with AMD's R9 280X GPU. From the pictures of the naked card, we are using Rev 1.2. Compared to other reviews at launch time, the PCB and components are a little different. Hardware wise, I have no complaints about this card.
$300 to $350 is where I feel comfortable buying what I consider a "mainstream" graphics card. At that price point I should be able to crank up the quality settings and achieve good frame rates at 1920×1080. For the most part, the MSI R9 280X Gaming 3g is able to that in all the games we tested except for Crysis 3. Single card performance with the quality settings cranked up is going run  over the $350.00 mark. CrossFire performance was good and scaled well in most games, but again the CrossFire setup is pushing the bill to over $600.00 and approaches the GTX 780 price level.
I used this setup in my daily PC for a few weeks with both single card and CrossFire configurations and I actually played a few games, not just tested. I didn't notice any stuttering issues nor did I notice any graphical glitches related to the GPU setup. One of my biggest beefs with AMD graphics cards have been their drivers, and while they are not perfect, they are getting better. Hopefully AMD will continue to improve them.
Without MSI's afterburner software installed and running at stock speeds I didn't see temperatures over 71°C during any of the testing sessions or gaming sessions. Installing the Afterburner software allowed me to create custom fan profiles that allowed me to ramp up the fans more aggressively than the AMD drivers and resulted in a load temperature of 67°C. Since I had to remove the cooler to take pictures of the power components, I had to replace the thermal compound. I use Noctua's NT-H1 which resulted in another 3-4° C temperature drop using the custom fan profiles in Afterburner. The MSI R9 280X was easily able the handle the mild overclock, and temperatures were tolerable. I think it is just me being a freak when I see temperatures get above 75° C. Overclocked temperatures without Afterburner hit 79° C and with the same fan profile I was able to maintain a constant 75° C during testing and gaming.
From a modding stand point, I appreciate the fact that MSI kept all the monitor connections on one plane. Using a watercooling setup, this could easily become a single slot solution. Granted you would have to cut the I/O bracket in half which would void the warranty, but installing a water block would do the same.
With supplies replenished after the bitcoin mining craze, the MSI R9 280x for $304.99 and at Newegg.com they are offering a $15.00 rebate card that drops the price to $289.99. Plus AMD is offering 3 free games from the gold level reward such as Sniper Elite III,  Dirt 3, and Alan Wake which all totaled could equal up to $150.00 adding even more value to the card.
Overall, I am completely satisfied with the MSI R9 280X and I have, in the past recommended it and will continue to do so for those gamers that are looking to boost graphics performance without breaking the bank.
[sc:must_have_award ]