Keyboards
MSI Vigor GK70 Gaming Keyboard
A Gaming Keyboard with Toughness
« Introduction
|
Software »
A Closer Look at the MSI Vigor GK70 Gaming Keyboard
The Vigor GK70 is tiny and portable yet powerful gaming keyboard.  There is no excess plastic around its frame and no 10-key.  The GK70 is all about game!

Every key on the MSI Vigor GK70 Gaming Keyboard is equipped with the Cherry MX RGB Red Switch.  This is a silent mechanical switch seemingly beloved by gamers everywhere.  Unlike Cherry's Brown and Blue switches, which have a built-in way to let you know they have activated, the Red is silent.  Only 45 cN's of force (or about 45.88 grams) of pressure is needed to depress this switch.  It activates about half-way down.  With a robust spring and silent nature, the Cherry Red is a perfect choice for the MSI Vigor GK70 Gaming Keyboard.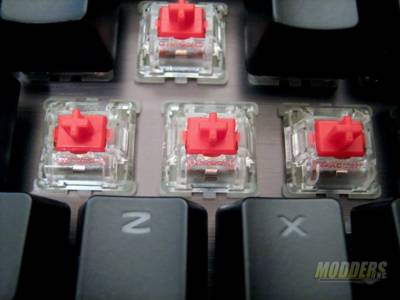 On top of the Cherry Red switches, MSI has place 4 metal capped keys in place of the WASD keys.  These keys are slightly angled and have a groove at the edges of the keycap to keep your fingers in place.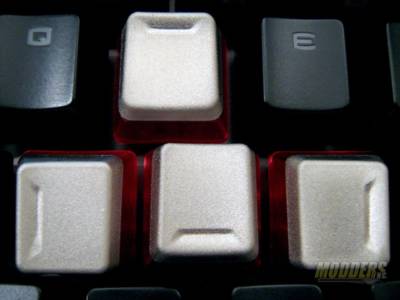 In addition to these metal capped keys, the MSI Vigor GK70 Gaming Keyboard comes with an assortment of extra keys.  Included here are the original WASD keys and 12 Rubber Keycaps that you can use to replace an assortment of user-friendly keys.  Also included is the necessary key removal tool
Here is a close up of two of the rubberized keys and the rubberized space bar installed on the MSI Vigor GK70 Gaming Keyboard.
You will find these keys very handy when trying to find that correct key and are able to feel the textured non-slip surface of the MSI Vigor GK70 Gaming Keyboard rubberized keys.
On the backside of the MSI Vigor GK70 Gaming Keyboard there are 3 cable pathways and four rubber feet.  There are also two flip up rubberized feet  to provide a slightly elevated platform.  The braided cable is removable and features a Micro-USB style connector.  I would be a bit leery of removing this cable to often for fear of damaging the connector and the left/right cable pathways will leave a pretty severe kink in the cable.