Keyboards
MSI Vigor GK80 Gaming Keyboard
MSI Gets Mechanical
A Closer Look »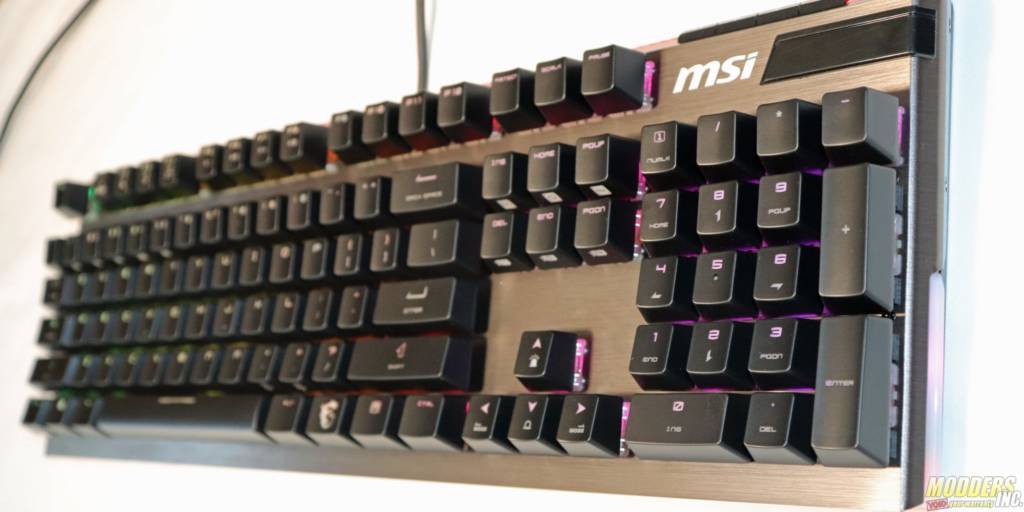 A few months ago, our own David Bremer wrote a review of the MSI Vigor GK70 Gaming Keyboard, a tenkeyless keyboard that he called a compact but powerful "gaming monster." The MSI Vigor GK80 is the GK70's bigger more fully-featured brother, with a full 104-key standard layout. So if you think of the GK70 as Sesame Street's Elmo, then the GK80 is Mr. Snuffleupagus. Only REAL.
Review Sample Provided by: MSI
Product Name/Link to Website: MSI Vigor GK80 Gaming Keyboard
Product was given in exchange for work done to produce this review.
Those of us who use keyboards both professionally and for fun, tend to develop a few feature preferences. One look at the features list of the Vigor GK80 and it's immediately clear that MSI is targeting the keyboard connoisseurs. This thing has just about everything a modern mechanical keyboard should have, and a few extras as well. It features a number pad, a thick aluminum wrist rest with a no-slip rubber pad, dedicated multimedia keys, a built-in USB passthrough port, macro-friendly software, Cherry MX RGB Red Switches, a bundle of alternative keycaps, n-key rollover, braided nylon-covered cables, gold-plated connectors, and millions of colors bursting from every crevice. *Slaps roof of keyboard* This thing can fit so many RGB LEDs in it.
The Look And Design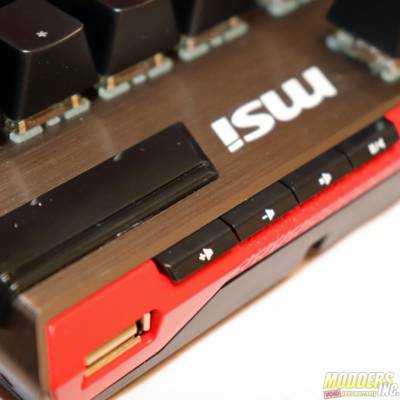 The Vigor GK80 carries forward the minimalist design philosophy David noted in his review of the GK70. There's very little of the brushed aluminum deck protruding around the keys on the top and bottom, and left and right. A small white MSI logo is in an empty space near the NUM-LOCK, CAPS LOCK, and SCROLL-LOCK indicators in the top-right corner. The aluminum frame, which is a color we'd describe as aged bronze, wraps around the sides of the keyboard's plastic frame. The MSI dragon logo peeking its head out from behind the arrow keys of the GK70 is not present here on the GK80, which is a shame. The top edge of this keyboard does feature a strip of red plastic with a textured pattern that's identical to the pattern on the rubber-covered alternative keycaps. The Vigor GK80's top edge is also where you'll find the USB passthrough port and the play/pause, volume up/down, and mute multimedia keys. These multimedia buttons use microswitches, and as such, they are tiny. You will find yourself looking at them too often to determine which ones correspond to which function. In addition to wishing these buttons were bigger, I tend to prefer a large volume dial as opposed to dedicated volume up/down buttons.
The bottom right and left corners of the GK80 feature frosted translucent plastic backed with a series of RGB LEDs, which add some extra illumination to your desktop or keyboard tray.
The Cherry MX key switches (the GK80 is also available with Cherry MX Silver switches) are actually mounted to the brushed aluminum plate (snap fastening in frame), which contributes to a very solid-feeling typing experience. There is very little flex in the keyboard.
Switch Talk
For those who're unfamiliar, the Cherry MX Red Switch is a silent mechanical switch that's popular with the gaming crowd. That's because it's hard to snipe when your zoom key makes an audible snapping sound that's loud enough to be picked up by your headset's boom mic. At least that what the guys I usually play with keep telling me. You'll have to pry my beloved Cherry MX Blue keyboard from my cold dead hands! Now that I mention it, I do spend a lot of time waiting to respawn whenever I try my hand at the AWP in CS-GO… But I digress.
These linear switches are on the softer end of the spectrum, requiring just 45 cN's of force (or about 45.88 grams) to activate the switch. They have their actuation point at 2mm, and a total travel distance of 4mm. The Cherry MX Silver switches are very similar, only with a shallower 1.2mm actuation point and 3.4mm total travel. If you're a fan of twitch shooters, then the Cherry MX Silver switches should be your go-to's.
Key Caps Galore
The keycaps that come preinstalled are merely painted, but there are a handful of special caps that MSI bundles in, including metal-topped WASD keycaps, and a dozen unmarked translucent red plastic caps with rubber tops. These latter caps are double-shot and easy to feel for when your eyes are on the screen. MSI also includes a plastic key puller. I know what you're thinking. "Where do I store these spare keycaps when I'm not using them?" MSI has created a nifty channel on the underside of the wrist rest for this exact purpose. Smart move, MSI.
Underneath the GK80 is a plastic panel that forms the remainder of the housing. There are two sturdy plastic feet that add a half-inch of height to the back on the keyboard. The GK80 is nearly an inch thick at the back, and just over a half-inch at the front, offering a decent slope even if you fold up the rubber-coated feet. There is also a pair of thick rubber pads under the front edge, ensuring that no matter what surface the GK80 is on, it will stay put. There are three pathways for routing the cable. Unlike the Vigor GK70, this keyboard's cable is not removable.
GK80 Specifications
Keyboard Interface
Wired USB 2.0
Normal Keys
104 keys (Standard)
Model Name
Vigor GK80 RED GAMING KEYBOARD
System Requirements
System with USB port
Main Key Switches
CHERRY MX RGB Red Switches
Dimensions (mm)
439 x 141 x 38mm, (482 x 84 x 200mm with package)
Weight (g)
1,400g, (2,300g with package)
OS Support
Windows 10 / 8.1 / 8 / 7 / Vista / XP
Mac OS X (Supports while in Normal Mode)
Accessories
4x Double Material Metal and Plate Keycaps
12x Double Injection and Rubberized Keycaps
1x Key Puller
1x Wrist Rest
Cables
6.6 feet Braided Fiber
Keystroke Lifespan
50+ Million
Multimedia Keys
Dedicated Keys
Gaming Mode
Fn + Windows
N-Key Rollover
N-Key Rollover (Gaming mode)
6-Key Rollover (Standard mode)