« Bundled Software
|
Test System and Testing Procedures »
As with all of MSI's recent mainboards with Click BIOS 4, the UEFI matches the color scheme and background image of the board with a red, black and white UEFI for the gaming series. From here, features such as enabling XMP and changing boot order are accessible with full mouse control. Users can drag and drop the boot order icons to the priority of their choosing while XMP and OC Genie can be togged with a single click. Temperatures, time, date and basic system info is displayed permanently on the top status bar. At any time, users can hit F12 to take a screenshot and save it to a plugged-in FAT16 or FAT32 USB drive. Language options and favorites can also be easily accessed on the upper right hand corner.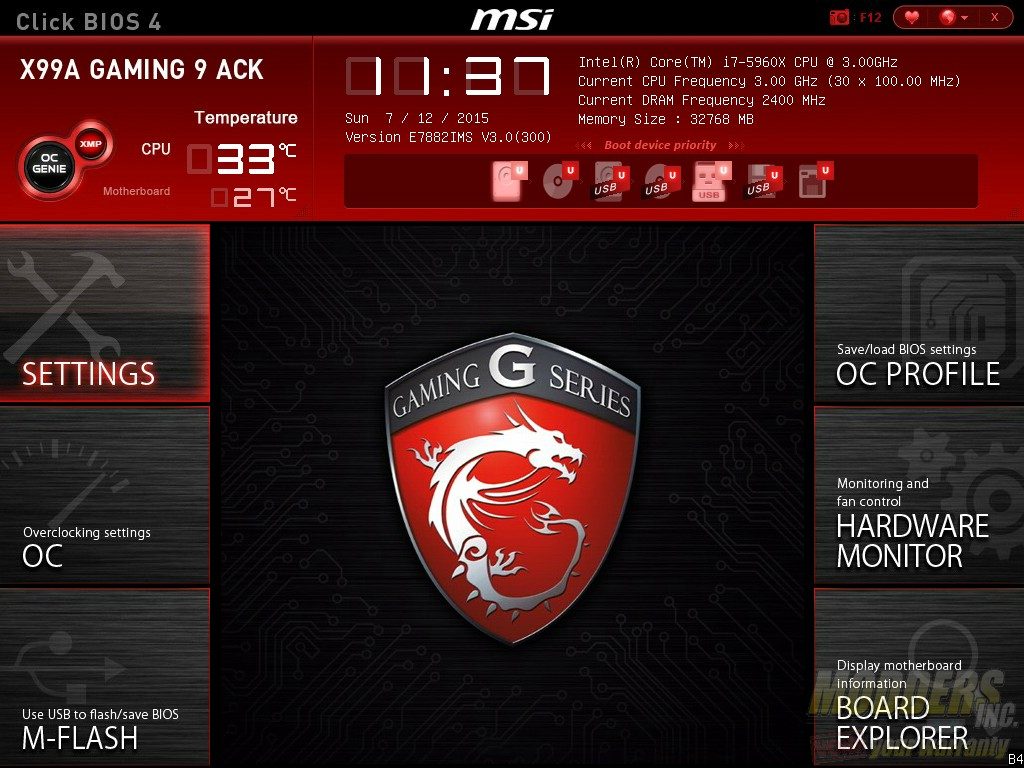 There are six main sections to the MSI UEFI which is similarly laid out in every single one of their mainboards using Click BIOS 4. It is completely "idiot proof" and easy to navigate with both keyboard and mouse. The first section is the Settings folder which provides access to all the other features which are non-overclocking related, while the second OC folder provides access to all overclocking related functions. The third section is a link to the M-Flash BIOS update program.
| | | |
| --- | --- | --- |
| | | |
| Settings\System Status | Settings\Security | Settings\Save and Exit |
| | | |
| Settings\Boot | Setttings\Advanced\PCI Subsystem | Settings\Advanced |
Overclocking is possible through the UEFI, through XTU or through Command Center. It is completely up to the user. XTU and Command Center have the advantage of having all the overclocking options right on the desktop but Command Center is the more MSI-specific of the two. OC Genie and the Gaming App are also time saving auto-overclocking features for those who want to get a good overclock without wanting to spend hours trying to find which settings works. It is not as comprehensive as the OC Genie Gear 2 profile available in the OC series but it is useful for beginner users who do not want to bother learning anything about overclocking.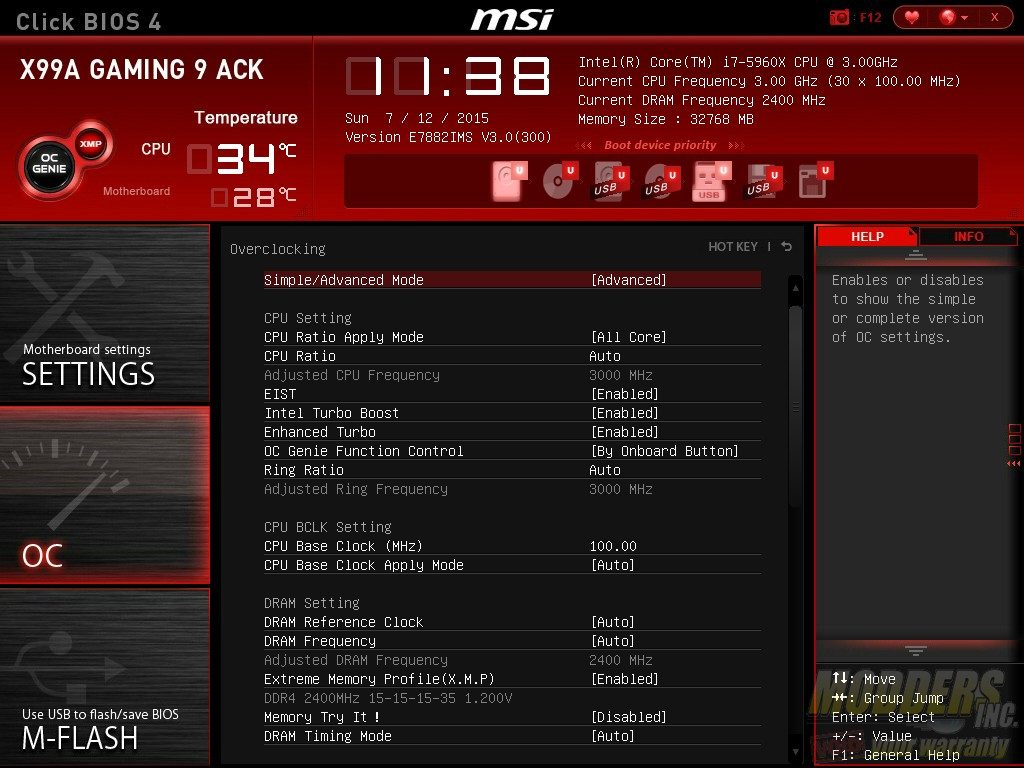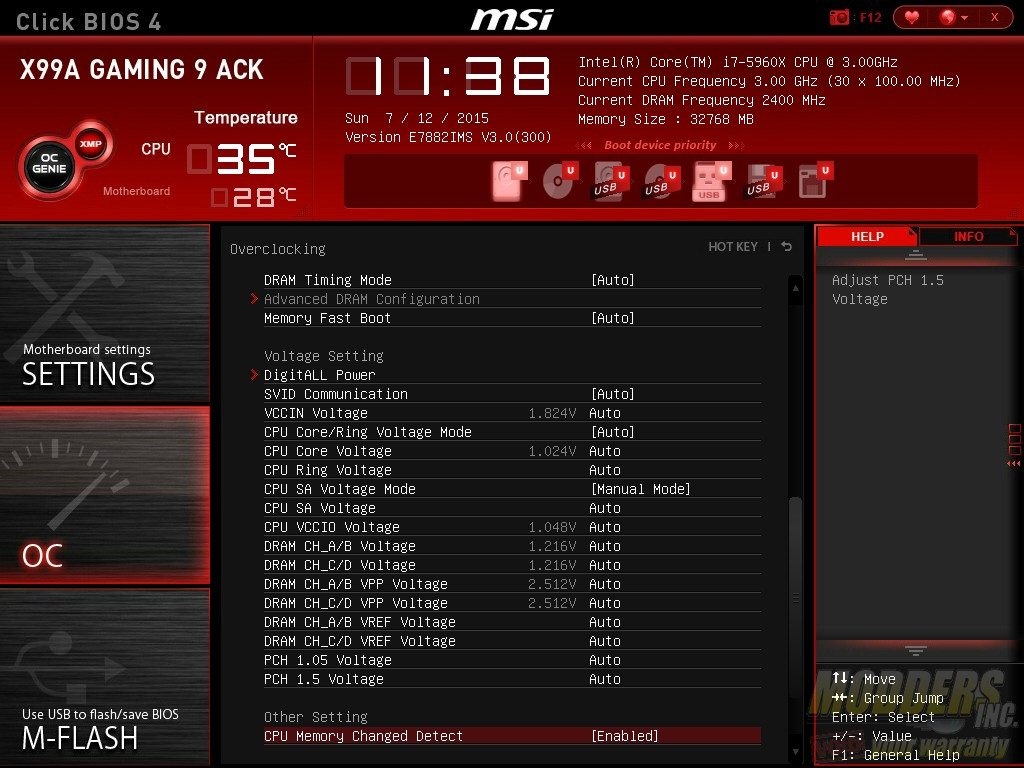 To manually overclock, simply go to the OC option page which contains every single overclocking option for the X99A Gaming 9 ACK motherboard. A new tweak that MSI did was to provide an option for "simple" and "advanced" OC page. Simple mode removes functions set under the nested CPU settings but Advanced gives overclockers the option to adjust these on the same page without moving out of the main OC section. The page displays the CPU frequency OC settings first at the top, then the CPU BCLK setting then the DRAM setting, then the Voltage setting and at the very bottom you can find the CPU features sub-menu for disabling or enabling key CPU features that could affect overclocking.
DRAM Frequency range goes as high as 3300MHz. XMP profile can be loaded as well. Two useful features located in DRAM section is the Load Memory Preset and "Memory Try It!" function. Load Memory Preset has several settings tailored for popular DDR3 overclocking such as PSC and Hynix MFR memory chip-based modules. Memory Try It! is an auto-overclock semi-preset that detects which OC setting your installed memory module can run.