News and Articles
New Cooler Master MasterMouse Pro L Designed to be Highly Customizable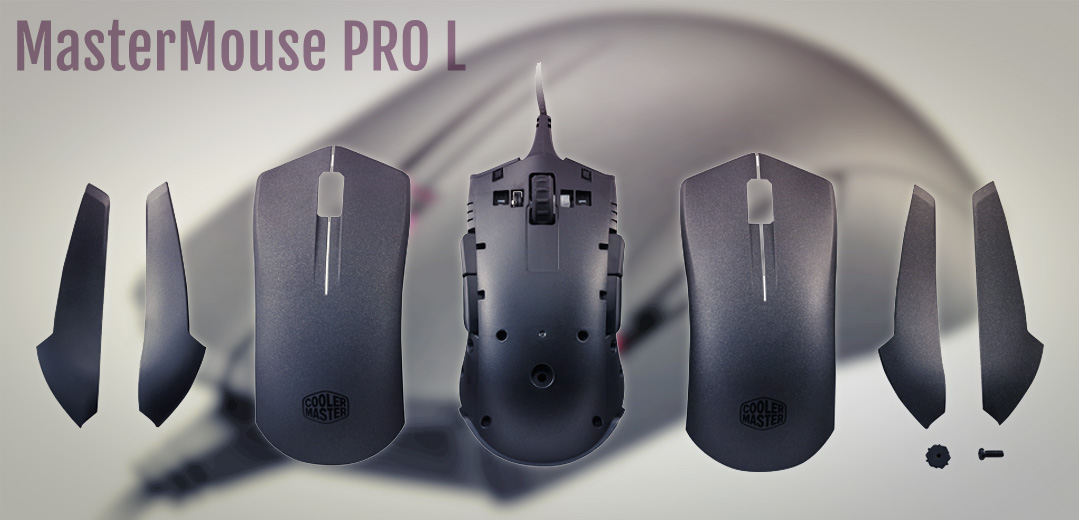 Incorporating their current maker-oriented approach to a new mouse design, Cooler Master has announced the MasterMouse Pro L: a highly customizable input device that is meant to appeal to gamers and users of all types. For modders, the MasterMouse Pro L's custom grip configuration makes repainting easy since they can easily attach and detach via magnetic panels. Cooler Master provides differing grip textures so regular users can choose their preference as well. For the top cover, Cooler Master also provides two sizes for differing palm sizes, one measuring 130mm for larger hands and one measuring 125mm. Users are even encouraged by Cooler Master to 3D-print their own covers and replace the default versions.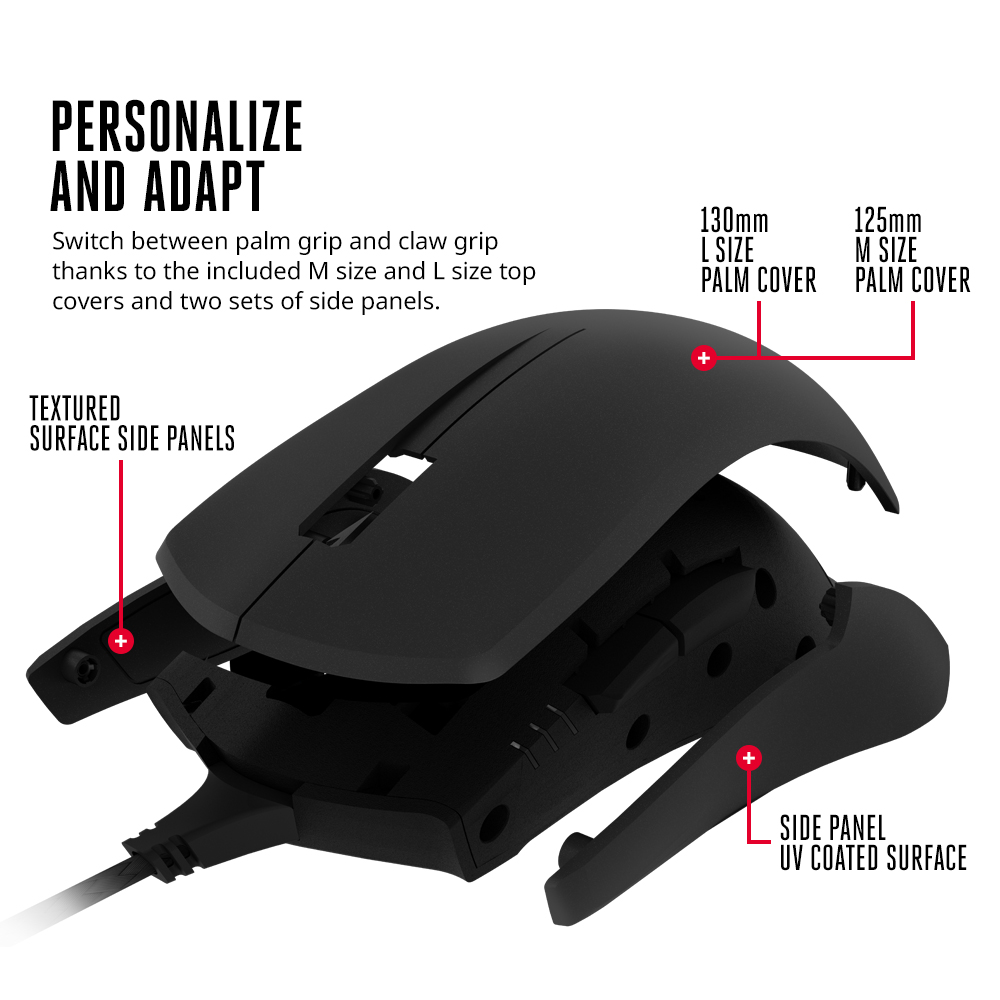 The LED lighting can be customized as well since the MasterMouse Pro L has RGB LEDs in three locations: scroll wheel, DPI indicators and glow beam underneath. Choose between 16.7 million colors and with the customizable profiles, users can recall presets for specific scenarios. These profiles are stored on the 512KB on-board memory and can be recalled instantly with a 32-bit ARM processor on hand. With the custom profile, users can set DPI from 400 to 12000, remap buttons, change colors and adjust sensitivity.
Since the MasterMouse Pro L is an ambidextrous mouse, users can reprogram eight buttons and up to a total of 14+1 including virtual buttons via Cooler Master's Storm Tactix function. The software included also allows for much more detailed control for users who want to further customize the function, although it is not mandatory to running the plug-and-play device.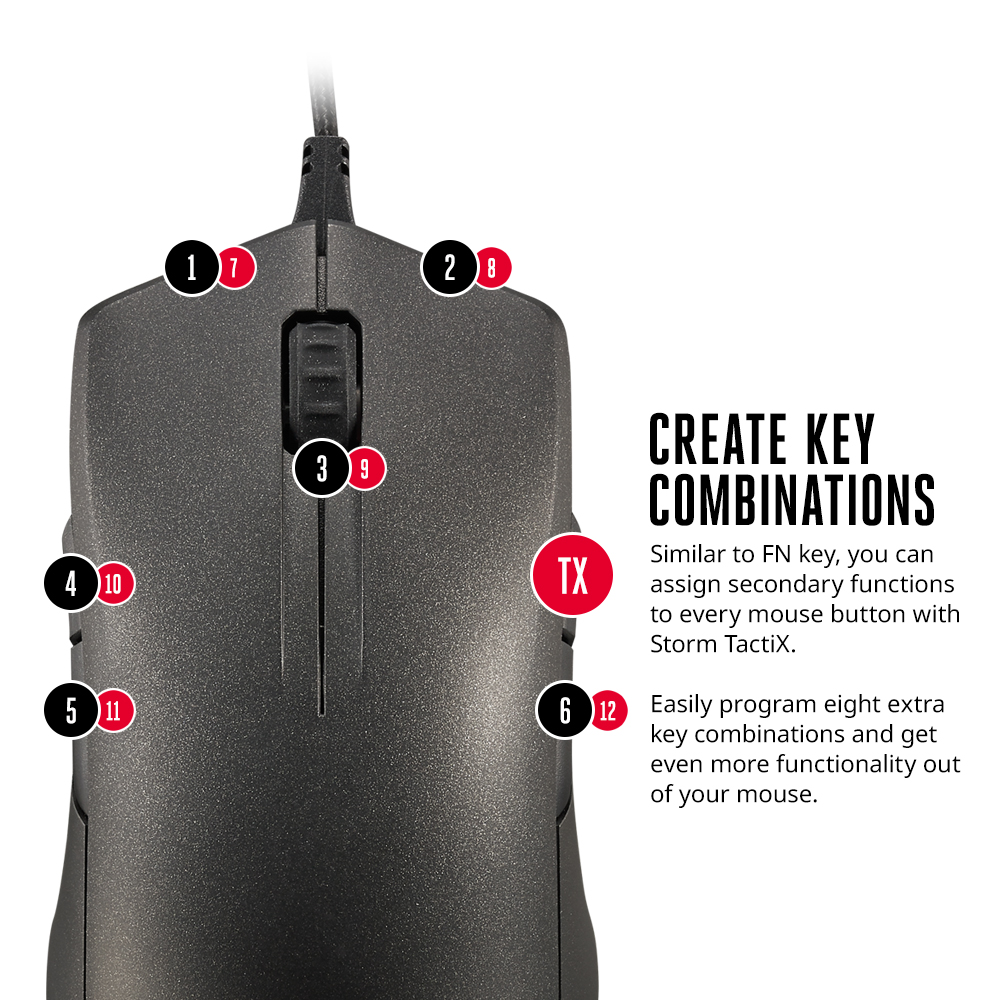 The MasterMouse Pro L is available already in most retail stores and carries an MSRP of $59.99, which is very competitive for its features.
Specifications:
Model
SGM-4006-KFOA1
Grip Type
Palm & Claw Changeable
Material
Plastic / Rubber
Color
Gun Black
LED Color
16.7 MillionRGB
Sensor
PixArt PMW3360 Optical
CPI / DPI
4 Levels (400~12,000dpi)
Tracking Speed
250 ips/50g
Lift Off Distance
< ~2mm / Adjustable
Polling Rate
1000 Hz / 1 ms
Angle Snapping
Yes
Mouse acceleration
No acceleration
Programmable Profiles
5
Processor
32 bit ARM processor
On-board Memory
512KB
Switches, Lifespan
Omron,20 million
Programmable buttons
8
Body coating
Matte UV Coating
Connector
Gold-plated
Cable Length
Braided Cable , 1.8 Meters
Dimensions (mm/inch)
125(130) x 67.8 x 38 /
4.92(5.12)x 2.67 x 1.5 inch
Weight
127 / 128 g
0.28 / 0.283 lbs
Weight (without USB Cable)
98 / 99 g
(0.216 / 0.218lbs)
Warranty
2 years
For more information, visit: http://www.coolermaster.com/peripheral/mice/mastermouse-pro-l/
Cooler Master Reveals the #MASTERBUILD Website