Vienna, June 11th 2015 – At last week's Computex Taipei trade fair, Noctua exhibited a wide range of its upcoming products and received the 1st European Hardware Award for its renowned NH-D15 dual-tower cooler. Ranging from fan and heatsink prototypes on custom designs for industrial clients to updates on its Active Noise Cancellation (ANC) project, Noctua's line-up for this year's show has received excellent feedback from the international press.
Awarded best cooling product of Computex 2015 by Tom's Hardware, the highlight of the Austrians' line-up was the upcoming next-generation 120mm A-series fan, which will succeed the award-winning NF-P12 and integrates Noctua's latest technologies in order to provide unprecedented efficiency across a broad range of applications. Featuring an ultra-tight 0.5mm tip clearance and a pressure/airflow (P/Q) curve that has been carefully fine-tuned for mid to high impedance applications, the new fan performs exceptionally well on CPU heatsinks and water-cooling radiators. Noctua also showcased a redux version of the NF-P12 that is going to be introduced at the launch of the new 120mm A-series fan, which is currently scheduled for Q1 2016.
After updating their 92mm coolers and 14cm dual-tower model last year, Noctua gave the first preview of future updates to the renowned NH-U12 and NH-U14 single tower series. The fins of the prototypes are deeper than those of the current NH-U12S and NH-U14S, resulting in a 50% increase in surface area on the 12cm model and 30% on the 14cm model. Combined with one extra heat pipe and the next-generation 120mm A-series fan, the 12cm unit rivals the performance of the current NH-U14S. The new 14cm version provides further increased performance and is designed to work with a new 140mm A-series fan that follows the same design approach as the new 120mm model. Noctua plans to introduce both coolers when the respective fans are available in 2016.
Noctua also gave an update on its Active Noise Cancellation (ANC) project. The key milestone of last year's development was a major reduction in controller size that makes it possible to fit the entire ANC controller directly onto the fan's internal PCB rather than into an external box. At the same time, the aerodynamic development has been shifted to be based on the upcoming new 120mm A-series fan in order to provide the best possible starting basis.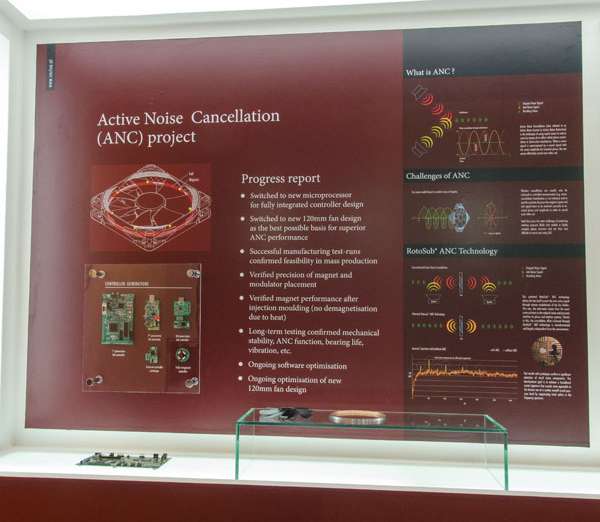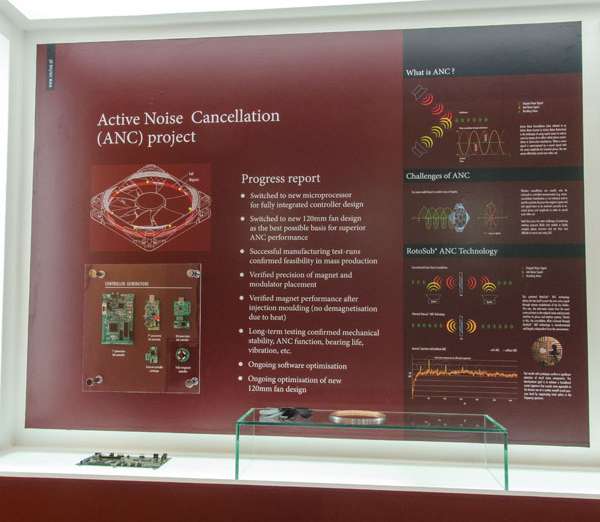 In the industrialPPC range, Noctua displayed the upcoming NF-A9 and NF-A8 models as well as 24V versions of the NF-F12 and NF-A14. The latter can also be run at 12V in standard PC environments, providing industrialPPC features and looks at speed and noise levels comparable to Noctua's standard line-up, which makes them attractive for noise-conscious PC users and industrial applications alike. While the 24V versions are set for launch in Q4 2015, the NF-A9 and NF-A8 versions are scheduled for Q2 2016.
Meeting the increased demand for industrialPPC fans from PC enthusiasts, Noctua also showcased its 'project chromax', which will give alternative colour options for anti-vibration pads and anti-vibration mounts, allowing users to colour-match their industrialPPC fans to their individual build styles. The respective accessory kits in red, green, blue, yellow, black and white should be available by Q4.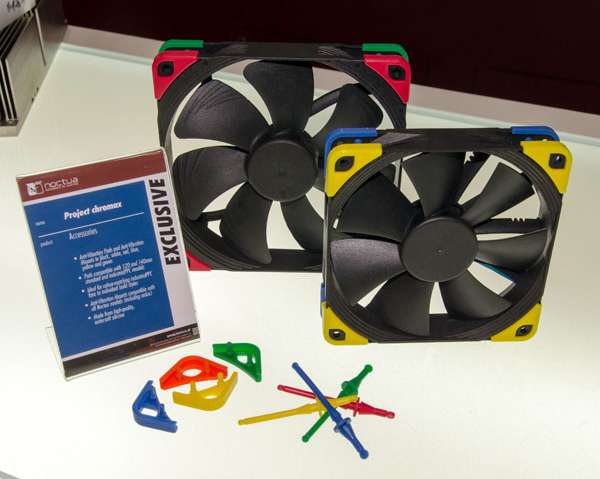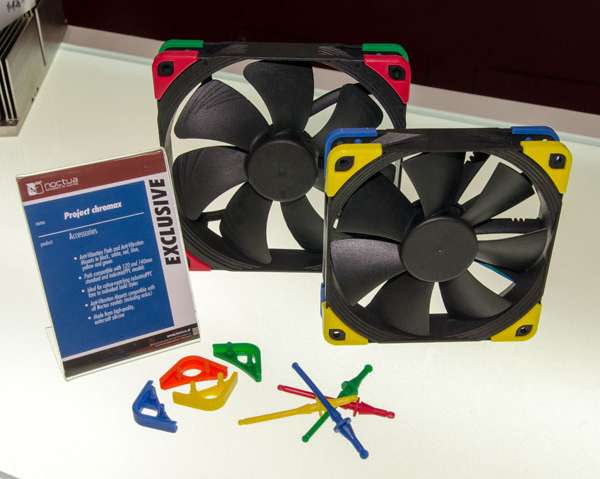 The range of new accessories was rounded off by a silicone spacer frame for 120mm radiator fans that helps to seal off the gap between the fan and the radiator, as well as a PWM fan controller that allows PWM fans to be slowed down by lowering the PWM curve with optional capping of the minimum speed at 300rpm. While the former will be released with the upcoming 120mm A-series fan, the latter is set for release in Q4. For industrial clients, Noctua showed a 10-way PWM fan splitter board with LEDs for status monitoring.
In addition to the upcoming 120×25 and 140x25mm fans, Noctua exhibited its upcoming 20cm A-series fan that is currently scheduled for launch in Q4, as well as a slim 120x15mm version targeted for a mid-2016 release. A possible update to the popular NH-L12 low-profile cooler may use either of the upcoming 120×15 and 120x25mm A-series fans and is planned for later in 2016.
Last but not least, the exhibition included a wide range of custom heatsink designs for industrial clients, showcasing Noctua's capabilities in manufacturing premium-quality cooling solutions for a broad range of applications.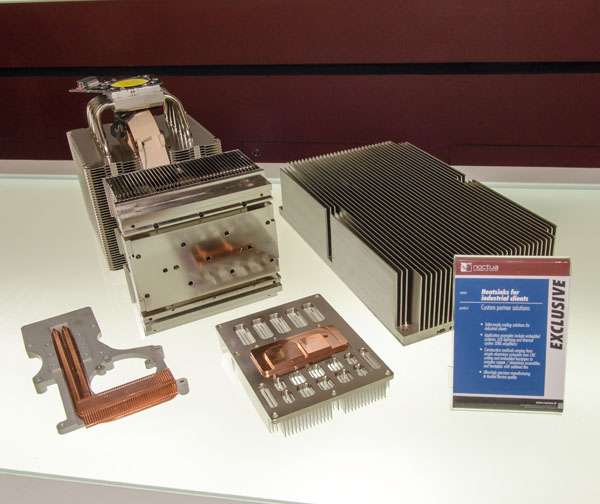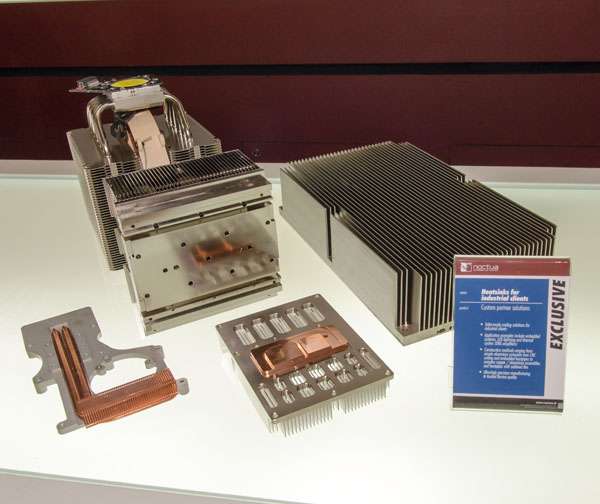 Aside from the busy show floor, Noctua's renowned NH-D15 dual-tower cooler was voted the best CPU cooler of the year 2015 by the jury of the European Hardware Association, made up of editors of eight leading hardware publications from Europe.
Links
More information about RotoSub® ANC technology
Hardwareluxx.de video coverage (German)
About Noctua
Designed in Austria, Noctua's premium cooling components are internationally renowned for their superb quietness, exceptional performance and thoroughgoing quality. Having received more than 3000 awards and recommendations from leading hardware websites and magazines, Noctua's fans and heatsinks are chosen by more than a hundred thousand satisfied customers around the globe.