« Page 4
Final Thoughts about the Noctua NH-D15

The NH-D15 may not look too drastically different from the NH-D14 but the small changes add up to a larger performance shift. The Noctua build quality is still present but the new design is sleeker and more efficient.  The effective designs that Noctua has utilized on the new NH-U12S and NH-U14S such as the sloping center and focused center airflow are also used again on the NH-D15 and I couldn't blame them because it is effective at lowering noise and temperatures.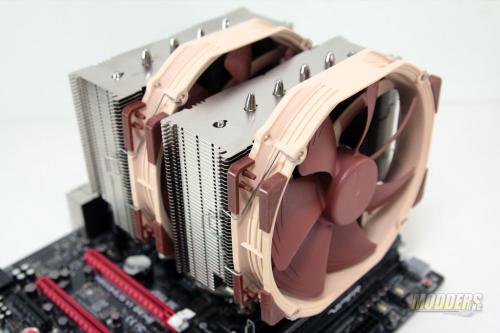 Even installation has been improved significantly compared to the NH-D14, not just in terms of the now simpler heatsink mounting procedures but also fan clip attachment as well. The old NH-D14 (and the Phanteks TC-14PE) had to use those annoying little fan clip holders that are not only annoyingly difficult to install but also get lost easily. The new NH-D15 fan clip just attaches directly to the fan mounting hole and is so much simpler. The unified backplate for Intel mounting also simplifies installation significantly as it allows the backplate to stay in place when being installed on a motherboard already inside a case. Even on a flat surface, this ensures that you do not need an extra hand to secure the mounting bar in place. The NH-D14's threaded bolts were somewhat held in place by the friction with the rubber on the backplate but it would not always stay in place, so this new design is a big improvement.  Aside from the installation conveniences, the improved RAM compatibility is also a welcome change. Although I swore off tall RAM modules altogether, I understand that most users out there use a pair of modules or more with absurdly large tall spreaders so the good news is that the NH-D15 is tall-RAM friendly.
The improvement in terms of the performance is of course undeniable as evident in the benchmark result graphs. The differences between the top three coolers tested are very close and all are priced similarly at $99 USD so that gives users some options.  Out of all the top three tested however,   the Noctua NH-D15 has an advantage in terms of having a lower sound profile and a far simpler yet effective installation procedure. The NH-D15 also has the advantage of a 6-year warranty, the longest offered by any CPU cooler manufacturer.  For this, the Noctua NH-D15 earns the Modders-Inc Must Have Award.
[sc:must_have_award ]