CPU Cooler
Noctua NH-U9S CPU Cooler Review: Undersized but Over-performs
Closer Look at the Noctua NH-U9S »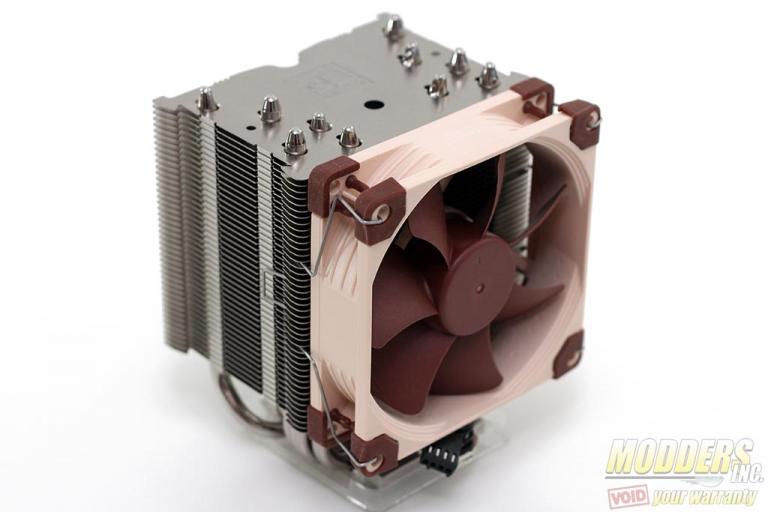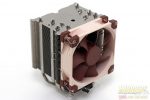 Technology is on a relentless march toward efficiency with each new design an improvement over the previous. Some are small, some are big but it is always moving forward. Even on something as simple as a fan and heatsink, improvements in manufacturing and fan design to balance performance, noise and cooling are expected. Larger coolers were on demand a few years ago and it still has a big following especially among the enthusiast and overclocking crowd but many users now are also looking towards more modest builds and smaller form factor systems so there is also no shortage of lower profile options.
Noctua's NH-U9B has been around since 2008 and is due for an update so Noctua is introducing the new NH-U9S heatsink. The 92mm NH-U9S keeps relatively the same compact size of the NH-U9B but incorporates several small but very effective changes that allows it to be a very competitive offering against the latest crop of slim CPU coolers and other clearance-aware heatsink designs.
[sc:sponsor sponsor="Noctua" product_link="asdf" product_name="NH-U9S CPU Cooler" product_price="$59.90″ ]
The Noctua NH-U9S is packaged in a glossy outer box full of promotional information on all sides. Unlike the previous generation NH-U9B SE2 packaging, the NH-U9S has no see through window or even a photo preview of what the internal cooler looks like.
Inside, two cardboard compartments containing the accessories with the mounting system and the NH-U9S heatsink itself can be found. The heatsink is protected from all sides and held in the center by folded cardboard while all the accessories are placed inside plastic bags and labeled clearly with the contents printed on their box. Unlike the NH-U9B SE2 which was bundled with a pair of NF-B9's, the Noctua NF-A9 is only bundled with one NF-A9 fan already pre-installed on the heatsink via wire clips.
The accessory bag contains a low-noise adapter, a metal Noctua badge, an extra pair of fan clips for 92mm fans, a full-sized tube of Noctua NT-H1 thermal compound and a nickel finished Phillips-head screwdriver. Separate illustrated instruction manuals for AMD, Intel LGA115x and Intel LGA2011x are included.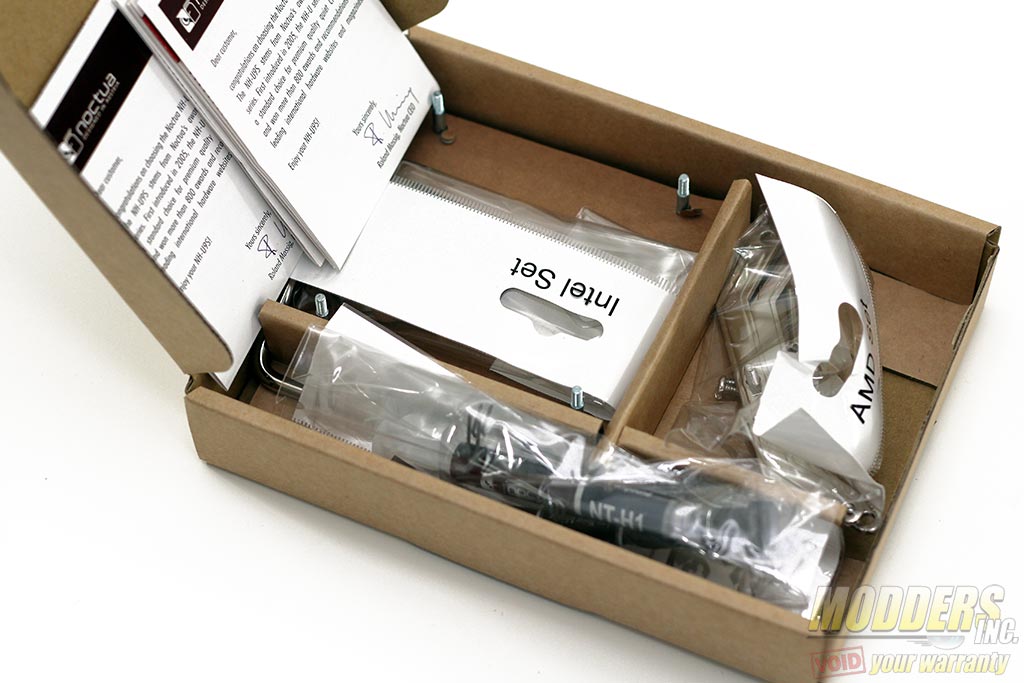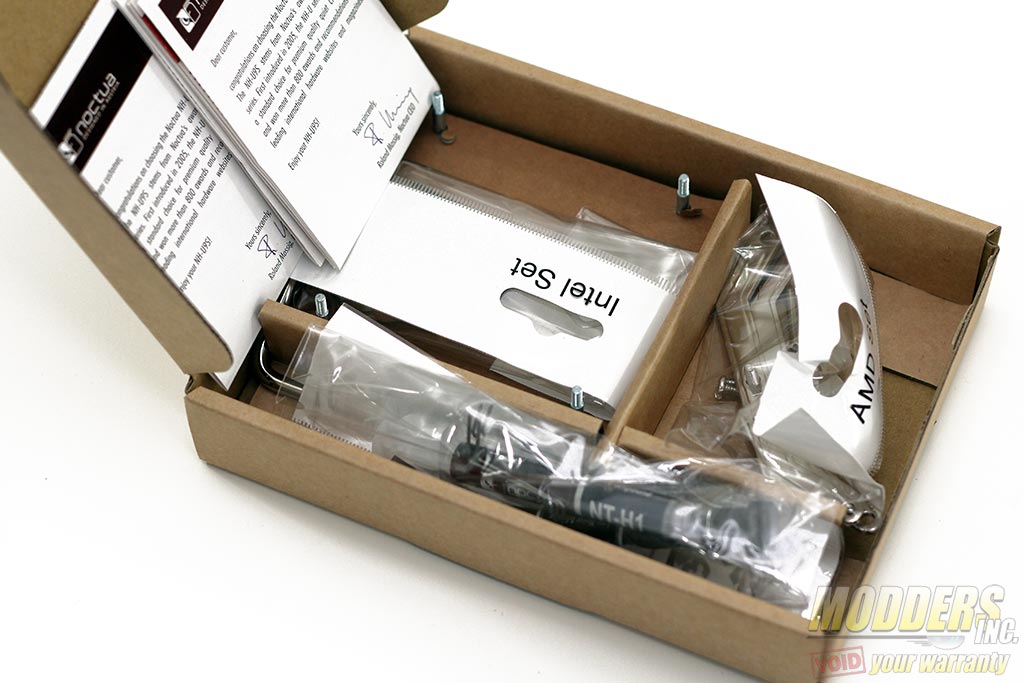 The Intel and AMD mounting kits are similar to the mounting kits used on the Noctua NH-U14S previously reviewed here at Modders-Inc. The Intel kit includes a NM—IBP2 backplate, NM-IMB3 mounting bars (narrower compared to the NM-IMB2 used on the NH-U9B), four NM-IPS1 plastic spacers, four NM-ITS1 thumbscrews and four NM-IBT2 bolts (for LGA2011x only). The AMD mounting system includes a pair of NM-AMB3 mounting bars (for orientation-A mounting compared to the NH-U9B AMD system), four NM-APS1 plastic spacers, and four NM-ALS1 screws. Each piece are named so you can ask Noctua for a specific replacement part should you lose one piece during the 6-year warranty.
Specifications:

Socket compatibility

Intel LGA2011-0 & LGA2011-3(Square ILM), LGA1156, LGA1155, LGA1150 & AMD AM2, AM2+, AM3, AM3+, FM1, FM2, FM2+ (backplate required)

Height (without fan)

125 mm

Width (without fan)

95 mm

Depth (without fan)

68 mm

Height (with fan)

125mm

Width (with fan)

95 mm

Depth (with fan)

95 mm

Weight (without fan)

524 g

Weight (with fan)

618 g

Material

Copper (base and heat-pipes), aluminum (cooling fins), soldered joints & nickel plating

Max. TDP

see Noctua TDP guide

Fan Compatibility

92x92x25

Scope of Delivery

– NF-A9 PWM premium fan
– Low-Noise Adaptor (L.N.A.)
– NT-H1 high-grade thermal compound
– SecuFirm2™ Mounting Kit
– Fan-clips for second NF-A9
– Noctua Metal Case-Badge

Warranty

6 years