CPU Cooler
Noctua NH-L12S Video Review
Low, Quiet and Cool
In the era of AIOs (All In One Water Cooling) on everything, air coolers seem to slip through the cracks. But for small form factor and home theater PCs, they're usually the only option that will fit.  Home theater PCs also come with a sometimes unexpected requirement for cooling. They have to be quiet enough so your wife doesn't care if there's a PC in your living room.
To solve this problem, we'll be taking a look at the Noctua NH-L12S.  It's a 120mm cooler featuring 4 Heat Pipes and an all Copper contact plate.
Taking a look at what's inside the box, it comes with mount adapters for nearly every socket over the last 10 years.  Only Intel's 1366 seems to be missing. Instructions are well laid out, and all parts are very well labeled to avoid confusion when installing.  Also included in the box is a 4-pin Y-cable for syncing your CPU with another case fan, a syringe of HT-H1 Thermal Compound, a low-noise fan speed reducer, and a nice long Phillips #2 driver.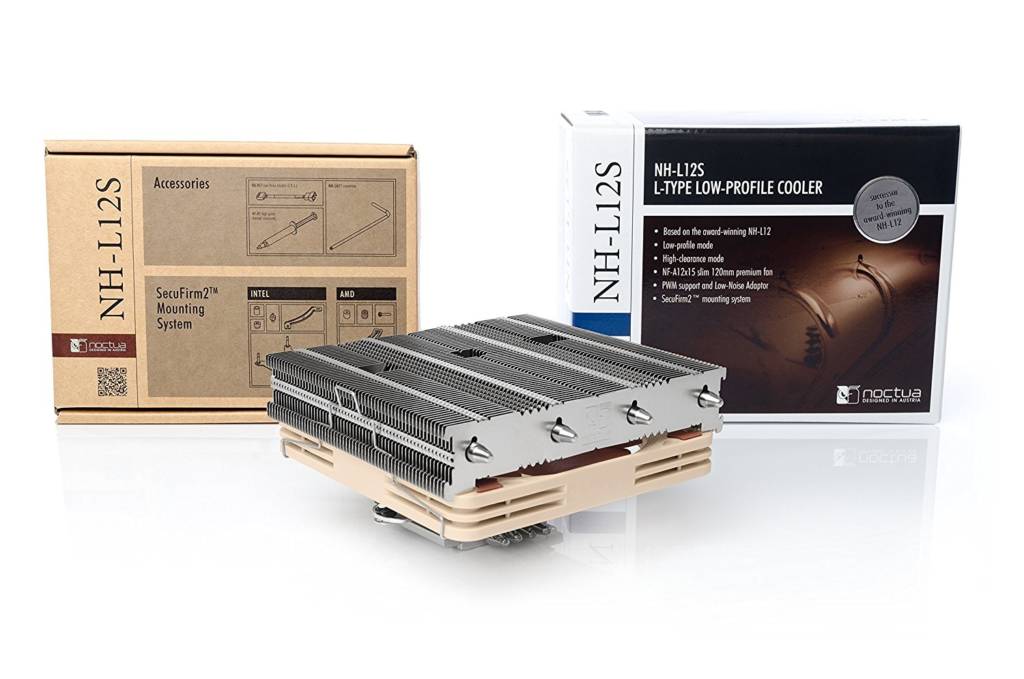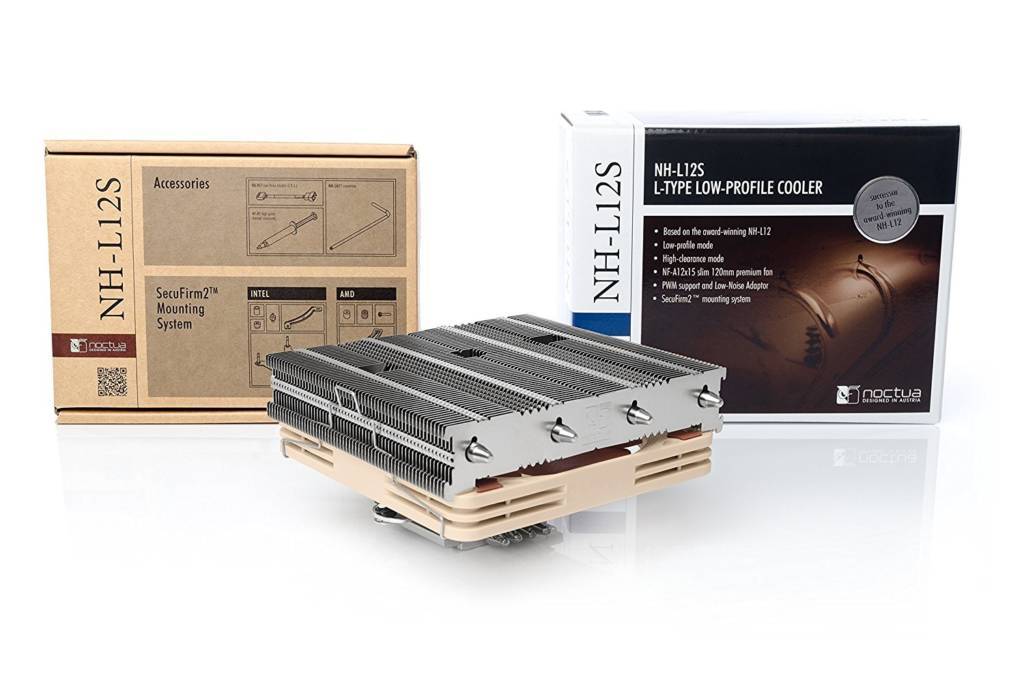 To recreate our home theater PC, I've got a Ryzen 2400G running in an In Win 301 MicroATX case.  While there are three 120mm fans in this case, the airflow is more restricted than normal… and it's exactly the sleek and elegant look you'd want in a home theater PC.
We'll be pitting the NH-L12S against the stock AMD Wraith Stealth, included with the 2400G.  I'll be testing at both stock and overclocked speeds, with stock fan curves. So is the Noctua enough of an upgrade, in both heat dissipation and noise reduction to justify the $50 price-point?
Installation was a breeze on AMD.  It uses the stock AMD backplate and secures very easily with just two screws.  The fan can be mounted on either side of the heatsink. I wound up needing to install on top, as it contacted my G.Skill memory in the other position.  Now that it's installed, let's fire it up and see how it performs.
Taking a look at our stock speed comparison, the Wraith Stealth idles around 43C, with a full synthetic load bringing us up to 71C.  Fan speeds ramped up considerably on the Wraith, hitting 1700 rpm, and getting moderately loud in the process. Even at idle, it was hovering around 900 rpm, and speeding up at very slight increases in workload, as even opening new windows in a browser made the fan ramp up slightly.
Moving over to the NH-L12S, we see a 7C reduction in the idle temperature, and a whopping 13C cooler under load, topping out at just 58C.  The more dramatic difference here was the fan speed… at idle is sat at just 300rpm, without the ups and downs observed on the Wraith. The Noctua also only had to spin at 900rpm to keep our 2400G at 58C under load.
Overclocking the 2400G to 3.95GHz @ 1.40v, we see the Wraith's idle temperature shoot up to 60C, with the fan spinning at 1150rpm.  Even at idle, the fan was audible from across the room, and certainly not something I'd want to listen to in my living room. Under load, it managed to keep the temps acceptable at 74C, but spinning at its max of 1850rpm to hold that.
The NH-L12S again impresses for both thermals and noise.  Idle temps matched stock speeds at 36C, and full load went from 58 to 64C, at only 1050rpm.  Again, from idle to full load, there was no noticeable noise increase sitting right next to the case.
So, I asked if $50 was worth the upgrade from the stock Wraith Stealth.  If the temperature is your only concern, I'd say no. Both performed reasonably well and had no problems cooling off the 2400G overclocked.  If you are looking for near-silent operation, and a happier marriage, I would definitely recommend the NH-L12S for you.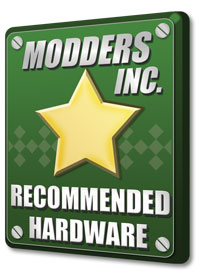 Check out our other reviews of Noctua fans by clicking HERE