Page 2 »
Are you looking to extend the life of your older 775 socket CPU? Perhaps you want to take advantage of the deals out right now?  Whether you are waiting for the new Processors to come out or building a budget system you want a cooler that will give you the best performance at the lowest cost possible.  Xigmatek's HDT S1284 might be the perfect cooler for you.   This cooler has a great feature set including HDT technology, Anti-vibration rubber fan mounts, Push-pin/Clip for Intel & AMD.  HDT-S1284 offers not only friendly, reliable, easy to install, but also powerful performance for users.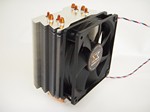 Sponsor: Xigmatek
[hr]
First Impression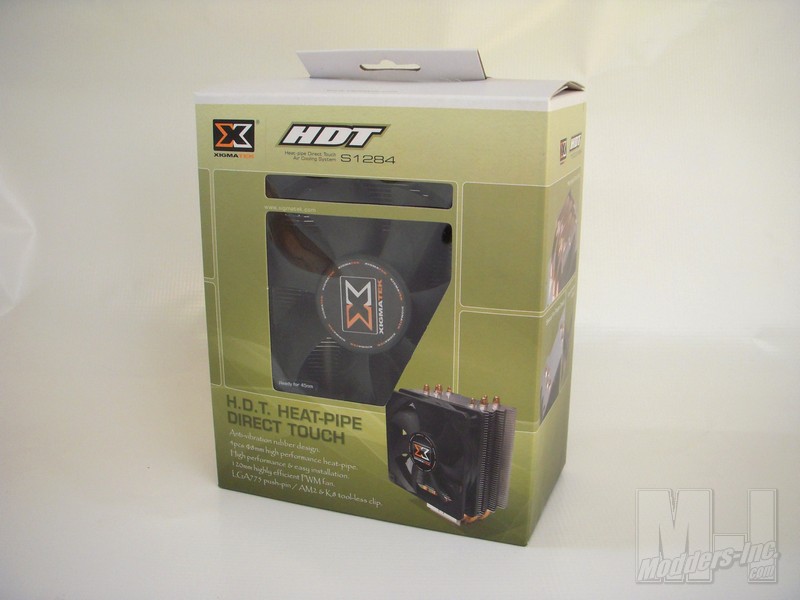 Today we are going to look at Xigmatek's HDT S1284 CPU cooler.   The HDT S1284 is a heat-pipe cooler that consist of 4 – 8mm cooper heat pipes that extend up to aluminum fins.  This cooler is very similar in design to many of the heat-pipe coolers out in the marketplace and would completely blend in if not for Xigmatek's HDT Technology.  This heat pipe Direct touch technology basically is having the heat pipes them selves touch directly to the CPU core instead of a copper base.  We have seen good results with this technology on other Xigmatek coolers I hope to see good results here as well.
First off lets take a look at how you would receive the S1284 when purchased online or on the shelf at your local brick and mortar store. The packaging that the S1284 comes in is a fairly low key green casing with a window to allow you to see the fan and cooler. There are also various small pics of the cooler and detailed shots that give you the specific features that Xigmatek feels promote the product.  The back side has a basic overview of the specifications as well.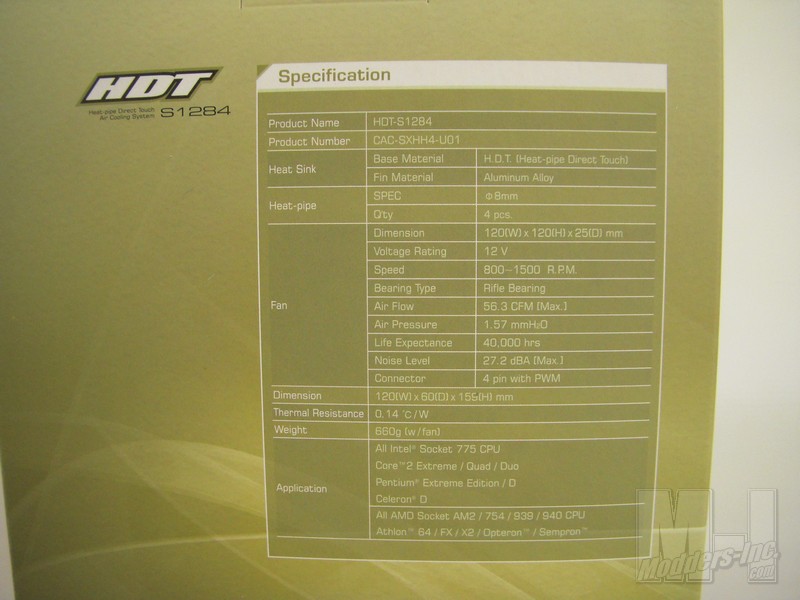 Opening the box you will fine the Xigmatek's HDT S1284 CPU cooler sandwiched between two pieces of soft foam.   There is a good amount between the outside of the packaging and the cooler itself so there shouldn't be any concern about damage occurring during shipping.   I found mine to be snug and free from any damage.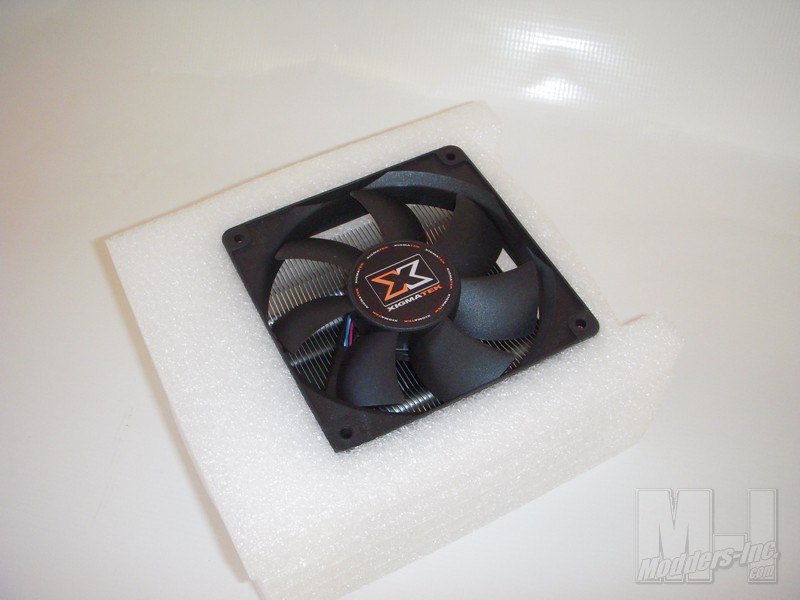 Features:
4pcs Φ8mm high performance U type heat-pipes.
H.D.T. (Heat-pipe direct touch) technology.
Special Fin Shape Design.
Anti-vibration rubber design.
Efficient PWM fan.
Light weight.
High performance & easy installation.
LGA775 push-pin / AM2 & K8 tool-less clip.
Specifications:
HDT-S1284

Product Number
CAC-SXHH4-U01
Outside Dimension
Dimension (W) x (H) x (D) mm
120 x 60 x 159
Heat Sink
Material
Aluminum Alloy
Heat-pipe
Φ8 x 4
Fan
Dimension (W) x (H) x (D) mm
120mm x 120mm x 25mm
Voltage Rating (V)
12V
Speed (R.P.M.)
800~1500 R.P.M.
Bearing Type
HYPRO Bearing
Air Flow (CFM)
56.3 CFM MAX
Air Pressure (mmH2O)
1.57 mmH2O
Life Expectancy (hrs)
40,000 hrs
Noise Level (dB)
16~24 dBA
Connector
4 Pin with PWM
Weight (g)
660g (w/fan)
Thermal Resistance(/W)
0.14℃/W
Application
All Intel Socket 775 CPU
Core 2 Extreme / Quad / Duo
Pentium Extreme Edition / D
Celeron D
All AMD Socket AM2 / 754 / 939 / 940 CPU
Athlon 64 / FX / X2 / Opteron / Sempron