Page 2 »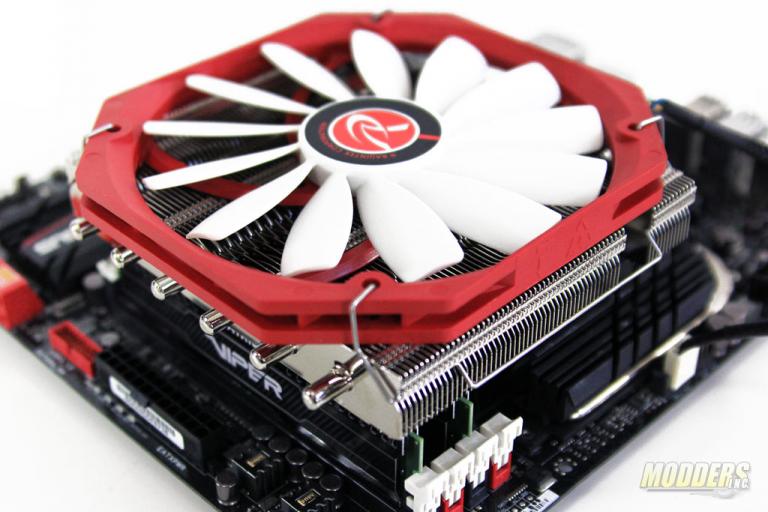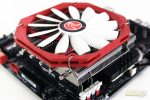 The key to a happy life is managing expectations. While logic dictates to expect the worst so that every positive outcome is a surprise and every negative is dismissed as par for the course, it is not a practical or emotionally healthy outlook to live daily by. Finding that balance is essential and the only way to get there is to have a wider scope of view so that all factors are considered.  As a hardware reviewer, the luxury of having access to plenty of hardware and thousands of hours of experience provides me with the perspective needed to manage expectations (at least I'd like to think so). This is also especially useful in gauging whether a new player in the market is going to deliver or get lost in the shuffle.
Raijintek is a new name in the PC cooling market with coolers designed in Germany. Expectations are already leaning toward positive as Germans are known for their precision and quality engineering. A belief validated with the emergence of other German manufacturers such as Be Quiet and Noctua (technically Austrian but it's in the same area) designing excellent high-quality cooling products. Unlike the other two however, it seems Raijintek is not thoroughly focused primarily on silence but on performance while delivering high-quality builds, judging by their product specifications.
Thankfully, I don't have to do much in the way of assumptions as they have sent over some coolers to test out with one of Raijintek's low-profile CPU cooler offering up first on the test bench.  Dubbed the "Pallas" (after Greek mythology I'm assuming rather than the plural form of a Tamil-specific Indian caste which I heard is actually considered a slur), Raijintek calls this a "high-end" low profile cooler so expectations are already starting high.  Hopefully it can keep up by the end of this review.
[sc:sponsor sponsor="Raijintek" product_link="http://www.raijintek.com/en/products_detail.php?ProductID=9″ product_name="Pallas" product_price_link="http://www.amazon.com/s/?_encoding=UTF8&camp=1789&creative=390957&field-keywords=raijintek&linkCode=ur2&sprefix=Raijintek%2Caps%2C264&tag=moddeinc-20&url=search-alias%3Dcomputers" product_price="$45 USD" ]
Being a low-profile cooler, the Raijintek Pallas is modestly packed but the external box itself is a glossy full-color print with useful specifications and various photos of the Pallas artfully placed all over. Inside, the bundled slim fan sits on the top compartment with a cardboard acting as a triple partition between the the Pallas heatsink, the fan and the accessories. There is no foam padding the Pallas heatsink but the cardboard partition extends to the sides as well as protective buffer so the fins are not damaged during transport.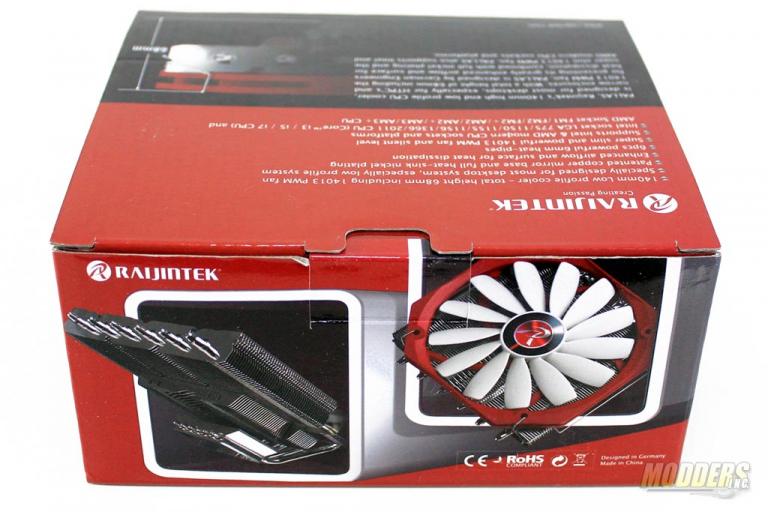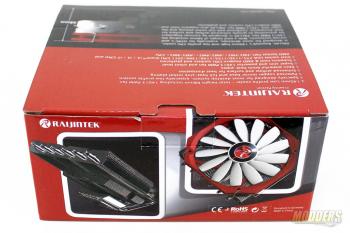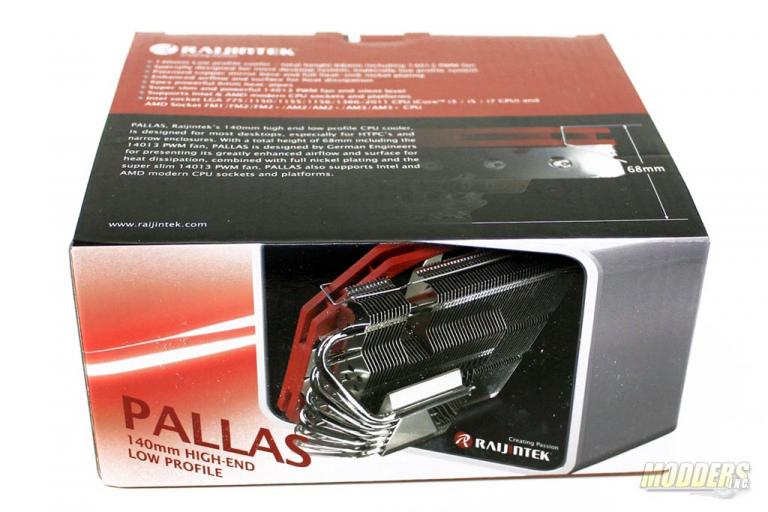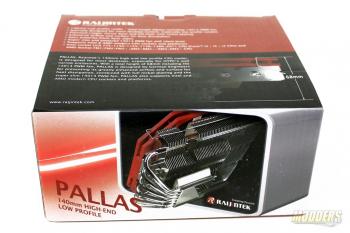 Inside the heatsink compartment, users will also find an accessory pack and a fold-out multi-lingual user's guide. The rest of the accessories include:
1x universal AMD/Intel backplate
1x heatsink crossbar
2x M3 screws
4x knurled threaded screws
4x LGA2011 standoffs
2x fan mounting clips
4x threaded spacer nuts
Intel mounting bar pair
AMD mounting bar pair
1x small packet of thermal compound
4x thumbscrews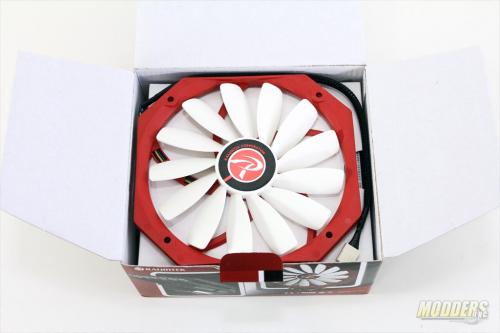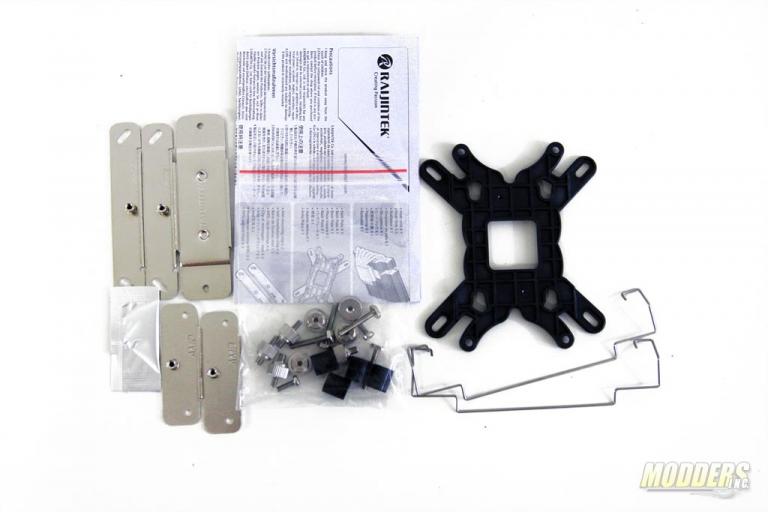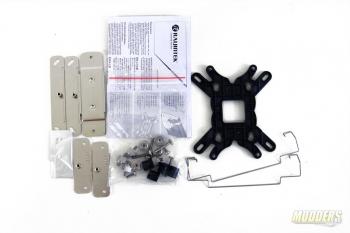 Specifications:
Product Name
PALLAS
Product Number
0R100004
Dimension [WxDxH]
153x150x68mm with fan, 153x150x55 mm without fan
Weight
420 g [Heat Sink Only]
Thermal Resistance
0.14 °C/W
Base Material
Copper Base
Fin Material
Aluminum Alloy; Solder-less fins assembly
Heatpipe Thickness
Φ6mm
Heatpipe Quantity
6 pcs
Fan Dimension [WxHxD]
140x150x13 mm
Fan Voltage Rating
12V
Starting Voltage
7 V
Speed
650~1400 RPM [PWM controlled]
Bearing Type
Sleeve Bearing
Air Flow
56.55 CFM
Air Pressure
1.24 mmH2O
Life Expectance
40,000 hrs
Noise Level
28 dBA [Max.]
Connector
4 pin with PWM
Compatbility
Intel® All Socket LGA 775/1150/1155/1156/1366/2011 CPU (Core™ i3 / i5 / i7 CPU)
AMD® All FM2+/FM2/FM1/AM3+/AM3/AM2+/AM2 CPU