CPU Cooler
Enermax ETS-T40Fit CPU Cooler Review: A Twist on a Classic
Closer Look at the Enermax ETS-T40fit-BK »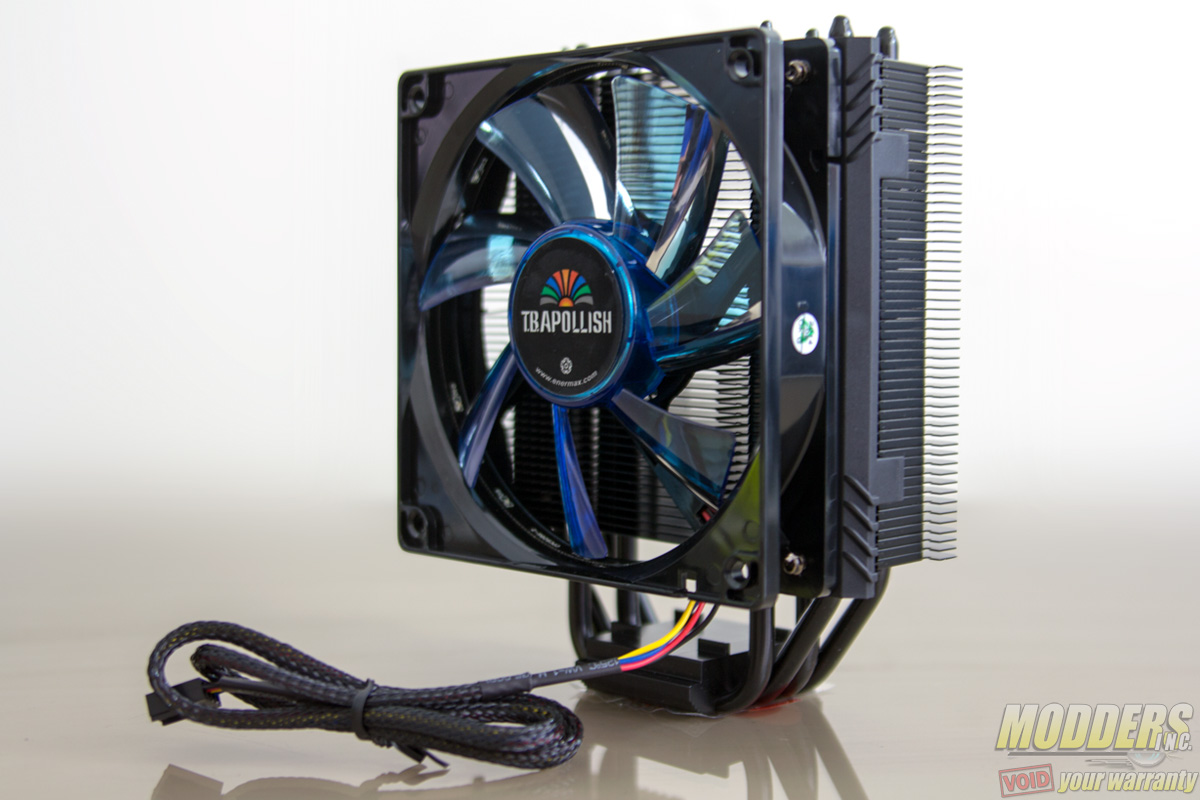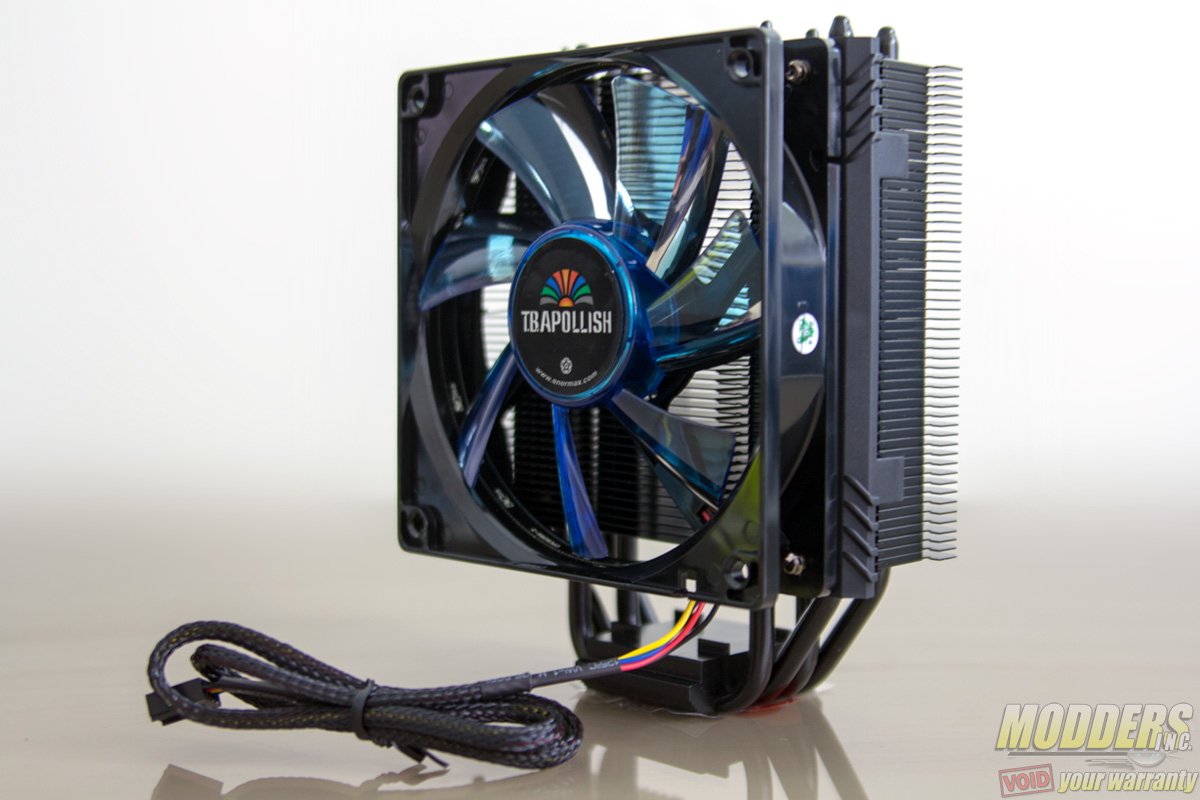 A direct-touch heatpipe design is the go-to solution for most affordable mainstream coolers with good reason; they are very cost-effective for both consumers and manufacturers. Applied to the classic U-shaped tower design, it has proven to be a winning combination. With the glut of competition in this market space however, the offerings are becoming predictable and generic but Enermax aims to alleviate that monotony with a modern twist. The original ETS-T40 CPU cooler line from Enermax utilizes the same design principle with four 6mm heatpipes formed in a U-shaped tower directly making contact in the middle with the CPU IHS. Enermax offered the ETS-T40 in several color and fan combinations but it has now been updated to provide a more functional slim cooling solution that will provide optimal clearance on most motherboards.
The Enermax ETS-T40fit is available in four different flavors ranging from $39.99 through $44.99. One of these is the ETS-T40F-BK "Black Twister" equipped with a 120mm Enermax T.B. Apollish LED fan and black thermal conductive coating as a preventive measure against copper oxidation. Since it is a "slim" tower design, the Enermax ETS-T40F-BK promises 100% RAM compatibility as long as the CPU socket layout follows the Intel specified keep-out zone. Other variants of the ETS-T40fit include an all-white version utilizing a pair of Enermax white-LED Cluster fans and two "regular" versions with non-thermal conductive coating treated surfaces equipped with a 120mm as well as a 140mm Enermax Twister Bearing fan.
[sc:sponsor sponsor="Enermax" product_link="http://www.enermax.com/home.php?fn=eng/product_a1_1_1&lv0=49&lv1=50&no=302″ product_name="ETS-T40Fit-BK" product_price_link="http://amzn.to/1lYsTfg" product_price="$44.99″ ]
So there is no confusion on what ETS-T40fit variant is inside the box, the front cover features a 3/4 view of the heatsink in operation. All these different ETS-T40 variants share the majority of the same design and features which are listed at the back with a dimension layout printed on the side.
Inside, the ETS-T40fit Black Twister heatsink is padded with two form-fitting plastic shells, holding it in the middle of the box. The T.B. Apollish fan is already pre-installed with its plastic retention mechanism.
The accessories are housed inside a box on the side and includes all the mounting equipment necessary to mount the ETS-T40fit on both Intel or AMD systems. An extra fan mounting clip is also provided for mounting another fan in "pull" position. A small tube of Dow Corning TC-5121 thermal grease is included with the package as well.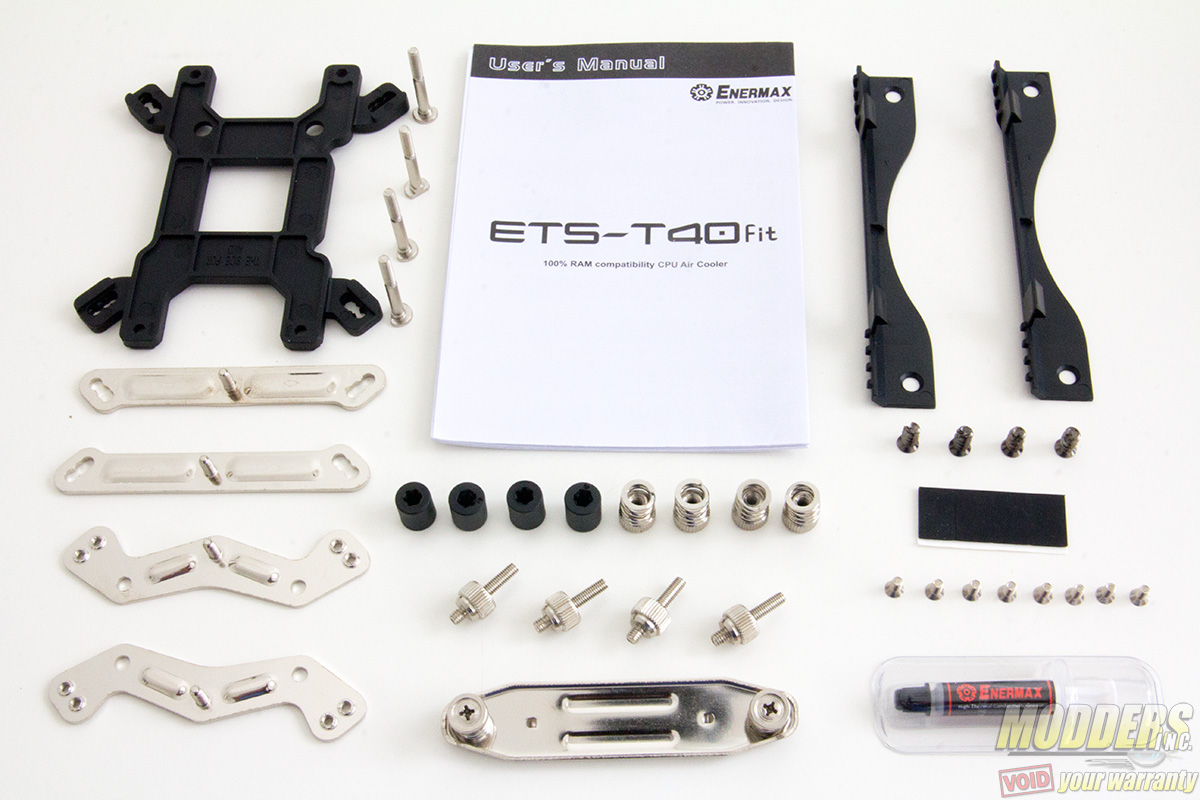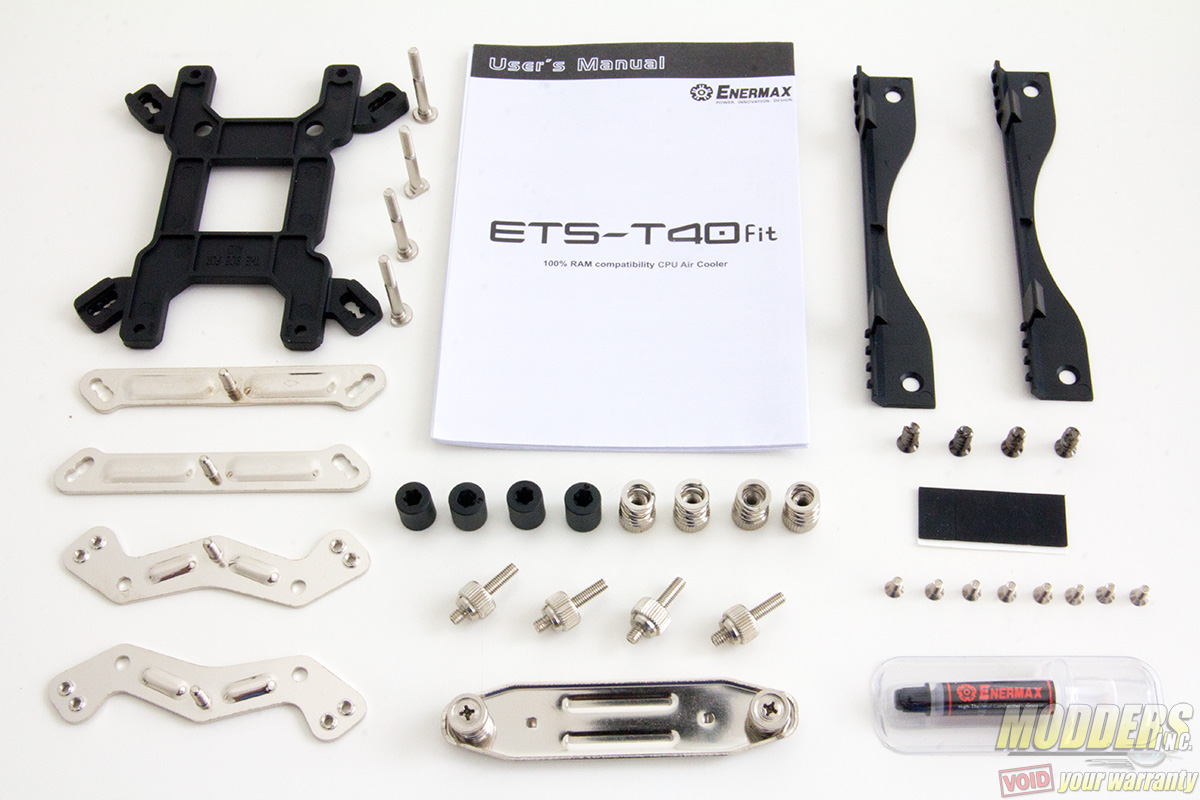 Specifications
Model

ETS-T40F-BK
Compatible Socket
Intel® LGA 775/1150/1151/1155/1156/1366/2011/2011-3
AMD® AM2/AM2+/AM3/AM3+/FM1/FM2/FM2+
Heat Sink Dimension
126(L) x 40(W) x 161.7(H) mm
Weight
460 g
Heat Pipe
4 x Ø6 mm
Material
Copper Heat Pipes/Aluminum Fins
Thermal Grease
Dow Corning® TC-5121
Fan
Fan Dimension
120 x 120 x 25 mm
Speed
800-1800 RPM
Air Flow
33.26 ~ 75.98 CFM
56.51~ 129.09 m3/h
Air Pressure
0.97 ~ 2.28 mmH2O
Rated Voltage
12V
Bearing Type
Twister Bearing
MTBF
160,000 hours
Noise
16 ~ 26 dBA
Connector
4 pin PWM connector