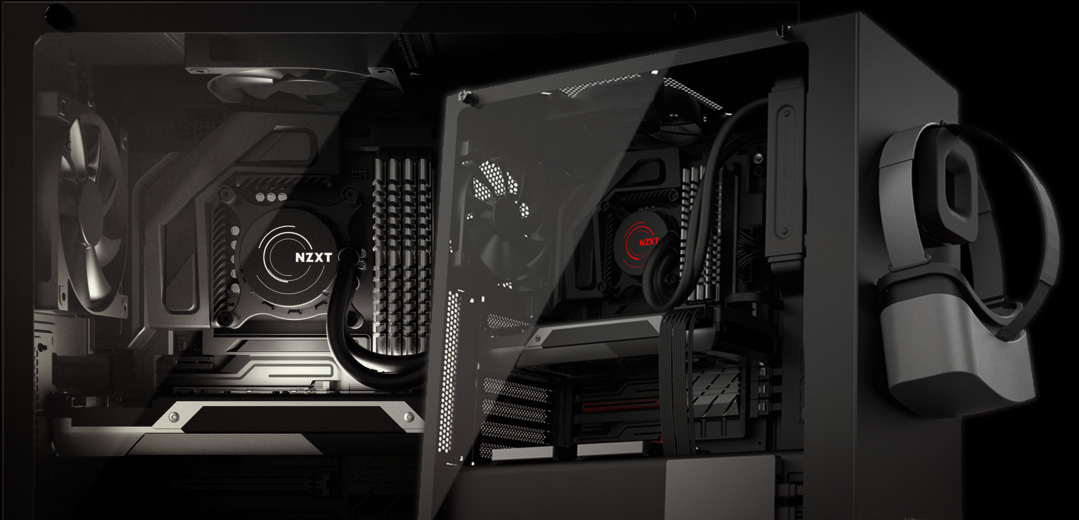 NZXT's compact minimalist ATX S340 mid-tower case has received an update in the form of a tempered glass side-panel. For those who are wondering if they can purchase the side-panel separately to upgrade their existing S340 case, unfortunately this is not possible because of how the panel mounts. The good news is that the premium look is quite affordable at only $99 and it further adds extra features compared to previously existing S340 models.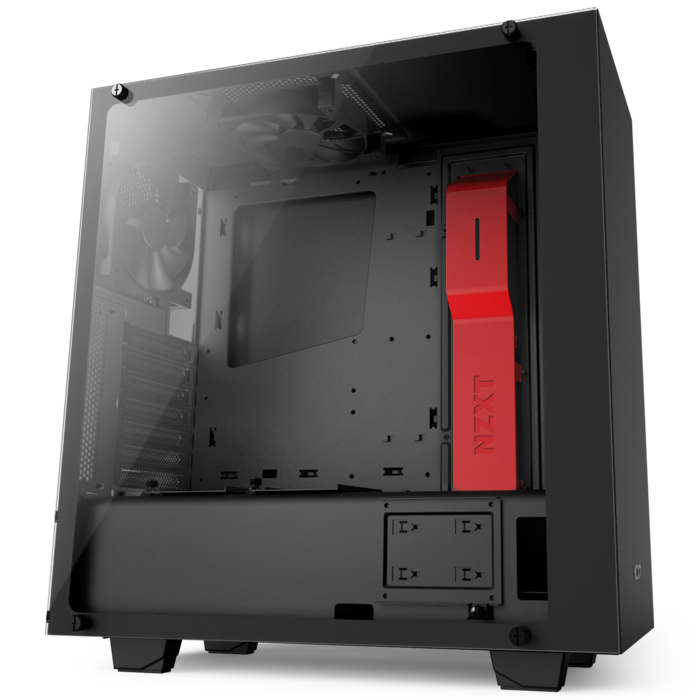 The NZXT S340 elite now has VR-compatibility in the form of an HDMI port at the front IO so users can plug-in and experience immersive virtual reality without having to fiddle with plugging in at the rear. This HDMI pass-through has been a feature showing up in many other new components as well including EVGA's video cards that have a front HDMI as shown at CES and Computex earlier this year. In addition to this, the NZXT Elite S340 also now bundles a magnetic puck for convenient mounting the VR headset or gaming headphones to the chassis.
The NZXT S340 Elite features a steel construction with an open-interior layout for convenient cable management. It is minimal externally and internally but manages to utilize the space to creatively hide unsightly extra cables via the power supply cover and cable management cover. Devoid of any 5.25″ external drive bays, the S340 mid-tower case's front can be dedicated entirely to ventilation having room for a pair of 120mm or 140mm fans with radiators. The enclosure itself is quite compact, measuring 203 x 474 x 432mm only. Despite the compact size, CPU cooler height clearance is set at 161mm and GPU clearance maxes out at 334mm with a radiator (364mm without). Even the cable management room at the back has 17mm of clearance for routing.
On the front IO, a pair of USB 2.0, a pair of USB 3.0, an HDMI pass-through port and a pair of audio jacks for a microphone and headphone are available. Internal storage supports a pair of 3.5″ and three 2.5″ with an additional option for each.
The NZXT S340 Elite mid-tower case is available in three color versions: matte black, white, and black+red.
Specifications:
Dimensions
W: 203mm H: 474mm D: 432mm
Material
Tempered glass side panel, Steel, ABS plastic
Weight
8.13kg
Motherboard Support
mini-ITX, MicroATX, ATX
I/O Ports
1x Audio/Mic
2x USB 3.0
2x USB 2.0
HDMI with VR Support
Filters
Front (Included)
Bottom Rear(Included)
Drive Bays
Internal 3.5″: 2+1
Internal 2.5″: 3+1
Expansion Slots
7
Fan Support
Front: 2x 140/2x120mm
Top: 1x 140/120mm (1 x 120mm FN V2 Fans Included)
Rear: 1x 120mm (1 x 120mm FN V2 Fan Included)
Radiator Support
Front 2 x 140 or 2 x 120mm
Rear 1 x 120mm
Clearance
GPU Clearance With Radiator: 334mm
GPU Clearance Without Radiator: 364mm
CPU Cooler: 161mm
Cable Management: Lowest Point – 17mm; Highest Point 168mm
Warranty
2 years
Model Number
CA-S340W-B3