Page 2 »
Even with today's new technology, high powered CPU's and graphics tend to wreak havoc on notebook computers. Such havoc brings with it woes of overheating and meltdowns, both in the notebook, as well as, in the operator upon having to pay for the repair of the unfortunate overheating episodes. Thus arises the need for better cooling solutions for the notebook computers of the day. NZXT, a company more known for it's gaming cases and products, has entered the notebook cooler arena in a Large way, introducing to the notebook cooler market, the Cryo LX, which boldly boasts in large lettering on the front of the retail box,  … World's largest full aluminum notebook cooler. …Well just how big is the NZXT Cryo LX and better yet how well does it cool? Let's find out! 
About NZXT:
(from NZXT's website)
NZXT, a company built upon gamers dreams, hopes to create products that put consumers first. With the objective of designing unique products catered for hardware enthusiasts and gamers, NZXT has grown into a globally renowned brand recognized for dedication towards creating the next great gaming product. NZXT has won numerous awards from media and publications from across the globe with a product line spanning from gaming chassis, power, and gaming input devices. As a corporation formed by gamers, NZXT continues to expand into new horizons and push the limitings further with each product unveiling.
Our dedicated sales and customer service team will also work diligently to earn your trust and loyalty. All our products are built with high quality material and engineered in the best conditions.
NZXT products are designed and engineered in the United States and manufactured overseas in China and Taiwan.
NZXT was established in 2004 in Los Angeles, California.
---
Packaging: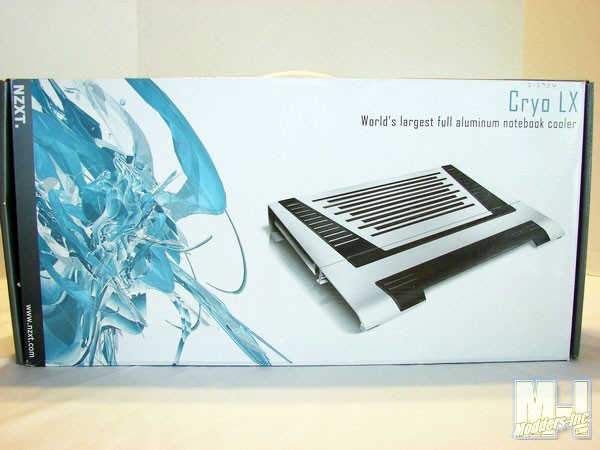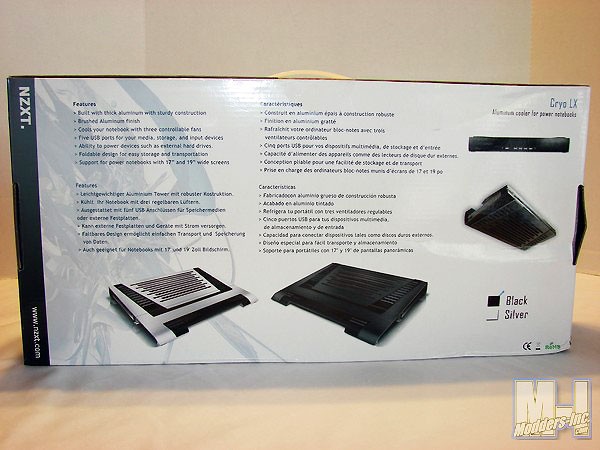 The NZXT Cryo LX arrived at my door, via FedEX, in an unassuming brown box. Upon opening the brown box, I was greeted by plenty of styro-foam peanuts and buried within that, the nicely designed retail box containing the NZXT Cryo LX. The retail package, as I said is nicely designed using cool blues, whites and subtle black accents. On the back it shows the Cryo LX features and on the front It boldly boasts in large lettering Cryo LX "World's largest full aluminum notebook cooler".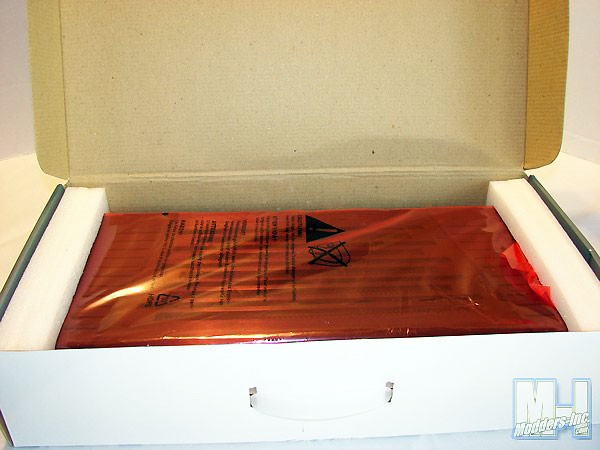 Opening the retail box revealed that the Cryo LX was wrapped in a thick red plastic to protect it from scratches and that each end was encased in styro-foam to keep it stationary and protect it from damage.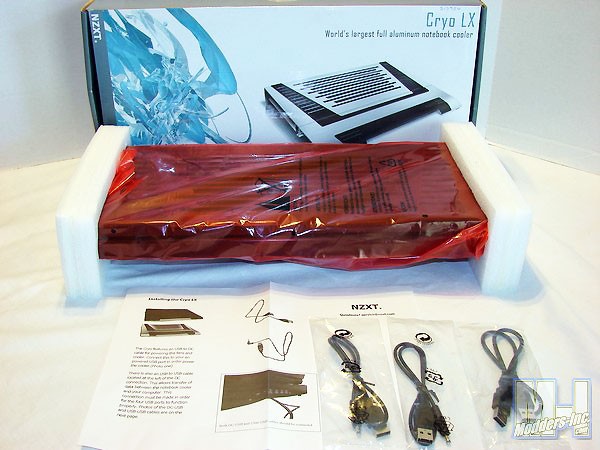 Underneath the Cryo LX I found the instruction manual, a USB to USB cable and not 1 but 2 USB to DC power cables. Looks like I got an extra one. ;) 
---
Features / Specifications:
(from NZXT)
Cryo LX
Triple controllable 120mm fan aluminum notebook cooler
The days of burning hot notebooks are finally over. Introducing the newest addition to the NZXT's family of products, the NZXT Cryo LX. The Cryo LX features the first notebook cooler to feature triple 120mm adjustable fans and a full 3mm aluminum frame. Designed for transport, the Cryo LX can be folded and stored easily at any time. Four USB ports are in the rear for more accessibility. Designed to host the hottest and most high performing notebooks, the Cryo LX fits a 17″ widescreen notebook perfectly and supports a 15″ widescreen notebook with room to spare. 
Features
Built with thick aluminum (3mm) with sturdy construction
Brushed Aluminum finish
Rubber finish lifts the notebook up to allow less heat pockets and better airflow
Cools your notebook with three adjustable large 120mm fans
Four USB ports for your media, storage, and input devices
Folding design for easy storage and transportation
Support for power notebooks with 15″, 17″ and 19″ wide screens
Dimensions (W x D): 16.6″ x 11.6″
Available in two color choices; Silver or Black 
Weight approximately 5lbs.