« Page 4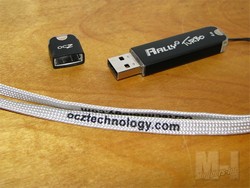 The OCZ Rally2 Turbo flash drive is the fastest flash drive I have yet to play with. Comparing the results from this test to the older OCZ Rally drive American Freak review a good while back, we can see that OCZ has definitely made an improvement as time has passed on. The OCZ Rally2 Turbo is available in two sizes (4GB and 8GB), but only comes in the black color. The Rally2 Turbo, will easily please you with its quick access times, and faster file transfers. 
Pros

---

Cons

---

+ Fast file transfers.
+ Compact size.
+ Plug and Play.
+ Comes in 4GB and 8 GB sizes.
-The cap isn't attached to the drive.