Packaging »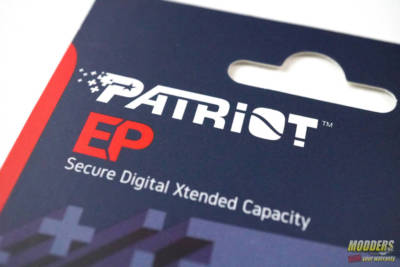 With how big YouTube and other social media platforms have gotten in the past several years, it seems that everyone has a camera and a vlog these days. Top that with how affordable a good 4k capable camera is now, there is more and more high-quality footage being uploaded every day. However, when recording 4k footage, its not just the camera that matters. 4k footage means large files that require faster speeds than if you were recording 1080p footage. If you're recording in 1080p, you can get away with a slower SD card that would be on the cheaper side. The more budget-oriented SD cards usually run at 80 MB/s. When recording in 4k, you need a card that runs at a minimum 95 MB/s or better. But with most all storage, the faster the speed, the more expensive drive, or in this case, the card. A card that runs 300 MB/s, with 256 GB of storage can run you 250 USD or more.
But, do you want a fast card that doesn't cost $250 or more? This is where Patriot comes in with their all-new EP Series of SD cards. With speeds of 100 MB/s, Patriots EP Series are designed with 4k video in mind. They have plenty of speeds to handle recording and playing back 4k video and with capacities up to and including 256 GB, there is more than enough storage to handle the file sizes.  But, just to make sure, we ran a 256 GB EP Series SD card through our suite of benchmarks and some real-world testing. So, what are the benefits to using Patriots EP SD cards? Let's find out.
Review Sample Provided By: Patriot
Product Name and Website: Patriot EP Series SDXC Card
Product was given in exchange for work to produce review.
Specifications and Features
Product Name:                                   EP MicroSDXC
Patriot Part Number:                          PEF256GEP31MCX
Description:                                        EP Series 256GB MICRO SDXC V30 A1
Certifications/Safety:                          CE/ FCC/ RoHS
Product Warranty:                              3 Years
Unit UPC:                                           814914024805
Unit Weight:                                       0.00066 lbs. / 0.3 g
Unit Dimensions:                               0.039" (H) x 0.43" (W) x 0.59" (L)
0.1cm (H) x 1.1cm (W) x 1.5cm (L)
Package Type:                                  Blister Pack
Package Weight                                0.023 lbs. / 10.3 g
Package Dimensions                        0.338" (H) x 5.2" (W) x 3.93" (L)
0.86cm (H) x 13.2cm (W) x 10cm (L)
Spec Sheet
https://cdn.shopify.com/s/files/1/2092/4879/files/PEF256GEP31MCX_Sku_Sheet_Copyable_070618.pdf?5895995573267719125
Features:
Complies with SDA 6.X/ 5.X/ 3.0
A1 App performance class
Video speed class: V30
Read speed up to 100MB/s
Write speed up to 80MB/s
A1 performance results may vary based on type of app, select model, host device, and additional factors
IOPS: 2500 /1350
4K recording
Class 10, U3
Voltage: 2.7 – 3.6V
Operating Temperature: -25C to 85C
Storage Temperature: -40C to 85C