Article Pages:
« Introduction
|
A Closer Look at the Patriot EP SDXC Card »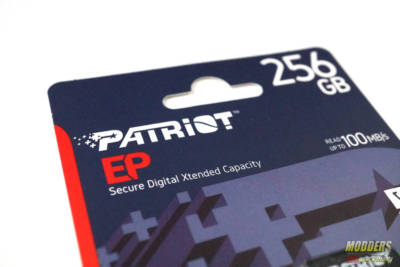 The Patriot EP SDXC card comes is a small blister pack with a cut out for handing on a display hook. Where the package is so small, there really isn't too much to say about it. The package comes with the micro SDXC card and a standard SD card adapter. The front has the Patriot logo to the left and the capacity of the card on the top right-hand corner. For this review, we tested the 256 GB version of the EP Series. Below the capacity is where you'll find the speed of the card, for the EP Series, it's up to 100 MB/s on the read speed. Down the right side of the blister package is a list of certifications for the EP Series cards. These include being a UHS-1, class 10 SD card that supports 4k recording, to name a few.
The rear of the blister pack has a fair amount of information, especially for being so small. The address, email address and phone number for Patriot's corporate offices are on the bottom left. They also have all of Patriot's various social media accounts, as well as their main site printed on the back. This includes their Facebook, Twitter, YouTube, Instagram and a link to Patriot's website.