Article Pages:
« Test System and Testing Procedure
Final Thoughts and Conclusion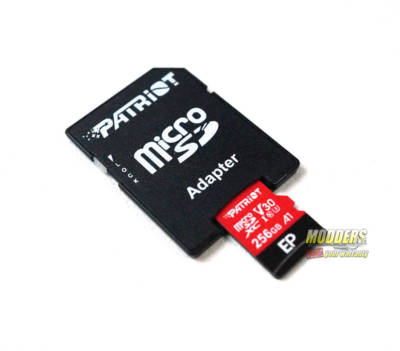 Overall, I'm very happy with the performance of the 256GB EP Series SD card. Although the card didn't hit the advertised speed of 100 MB/s read and 80 MB/s write, technically, Patriot didn't promise those speeds. THe spec sheet said up to those speeds. Also, this being a V30 SDXC card, it only guarantees a minimum speed of 30 MB/s. The 256GB EP Series SD card did far better than that. Our best result for the read speed was Anvil's Storage Utilities with a read speed of 92.13 MB/s on the 0-fill test. For the write speed, The best result was the ATTO Disk Benchmark with a write speed of 74.77 MB/s. In real-world use, I filmed several clips in 4k with no problem either recording or during playback. This tells me that even though the speeds a slightly lower than the advertised speeds of 100 MB/s read and 80 MB/s write. The 256GB EP Series SD card is more than fast enough to handle 4k recording. With a capacity of 256 GB, the card can fit over 30 hours of 4k footage. This will be the only card I'll need for events such as PAX East and CES. Maybe two if I don't want to dump the card every night. The best part is at the price, that's not an issue. At the time of this review, you can pick up the Patriot 256GB EP Series SDXC card for only $84.99. When compared to a faster card of the same capacity at around $250, the EP Series is a great buy. Even though you have to sacrifice a little speed, the EP Series is more than capable of recording in 4k. If you're making the jump to 4k video, and want to save a few bucks, but still get a high-quality card, the EP Series from Patriot is the way to go.