« Packaging
|
Test System and Testing Procedure »
A Closer Look at the Patriot EP SDXC Card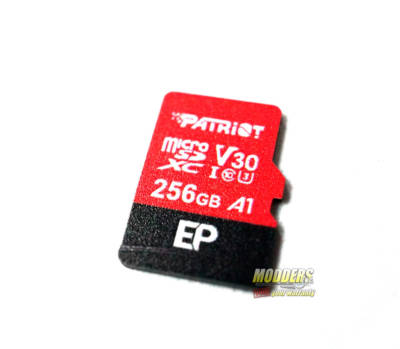 Overall, the Patriot EP SDXC card looks like your average micro SD card. The micro SDXC card comes with a full-size SD card adapter. This allows you to use your new SD card in either an Android phone or tablet, as well as in a camera be it DSLR, mirrorless or video. Personally, I use the 256gb EP SDXC card I have in my Sony A6300. The EP series is compatible with both Windows and IOS. This series is also compatible with any Android device.
With advertised read speeds of up to 100 MB/s. the EP series is perfect for recording in 4k. It being a micro SD card, its perfect for use with one of the new Galaxy phone from the S7 and up as these phones can record in 4k. With the full-size SD adapter, this EP Series cards can be used in any 4k capable camera as well. Any videos I personally shoot are done in 4k on my Sony A6300 mirrorless camera, with the 256 GB EP SDXC card. The SD card adapter, like most SD cards, has a lock switch on the left-hand side. This allows you to lock the card so nothing can be deleted or added to the card. Perfect for storing long-term projects.
The Patriot EP series is A1, class 10, U3, V30 SDXC cards. The EP Series is a V30 rated card. Every SD card has a video speed class rating from the SDA, SD Association. They are giving a rating of V6, V10, V30, V60 or V90. The number stands for the minimum sustained performance of the card. In the case of the EP series, this means the guaranteed minimum sequential write speed of the card will be 30 MB/s. However, as our testing will show, this card is much faster than 30 MB/s on both the read and the write speeds. The V6, V10, V30 ratings are for cards the can record full HD and 4K video. The V69 and V90 cards are rated for recording 8K video.
All SD cards also have a UHS rating as well. The UHS standard came out because 4k capable devices need much faster write speeds than devices that record in full HD, 1080p. There are two different UHS ratings, U1 and u3. U1 cards guarantee a minimum write speed of 10 MB/s where U3 cards guarantee a minimum write speed of 30 MB/s. The class 10 rating means the card will do a minimum of 10 MB/s sustained write speeds.
It is estimated that on this 256 GB card, you can fit around 12 hours of 4k video. This means you could fit the entire Lord of the Rings trilogy on this card, with room to spare. If you're recording in full HD, you can fit about 33 hours of video, 23,500 MP3s or about 55,200 images, give or take a few depending on file size. If you shot only RAW, it's going to be fewer. So, if you're a reviewer like me or a YouTuber with a smaller channel, this could be the only card you'll ever need in your camera.