« Page 4
Conclusion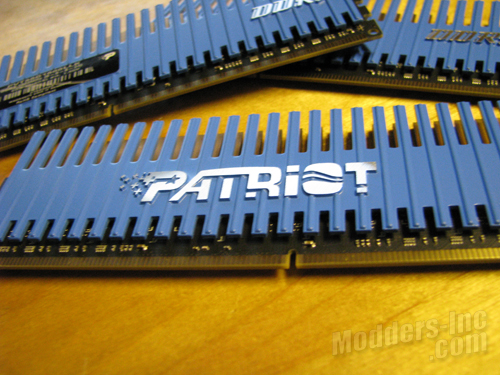 The Patriot Extreme Performance Viper PC3-12800 modules had no problem performing to their specifications. Although we did find it impossible to exceed those specifications by even the smallest margin. I was able to drop the settings a bit and push the total systemOC as high as 4.0 GHz, I was still a little let down by the fact that I couldn't squeeze just a little more out of the Vipers. Now don't get me wrong here, there are a few other components in the build that could cause similar results. Only time and more testing will verify that.
  The Patriot Vipers did meet their requirements, and performed as expected. They have a nice look to them due to the uniquely colored ACC heatsinks, and will fit nicely into a modded rig that takes the color into the equation. As I mentioned a few pages back, the only real limitation one might run into with the Patriot Viper modules is the overall height even though most coolers will accommodate this. Overall I am satisfied with the Patriot Extreme Performance Viper modules and would simply remind anyone looking to purchase a set, that the OC'ing performance is subject to several variables. While these modules didn't overclock well for me, another user might find them to OC very well. The Patriot Vipers can currently be picked up for around the $110 USD mark at NewEgg, which falls right inline with most comparable modules.
Pros

---

Cons

---

+ Low Latency (8-8-8-24).
+ ACC Heatsinks for optimal cooling.
+ Moderately Priced.
+ Lifetime Warranty.
+ Supports Intel's XMP Profiles.
– Overclocking the modules themselves didn't pan out.
– Overall clearance for the ACC heatsinks might be an issue for some users.