Page 2 »
We are going to be taking a look at some DDR3 modules today. Patriot sent us over a sample of their Extreme Performance Viper Series DDR3 PC3-12800 modules. These modules are designed to operate at 1600MHz with 8-8-8-24 timings. They are available in either 3GB or 6GB kits and utilize Patriot's ACC (Aluminum Copper Composite) heatsinks.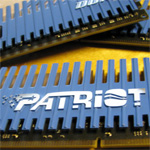 Sponsor: Patriot Memory
First Impression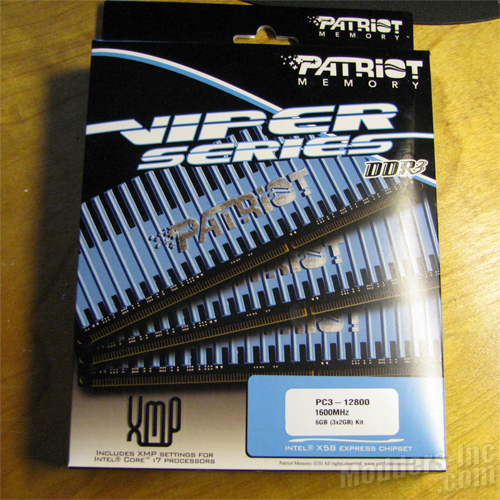 The Patriot Extreme Performance Viper modules come packed in a nice graphical box, which highlights the ACC heatsinks on the modules. They also show that the Viper modules support the XMP profile, which means the Viper modules will automatically be configured at the optimal speed settings when the XMP profile is selected. Although you will have to enter the bios to select this option, there is no manual adjustments needed. Upon opening the box you will find that the three modules are packed in two of the standard blister packs, which keep them from coming into contact with each other during shipping.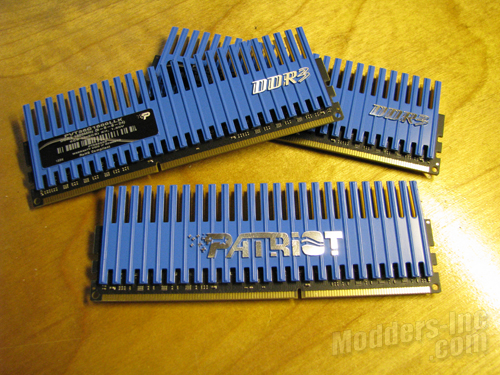 Once we have the Patriot modules removed from the packaging we can get a better view of the modules. The ACC heatsinks give the Patriot Viper modules a nice bold look while offering excellent cooling performance at the same time. The Viper modules will have no problems looking great in your PC Mod. Now that we have 6GB's (3 x 2GB) of Extreme Performance memory sitting in front of us, I suppose we should get the basic features and specifications out of the way.
Features:
Extreme Performance PC3-12800 (1600MHz)
Low Latency (8-8-8-24)
Equipped Patriot Viper Heat Shields with integrated ACC (Aluminum Copper Composite) technology
100% Tested and Verified
Lifetime Warranty
RoHS Compliant
XMP Ready for Core?i7 Processors
Tested and compatible with Intel? X58 Express Chipsets
Specifications:
Speed – PC3-12800 (1600MHz)
Memory Timings – 8-8-8-24
Voltage Settings – 1.65V