Compact storage offers versatility and demands for even greater capacity has only increased with the rise of mobile devices and consumption of HD video media. Patriot memory, as an answer to this increased demand has upped the capacity on their LX series and Instamobile microSDXC storage cards to 200GB, plenty of room for up to 18 hours of 1080p HD video playback.  With the Class-10 UHS-1 card having 90MB/s read and 40MB/s write speeds, these devices are also perfect for recording  as well.  For more information, check out the official press release below: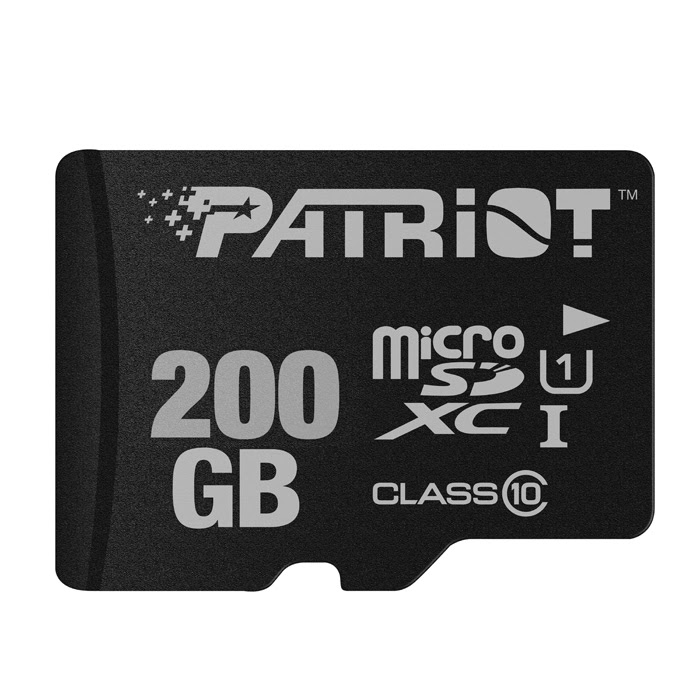 FREMONT, CALIF., USA – Patriot, a leading manufacturer of consumer flash storage solutions, computer memory, SSDs, gaming peripherals and mobile accessories, today announced the release of the 200GB LX Series and 200GB Instamobile microSDXC.  A natural evolution fueled by the ever growing and dynamic storage needs of today's mobile device users, these new high capacity cards offer an almost limitless storage solution for large HD movies, pictures, music, and productivity files.
Consumers will never miss a moment while on the go. These large capacity cards enable Android™ smart phone and tablet users to capture life's precious moments in stunning high definition while expanding the storage space of their device. Capable of recording over 18 hours of 1080p HD video and capturing up to 36,000, 3MB photos, users will never have to worry about running out of storage space on their action camera or mobile device.
"With the upcoming launch of the Samsung Galaxy S®7 and the continued development of more sophisticated mobile devices, the demand for large amounts of storage has never been greater," said Meng J. Choo, Patriot's Flash Product Manager. "With the addition of the 200GB LX Series and Instamobile microSDXC cards, Patriot is fulfilling that demand with the best value for performance in the market."
These Class 10, UHS-1 cards feature speeds of up to 90MB/s read and 40Mb/s write for faster data transfer rates of large files and HD video recordings. Patriot's LX Series and Instamobile microSDXC cards are the perfect storage solution for smart phone and action cameras such as the GoPro®, Sony® HDR-AS200V, Galaxy S7 and S7 Edge. The large capacity and fast transfer speed of these 200GB microSDXC cards means users will never be held back by the limitations of the onboard storage of their mobile device.
Both the LX Series and Instamobile 200GB microSDXC come with an SD adaptor for use with DSLR cameras and the seamless transfer of files to a device or laptop. Backed by a 5 year warranty and Patriot's award-winning customer service, these microSDXC cards are the top rate choice for consumers looking for an affordable way to expand the onboard storage of their smartphone or are looking for more action packed moments while recording on their GoPro.
Availability
Offering the best price for performance on the market in this category, Patriot's 200GB LX series microSDXC and Instamobile microSDXC cards will be available March 21, 2016 online and in stores, worldwide, such as Fry's Electronics, Amazon and Alternate. Prices may vary between regions, see store for details.  For more information, visit www.patriotmemory.com.  
About Patriot
Patriot designs, manufactures and markets high performance, enthusiast memory modules, flash memory, SSDs, and mobile accessory products. Patriot products have become world renown for their extreme performance, reliability and innovation. Patriot sells its products through original equipment manufacturers, retailers, e-tailers and distributors throughout the world with operations in North America, Asia and Europe. Patriot Memory LLC was founded in 1985 and is headquartered in Fremont, California, USA.
All company and/or product names may be trade names, trademarks and/or registered trademarks of the respective owners with which they are associated. Features, pricing, availability, and specifications are subject to change without notice.