DDR Memory Reviews
Patriot Viper 4 3400MHz CL16 PV48G340C6K 2x4GB DDR4 Review: Fast is the New Normal
Test Setup and Benchmarks »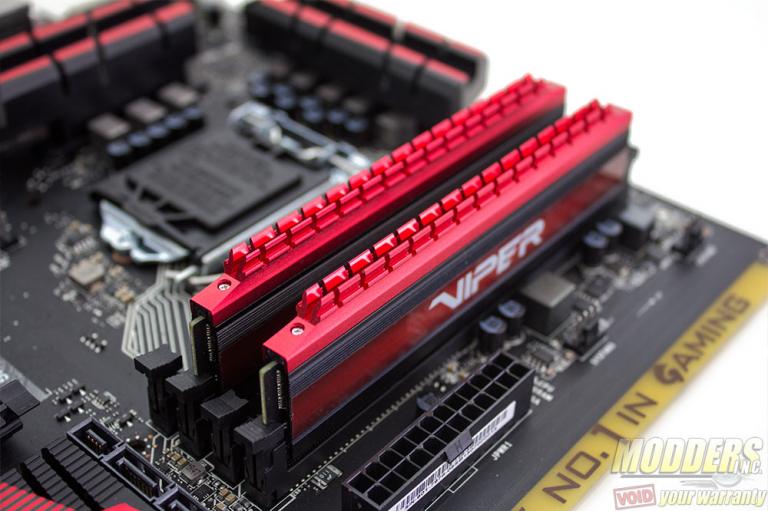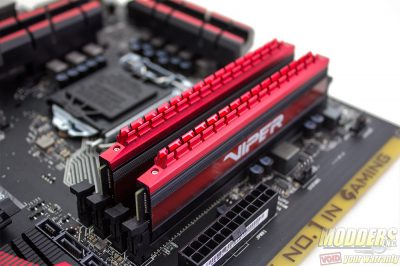 What stings the most about upgrading to new technology is not so much the effort it takes to understand it but, the sizable bite it takes out of the wallet. Understandably, the first of such things out of the gate will carry a high price tag but that is why competition in the market is important. More options means more value for the end user and if you wait long enough, you will find that a greater bang-for-buck alternative is not that far from the horizon.
Even after the release of Intel's Skylake processors, DDR4 modules that are binned higher than 3000MHz carried a significantly high price tag. DDR4 itself at that point was approaching parity with DDR3 prices but early dual 3400+MHz kits cost more than $300. That is why when Patriot announced that the top end of their new Patriot 3400MHz dual-channel kit will only carry a $169 price tag (2x8GB kit) and will start at 2400MHz with only $69 at the lowest, things took an interesting turn in the market.
Patriot's Viper 4 memory kits are available in quad-channel and dual-channel kits and are tested on X99 and Z170 platforms as expected. Originally announced earlier in 2015, the Viper 4 was initially only available in 16GB and 32GB quad kits that ran at speeds of 2400MHz to 3000MHz. Once Intel's Skylake was launched however, Patriot has increased the Viper 4 line-up to include dual-channel kits up to 3400MHz and 3600MHz with CL16 timings at 1.35V.
[sc:sponsor sponsor="Patriot Memory" product_link="https://patriotmemory.com/product/viper-4-series-ddr4-16gb-2-x-8gb-3400mhz-kit/" product_name="Patriot Viper 4 Series DDR4 " product_price_link="http://amzn.to/1OmTjkY" product_price="$64 to $169 MSRP (2400MHz 2×4 kits to 3400MHz 2x8GB kits)" ]
The Patriot Viper DDR4 kit package comes in a two-piece design consisting of an outer box and a see-through blister packaging inside. Users get a full preview of one of the modules on the front and back through the box cut-out. Inside the protective plastic packaging with the modules is a "Powered by Patriot" sticker. This sample in particular is a dual-channel 3400MHz CL16 kit that comes in a pair of 4GB modules (8GB kit). Pricing and availability varies and stock is hard to come by at the moment but large retailers like Amazon are listing stock availability in November for the 16GB 3400MHz kit.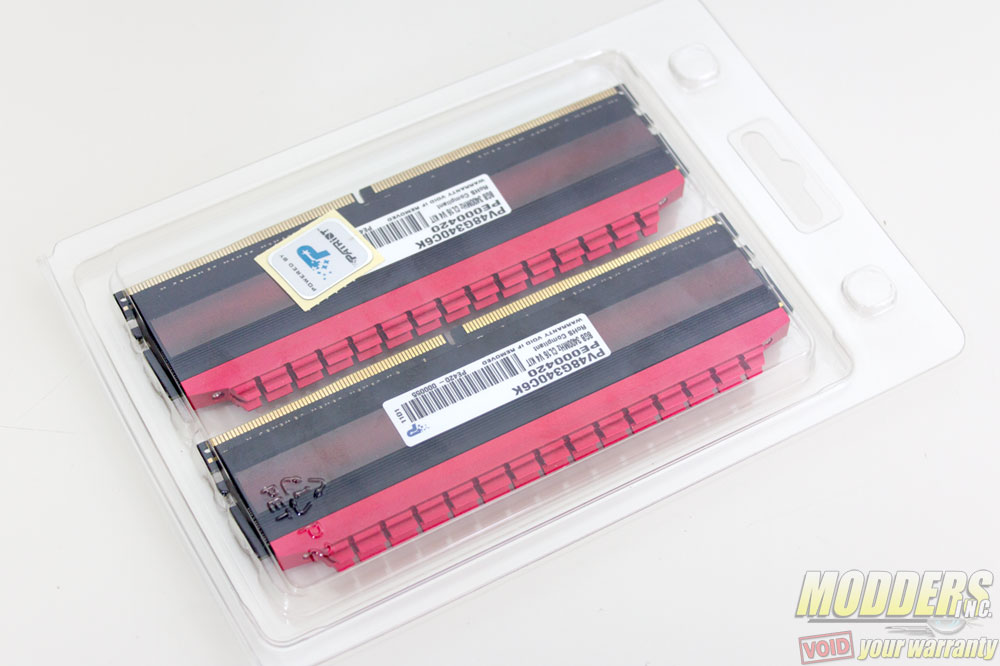 The top of the Viper 4 has a Stegasaurus-like metal spine made of red anodized aluminum while the aluminum heatspreader body is painted black with a red Viper 4 sticker across the middle. The entire module itself measures 133mm long and 42.6mm tall. Total thickness is 7.1mm with the heatspreader accounted for. Removing the top red spine reduces the height of the module down to 33mm tall.
The view from the bottom reveals that the Patriot Viper 4 is a single-sided module and removing the heatspreader first requires the removal of the top spine. This is secured by two small Phillips-head screws towards the end. After this top spine is removed, separating the heatspreader from the PCB is much easier compared to other DIMM modules as there is not much adhesive on the thermal tape which makes it a quick and relatively painless process for modders who want to repaint or remove the heatspreader.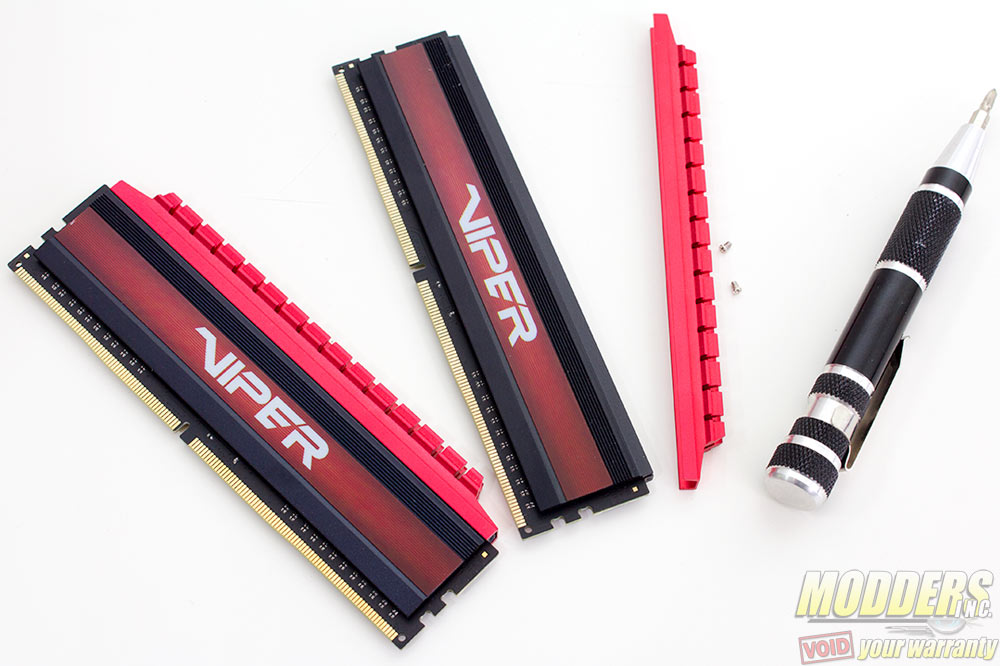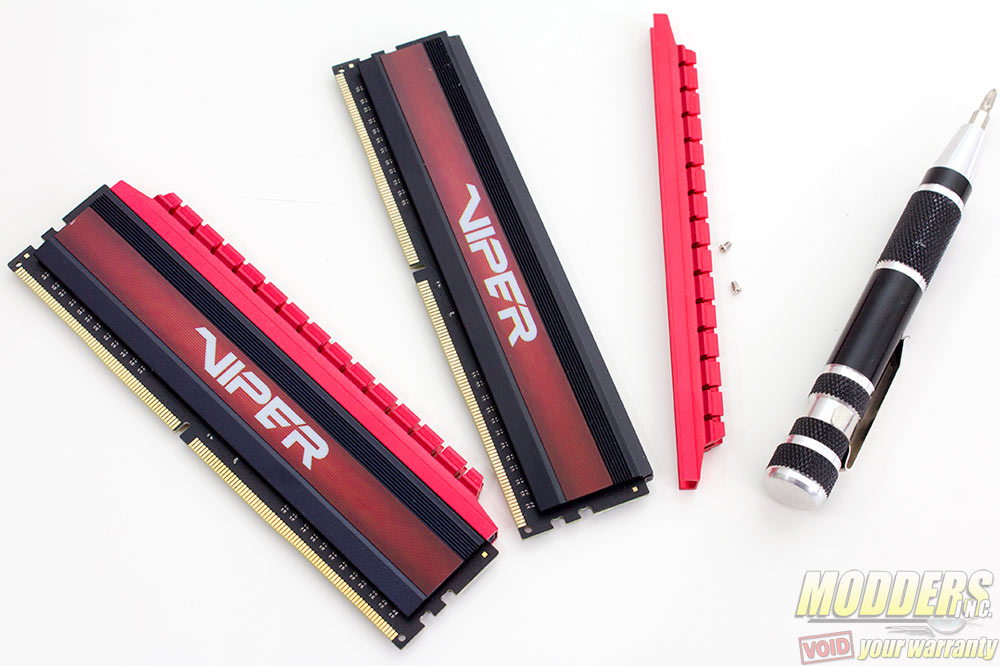 With the heatspreader removed, the black PCB is revealed measuring 133.35 x 31.25mm with Samsung K4A4G085WD 78-ball FBGA chips rated for 2133MHz 15-15-15 in 512 x 8 configuration per side (4GB per module total).
The EEPROM containing the SPD and XMP data is located at the center and here are some of the relevant information inside:
Memory Module Properties:
Module Name
Patriot Memory 3400 C16 Series
Serial Number
None
Module Size
4 GB (1 rank, 16 banks)
Module Type
Unbuffered DIMM
Memory Type
DDR4 SDRAM
Memory Speed
DDR4-2133 (1066 MHz)
Module Width
64 bit
Module Voltage
1.2 V
Error Detection Method
None
DRAM Stepping
00h
SDRAM Die Count
1
Memory Timings:
@ 1066 MHz
19-15-15-36 (CL-RCD-RP-RAS) / 50-278-171-118-6-4-6-23 (RC-RFC1-RFC2-RFC4-RRDL-RRDS-CCDL-FAW)
@ 1066 MHz
18-15-15-36 (CL-RCD-RP-RAS) / 50-278-171-118-6-4-6-23 (RC-RFC1-RFC2-RFC4-RRDL-RRDS-CCDL-FAW)
@ 1066 MHz
16-15-15-36 (CL-RCD-RP-RAS) / 50-278-171-118-6-4-6-23 (RC-RFC1-RFC2-RFC4-RRDL-RRDS-CCDL-FAW)
@ 1066 MHz
15-15-15-36 (CL-RCD-RP-RAS) / 50-278-171-118-6-4-6-23 (RC-RFC1-RFC2-RFC4-RRDL-RRDS-CCDL-FAW)
@ 1037 MHz
14-14-14-35 (CL-RCD-RP-RAS) / 49-270-166-115-6-4-6-22 (RC-RFC1-RFC2-RFC4-RRDL-RRDS-CCDL-FAW)
@ 962 MHz
13-13-13-32 (CL-RCD-RP-RAS) / 45-251-155-106-6-4-6-21 (RC-RFC1-RFC2-RFC4-RRDL-RRDS-CCDL-FAW)
@ 888 MHz
12-12-12-30 (CL-RCD-RP-RAS) / 42-232-143-98-5-4-5-19 (RC-RFC1-RFC2-RFC4-RRDL-RRDS-CCDL-FAW)
@ 814 MHz
11-11-11-27 (CL-RCD-RP-RAS) / 38-212-131-90-5-4-5-18 (RC-RFC1-RFC2-RFC4-RRDL-RRDS-CCDL-FAW)
@ 666 MHz
9-9-9-22 (CL-RCD-RP-RAS) / 31-174-107-74-4-3-4-14 (RC-RFC1-RFC2-RFC4-RRDL-RRDS-CCDL-FAW)
Extreme Memory Profile v2.0:
Profile Name
Enthusiast (Certified)
Memory Speed
DDR4-3400 (1700 MHz)
Voltage
1.35 V
Recommended DIMMs Per Channel
1
@ 1700 MHz
19-18-18-36 (CL-RCD-RP-RAS) / 68-443-273-188-10-7-38 (RC-RFC1-RFC2-RFC4-RRDL-RRDS-FAW)
@ 1700 MHz
18-18-18-36 (CL-RCD-RP-RAS) / 68-443-273-188-10-7-38 (RC-RFC1-RFC2-RFC4-RRDL-RRDS-FAW)
@ 1700 MHz
17-18-18-36 (CL-RCD-RP-RAS) / 68-443-273-188-10-7-38 (RC-RFC1-RFC2-RFC4-RRDL-RRDS-FAW)
@ 1700 MHz
16-18-18-36 (CL-RCD-RP-RAS) / 68-443-273-188-10-7-38 (RC-RFC1-RFC2-RFC4-RRDL-RRDS-FAW)
@ 1594 MHz
15-17-17-34 (CL-RCD-RP-RAS) / 64-415-256-176-9-6-36 (RC-RFC1-RFC2-RFC4-RRDL-RRDS-FAW)
@ 1488 MHz
14-16-16-32 (CL-RCD-RP-RAS) / 60-387-239-164-9-6-33 (RC-RFC1-RFC2-RFC4-RRDL-RRDS-FAW)
@ 1381 MHz
13-15-15-30 (CL-RCD-RP-RAS) / 56-360-222-152-8-6-31 (RC-RFC1-RFC2-RFC4-RRDL-RRDS-FAW)
@ 1275 MHz
12-14-14-27 (CL-RCD-RP-RAS) / 51-332-205-141-8-5-29 (RC-RFC1-RFC2-RFC4-RRDL-RRDS-FAW)
@ 1169 MHz
11-13-13-25 (CL-RCD-RP-RAS) / 47-304-188-129-7-5-26 (RC-RFC1-RFC2-RFC4-RRDL-RRDS-FAW)
@ 956 MHz
9-11-11-21 (CL-RCD-RP-RAS) / 39-249-154-106-6-4-22 (RC-RFC1-RFC2-RFC4-RRDL-RRDS-FAW)
Memory Module Features:
Monolithic DRAM Device
Yes
Thermal Sensor
Not Present
Memory Module Manufacturer:
Company Name
Patriot Memory
Product Information
http://www.patriotmemory.com/products/index.jsp