Keyboards
Patriot Viper V770 RGB Mechanical Keyboard Review
« Patriot Viper V770 Driver Software
Experience and Final Thoughts
The choice of a gunmetal gray/black bodied keyboard makes sense considering the RGB LED-laden design of the Viper V770. Despite the massive expanse of gray, it is far from dull or dreary however with many lighting options to choose from. Beneath the lighting show, the keyboard itself is a very solidly built gaming device that is undeniably gamer-oriented.
The choice of analog controls for the multimedia and volume controls for example, show a mindfulness to the player's need to access these controls with as minimal downtime as possible. Unlike some keyboards with multimedia controls accessed via Fn combo keys, the analog control does not require more than one hand, or even more than one finger.
The LED control options are also similarly comprehensive, even without the aid of software. While many RGB LED keyboards use the software to access hidden LED options, the Patriot Viper V770 allows the user to change these options directly from the keyboard. This even includes the LED movement speed and direction. The only limitation is in choosing individual colors but users can cycle through a seven color preset directly from the keyboard if choosing a static color. The software is also quite easy to use and fairly light on the system. It is snappy and is only a single-page application so it is intuitive.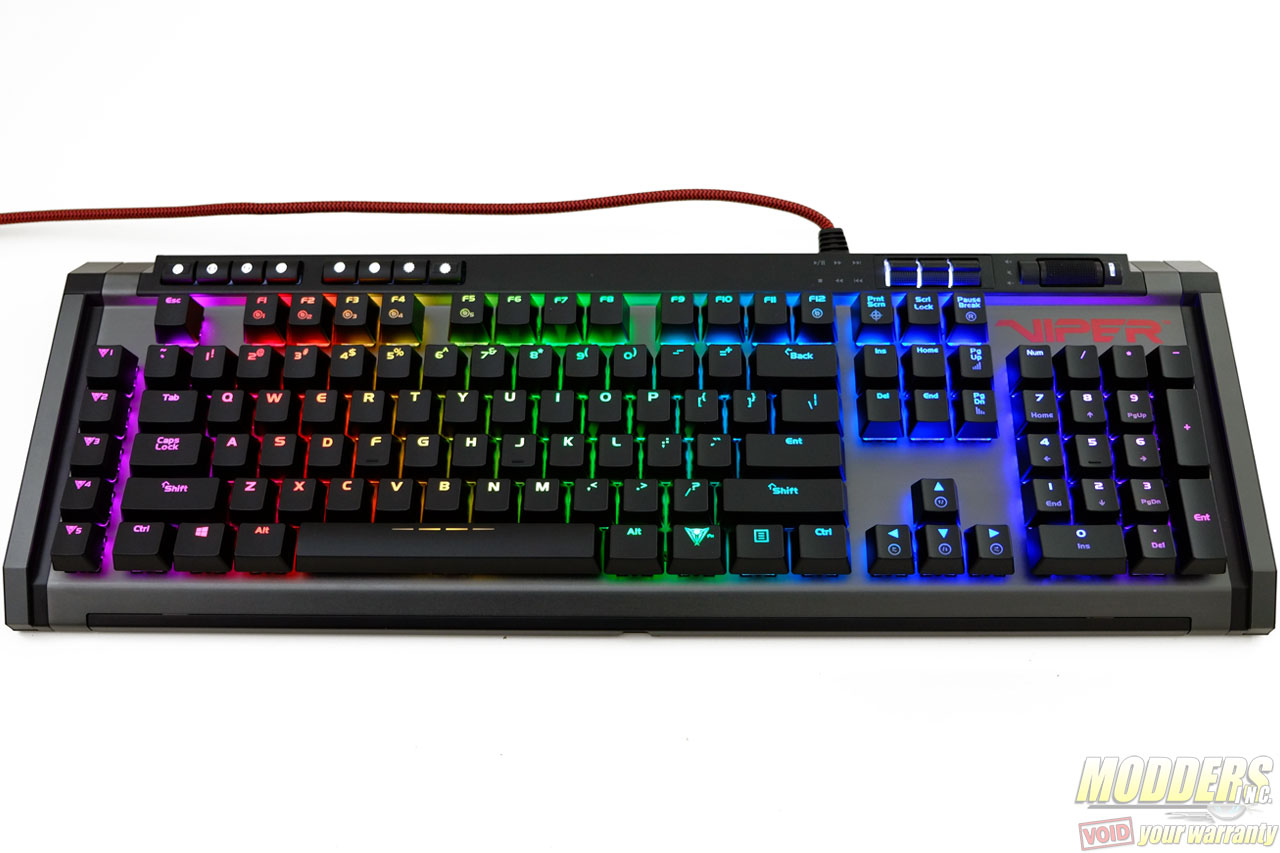 Gaming Credentials?
As with any keyboard claiming to be designed for gamers, it has NKRO via USB (verified with Aqua keytest) and users can disable the Windows key if necessary. The addition of a USB and audio-passthrough is also a very convenient way for gamers to plug-in their headset. Be it a 3.5mm headphone or a USB headset.
The $139 price tag is decent for the feature set, although the lack of other mechanical switch option other than linear Kailh red is a bit disappointing. It is solidly built and is a sensible upgrade from the previously released V760, which now looks very pale in comparison to the V770 flagship.