« Hardware Installation
Conclusion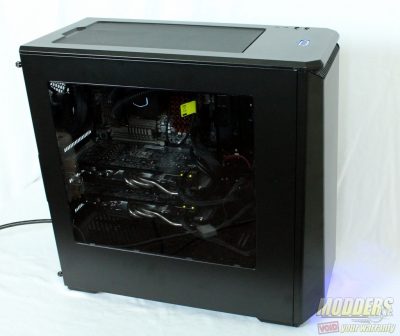 As advertised by Phanteks, this budget priced case is simple yet elegant. In addition to the aesthetics, there is plenty of room in the Phanteks Eclipse P400 for fans and cable management where I thought all my allotted space would've been spent. The optional hard drive mounts doubling as a cable management tool is a well appreciated feature as well.
The airflow potential in the Phanteks Eclipse P400 is greater than what I expected. Given the fan filters and mounting for 120-140mm fans, the Phanteks Eclipse P400 is made for positive pressure airflow. All this extra potential for airflow and cable management comes at a cost. There's only room for 4 hard drives out of the box, 2 of those are 2 1/2 inch. If you want to add more you'll have purchase optional hard drive mounts. The extra space available in the Phanteks Eclipse P400 comes at the cost of 5 1/4 inch drive bays. I wouldn't consider this too much of a drawback since external optical drives are available and digital media can be downloaded over the internet.
Migrating my system to the Eclipse P400 was a breeze with the Drop-N-Lock SSD trays being one of the more memorable features. The Phanteks Eclipse P400 has a unique balance of features, space, and aesthetics that is difficult to quantify. At $69 MSRP this is a more than reasonable choice for a novice or veteran system builder.