A Closer Look »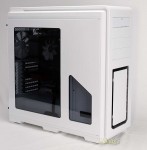 Phanteks is a company that has been around since 2007, but how many have heard of them. As of lately I would said a lot more. When some engineers and a design team paired up they set out to create the best cooling systems. With four cases under their belt, including the Enthoo Luxe, Phanteks have come into battle hard for their share of the computer case sales.  We will be taking a look at the Phanteks Enthoo Luxe and see what this team has come up with this time.
[sc:sponsor sponsor="Phanteks" product_link="http://www.phanteks.com/Enthoo-Luxe.html" product_name="Enthoo Luxe" product_price_link="http://www.newegg.com/Product/Product.aspx?Item=N82E16811854007&cm_re=Phanteks_Enthoo_Luxe-_-11-854-007-_-Product" product_price="$159.99″ ]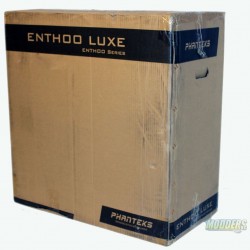 The Luxe is placed into a detailed retail box that shows off some of the options of the out side of the case and all some great images of the both side of the inside of the case.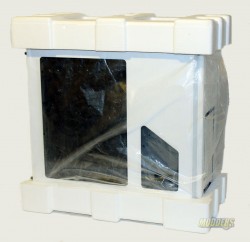 The case is perfectly protected with a clear plastic bag and Styrofoam caps at the top and bottom of the case.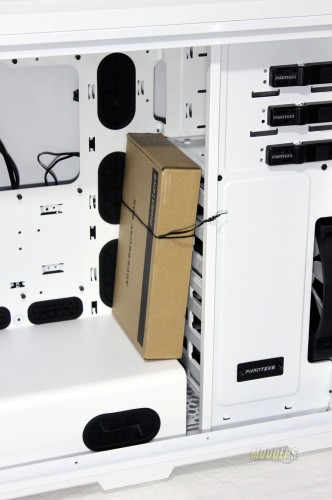 The accessory box is located inside the case and is securely attached to the hard drive cage with a plastic coated wire tie.
Inside the box you get a users manual, a plastic box full of accessory screws, tie wraps and mounting plates for water cooling parts.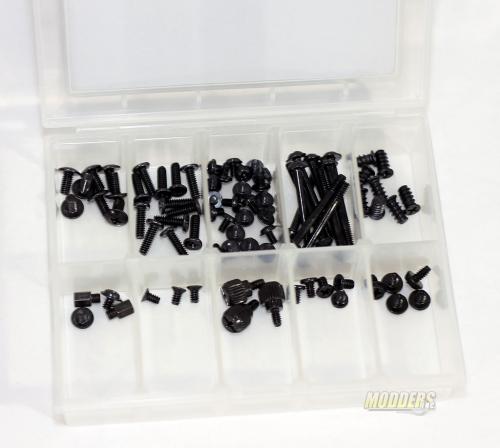 The box full of screws is a super nice touch and if your like me I usually misplace one of the screw bags that came with the case when I need it four months from now.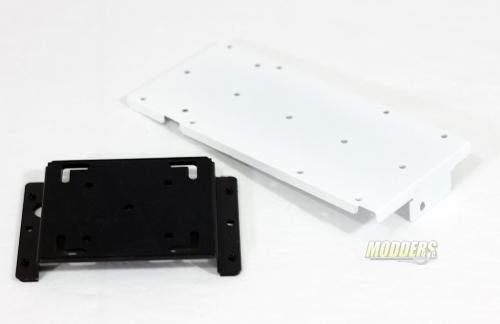 Another great surprise in the box was two mounting plates for hardware when using water cooling products. The black plate is used to mount you pump to while the larger white plate can be attached to the hard drive cage and a reservoir can be mounted to it.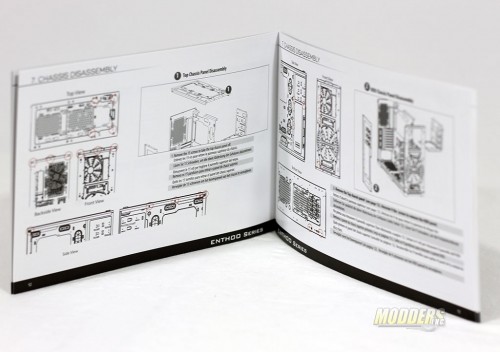 We all know that each case you buy normally comes with a users manual, but they typically lack any usefully information. The manual that came with the Enthoo Luxe is 36 pages and full of useful information. You get a total breakdown of the case, how many fans can be installed in different locations, the same is done for radiators and much more.
| | | | |
| --- | --- | --- | --- |
| | BLACK | WHITE | |
| Model NO : | PH-ES614L_BK | PH-ES614L_WT | |
| UPC Code : | 886523300168 | 886523300236 | |

Case Specifications

Dimension

235 mm x 560 mm x 550 mm (W x H x D)

Form Factor

Full Tower Chassis

Material(s)

Aluminum faceplates, Steel Chassis

Motherboard Support

ATX, EATX, uATX, SSI EEB

Front I/O

2x USB 3.0, 2x USB 2.0, Mic, Headphone

Side Window

Yes, split-window design

PSU Cover

Yes

Expansion & Drive Bays

Expansion slots

8

External 5.25″

3

Internal 3.5″

6 (2x 3 HDD cages)

Internal 2.5″

7 (2x 3 HDD cages + 2x SSD brackets )

Cooling

120mm fan

140mm fan

200mm fan

Front

2x

2x
1x (included)

Top

3x

3x (1x included)
1x

Rear

1x

1x (included)

Bottom

2x

1x

HDD

2x

Liquid Cooling

120mm radiator

140mm radiator

Front

Up to 240

–

Top

Up to 360

Up to 420

Rear

120

140

Bottom

Up to 240

140

Clearance

Graphic card

347mm

338mm minus reservoir diameter (reservoir bracket installed)

472mm (without HDD Cages)

CPU cooler

193mm

Cable management

27mm (39mm at PSU area)

Radiator (Top)

65mm to Motherboard

Packaging Information

PH-ES614L

Package Dimension

325mm x 635mm x 632mm (WxHxD)

Net Weight

13.9 Kg

Gross Weight

16 Kg

Warranty

Length

5 Years Limited